Porsche Muscle Dreams Programme 2023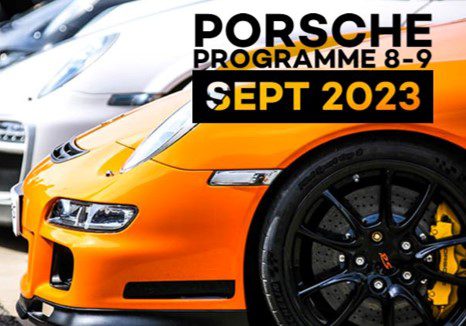 PORSCHE MUSCLE DREAM PROGRAMME

10 LIFE-CHANGING EXPERIENCES ON OFFER #LIGHTITUP11
Delivered By: Porsche Experience Centre (Silverstone) + Whittlebury Hall (Towcester)
DATE: Fri 8 th – Sat 9 th Sept (2 days, 1 night)
AGE RANGE: 10 – 28yrs
MAX NUMBER OF AVAILABLE PLACES: 10
DEADLINE FOR NOMINATIONS: Thursday 17 Aug (midnight)
Our signature event is back and it's time to 'Light it Up'! This enormously exciting, fully inclusive driving experience programme is supported by our fantastic partners at the Porsche Experience Centre (Silverstone) and Whittlebury Hall (Towcester).
⇒ Our Chief Muscle Warrior (aka Michael McGrath) said: "The excitement, the disbelief and those reactions, oh my god, those reactions at the end of the phone sharing the good news with beneficiaries and families that they were 'in', that their nominations had been successful, were literally off the scale! It's those incredibly precious, memorable moments in time when you hear the excitement of a family, when you know that tears of joy are rolling down cheeks, that's so so special, that's why we do what we do!"
Muscletastic thanks in advance to not only our key delivery partners but also all of the professional racing drivers at the Porsche Experience Centre and all of the amazing hotel staff at Whittlebury Hall, this immersive two-day programme not only promises the experience of a lifetime but also delivers real impact, not least a phenomenal sense of achievement, improved confidence and self-esteem as well as social connection – the programme features:
♦ An unforgettable experience for 10 beneficiaries and their families
♦ 1.5 days of incredible moments-in-time from supercar reveals to driving the latest Porsche 911's on their world class test track facility at Silverstone
♦ Exclusive use of the Porsche Experience Centre at Silverstone, with a fantastic team of 10 dedicated Porsche racing car drivers all focused on giving beneficiaries the most amazing thrill of their lives, creating memories that will last forever
♦ From refreshments in the Silverstone Bar to a tasty lunch and a magnificent celebratory Muscle Warrior dinner in the Grand Prix Suite at Whittlebury Hall, plus a comfortable overnight stay in this gorgeous award-winning hotel and spa, that also offers one of the largest day spas in the country. Boasting 3 AA Rosette restaurants and a state-of-the-art gymnasium, the elegantly decorated rooms provide free WiFi access and a host of modern comforts
♦ At least 25 MHF Volunteer Hosts, some of whom have the privilege of buddying-up with beneficiaries and their families to host, look after and take care of your every need – from the welcome to the farewell, with bags of empathy, compassion and kindness, MHF Volunteer Hosts are well briefed, all with the goal to ensure beneficiaries and families have the most incredible experience possible
♦ A massive sense of accomplishment and joy, along with cherished lifetime memories, underpinned by a powerful shared experience that brings vulnerable families together
♦ And so much more…
Last year (Sept 2022), siblings James and Sophie, who both love fast cars and all things Formula 1, were off the scale excited when they heard the news that their nominations had been successful. Two snippets of feedback below from James and Sophie respectively:
⇒ James said: "Living with life-limiting conditions can be frustrating, as you feel that you never quite have the same opportunities as your peers. Being introduced into previously inaccessible worlds, such as motorsport, in such an accessible way provides you with a new outlook on the world – the world suddenly seems so much bigger to me" – read all about James and Sophie's story HERE
⇒ Sophie said:"Relaying the day to friends and family has been very exciting and they have all been in total awe of what we did and achieved. We feel so lucky to be able to have been a part of such an amazing programme. It really is difficult to put into words how fantastic the day was. The whole experience was organised impeccably and everyone went to great lengths to make the day one to remember. We can't thank everyone involved enough. The charity has such a positive impact on the lives of families living with Muscular Dystrophy" – read all about James and Sophie's story HERE
Seven years ago, we received the feedback below from a dad whose son IZZY had just experienced our 2016 Porsche Muscle Dream programme … reflecting on the experience:
⇒ Irfan said: "Thank you for the most amazing day ever!!! You made our Muscle Dream come true!!! Words can't describe how you all made my boys and I feel. We felt so special. It's a funny old life, you struggle and struggle and struggle and then one day a dream comes along in the form of the Muscle Help Foundation charity, and makes you forget it all" – read all about Izzy's story HERE
Ten years ago, the charity received the feedback below from a dad whose son ALEX (now an Ambassador for the charity) had just experienced our 2013 Porsche Muscle Dream programme:
⇒ Darrell said: "In June 2013, our beloved son Alex was so lucky to be chosen as part of the Muscle Help Foundation (MHF) charity's 'Class of 2013' Porsche Muscle Dream Programme. This event ignited his confidence, self-belief and his can-do attitude to pursue a career in motor sport, his dream! Some ten years on, Alex is now a 24-year-old professional racing driver, instructor and coach. This has all come about thanks to your MHF charity and the incredible #LightItUp3 opportunity that Alex, a fully-fledged Muscle Warrior, was given all those years ago. Thank you hardly cuts it!" – read all about Alex's story HERE
PLANS ARE WELL UNDERWAY FOR THIS YEAR'S 2023 PROGRAMME
Whilst plans are well underway for this year's programme, the charity desperately needs support, so if you're able to help us raise money for programmes like this or if you or your business would like to perhaps cover the cost of one or more places or simply make a donation to ensure that the 10 Porsche Muscle Dream recipients have the most amazing and unforgettable weekend of their lives, then click HERE to donate or HERE to get in touch to discuss how you might like to support this year's Muscle Dream activities or indeed our future interventions – thank you!
DON'T DELAY, NOMINATE TODAY … BEST OF LUCK!