Bereavement Research Project II
Facing Loss and Finding Hope in Narrating Together: Accounts of Parenthood Following the Death of a Child to Muscular Dystrophy
Posted on 17th August, 2022
The Muscle Help Foundation (MHF) charity is pleased to share a second research paper on bereavement. This is an open access paper, meaning that anyone can download and access the paper freely here. Published within the Illness, Crisis & Loss SAGE journal which is designed to further understanding and knowledge of the social scientific, psychosocial, and ethical issues associated with life-threatening illness, traumatic human crises, grief, and loss.
The corresponding author was Dr James Randall who took primary responsibility for all communication with SAGE (the world's 5th largest journals publisher) during the research paper submission, peer-review, and publication process. James is a clinical psychologist working with children and young people within the NHS and social services. He is a trainee CAT therapist (Cognitive Analytic Therapy) and a visiting lecturer at the University of Hertfordshire.
BEREAVEMENT OF A CHILD WITH MUSCULAR DYSTROPHY (MD)
This research explored accounts of parenthood following bereavement of their child to muscular dystrophy. Narrative inquiry was used to analyse interviews with four couples.
Findings suggest an importance in narrating adversities (waking up to different futures) and positive influence (creating legacies)
The research highlighted how humour is often used to support others to witness painful accounts (humour through the struggle)
Parents appeared to co-regulate the painfulness of narrating loss (storytelling together)
"The peer reviewers were very complimentary about the work, and it seemed like they really empathised and understood the parent's journey from the paper, and the ways in which they have coped and grown since, with the legacies of their children and the support from yourselves (the Muscle Help Foundation) being platformed"
SOURCE: Dr James Randall
MUSCLE HELP FOUNDATION CHARITY
Families often reach out to community groups and the charitable sector as they face the disease together, often becoming strong advocates for the rights of young people with MD over time.
The parents interviewed within this research were no exception, and all had sought the support of the Muscle Help Foundation charity.
MHF offers advice, support and community to young people and their families across the UK through a broad range of engagement events, psycho-social support networks, educative programmes, publications, and more.
An example of this work includes Muscle Dream events, in which families become ordained into the Muscle Warrior tribe
For further discussion and research on Muscle Dream events, see: Nolte et al., 2017; Randall et al., 2019
CURATORS FOR 'POCKETS OF SMILES'
The Muscle Help Foundation charity has found itself in a unique position of having been curators for 'pockets of smiles' (Nolte et al., 2017) and not only an escape from the omissions or imposed limits of society, but an important opportunity for transformational restorying and remembering, for families facing significant deteriorations in health and painful trajectories Randall et al., 2019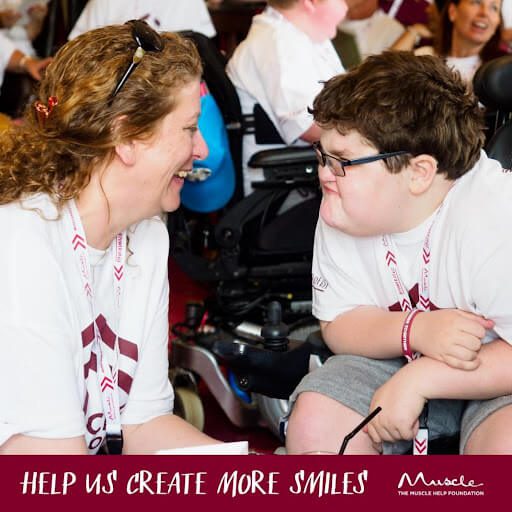 BUILDING RELATIONSHIPS, DELIVERING ON PROMISES
As the Muscle Help Foundation charity roots its approach and practices in building relationships and delivering on promises, families often continue to be active participants within the Muscle Warrior tribe.
SIGNIFICANT PART IN REMEMBERING LOVED ONES
In the specific context of bereavement, the research paper suggests that the Muscle Help Foundation charity appears to play 'a significant part' in the remembering of their lost loved ones.
RESEARCH PAPER AUTHORS:
Dr James Randall
Clinical psychologist who works with children and young people within the NHS and social services, is a trainee CAT therapist, and visiting lecturer at the University of Hertfordshire.
Lizette Nolte
A principal lecturer and researcher on the Doctorate in Clinical Psychology programme at University of Hertfordshire, United Kingdom. She is a clinical psychologist and systemic psychotherapist working with parents, young people and families in the NHS and education sector.
David Wellsted
A Reader of Health Research Methods, David is the head of the Health Research Methods Unit at the University of Hertfordshire. He is also a site lead for of the East of England Research Design Service.
SAGE JOURNALS URL LINK:
https://journals.sagepub.com/doi/10.1177/10541373211013719
For quick access, click image below for a .pdf version of this research paper.