The driving forces for a strictly socially distanced Wellbeing Outreach Muscle Dream Programme played their part on Friday 18th September 2020 when the Muscle Help Foundation charity brought seven families together in a stunning setting for a much-needed break filled with fresh air, warm sunshine and relaxing guitar vibes.
This Muscle Dream programme was specifically designed for seven extraordinarily deserving shielding families, all of whom we know were and still are feeling unsettled, distressed and indeed worn out by the ongoing burden and anxiety brought about by COVID-19 – the goal of this outreach initiative was to create an environment that was safe, peaceful and above all allowed families to take some time out to recharge and reconnect with others.
"Thank you so much to all for this… a much needed and amazing day out!"
SOURCE: Muscle Warrior Family
"Thank you again Michael for Friday; it's just what our family all needed"
SOURCE: Muscle Warrior Family
Heartfelt thanks to Munden in Hertfordshire for being so incredibly welcoming. A country estate and much cherished family home set in stunning glorious gardens and parkland, it is the ideal location venue for films, photo shoots, private parties but also bespoke events.
The charity would also like to extend a big Muscle Warrior salute of gratefulness to Robert Voss CBE, the Lord Lieutenant of Hertfordshire and to Henry Holland-Hibbert, the High Sheriff of Hertfordshire and his wife Kate for their collective warmth and generosity of spirit in giving up some of their precious time to personally meet and chat to all seven families.
We have it on good authority that whilst the topic of a certain Gareth Bale signing on the dotted line at Tottenham Hotspur was mentioned on more than one occasion, everyone enjoyed the experience of stopping, connecting with mother nature and just being in the moment whilst soaking up the sunshine and some wonderful guitar tunes courtesy of the immensely talented Declan Zapala (pictured below), described by BBC Radio 3's Max Reinhardt as "virtuosic and committed, with stunning sonic awareness".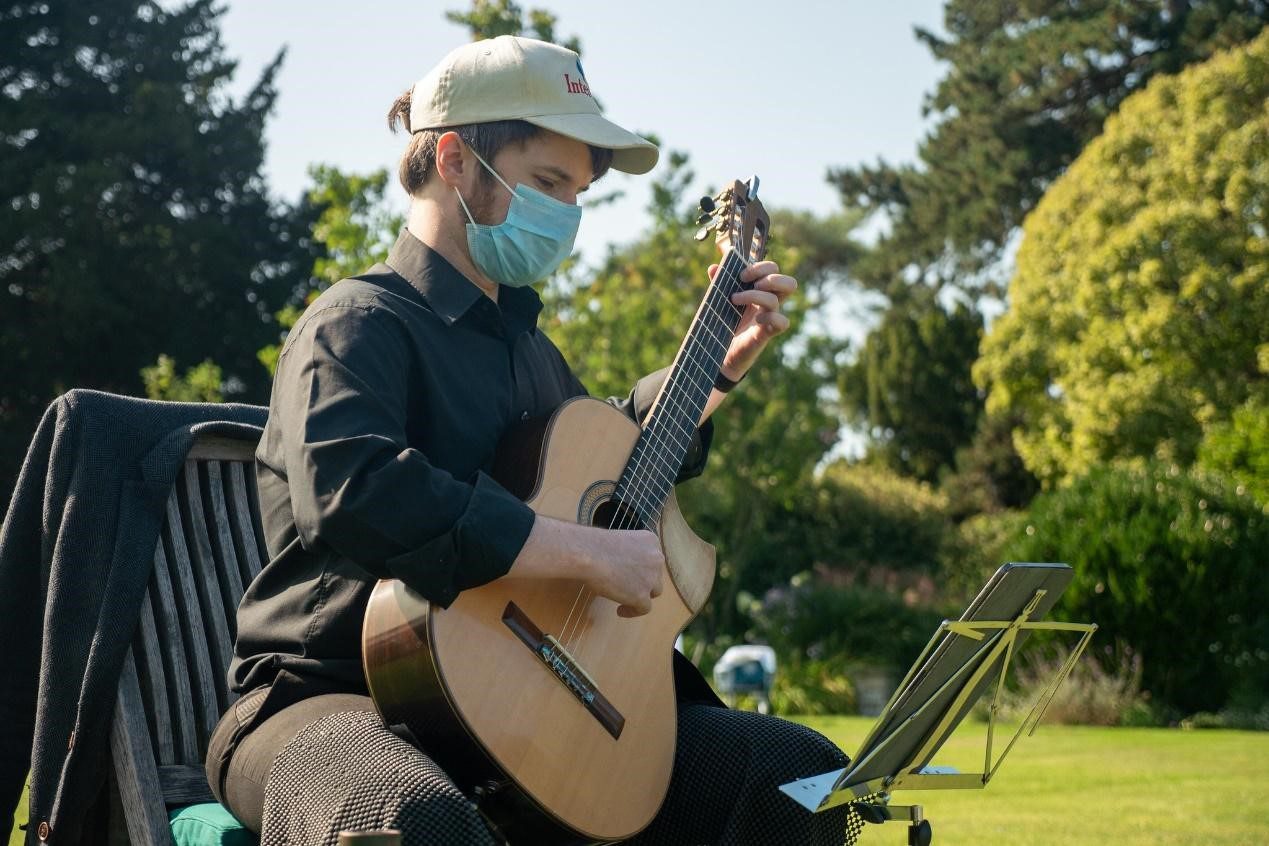 "It's a little known fact that the more fresh air we get, the more oxygen we breathe in, which in turn increases the amount of serotonin, that delightful happy hormone we all need, especially during these challenging times.
Bottom line, fresh air reinforces the immune system. This in combination with an injection of Vitamin D, in other words some sunshine, especially important for vulnerable young people and their families who are spending so much time at home, along with the soothing sounds of guitar music was just what the doctor had ordered – put simply, the plan was to create an afternoon of restoration, giving everyone a sense of vitality and mental wellbeing. For the charity, it was a such a privilege to plan and a joy to witness".
Source: Michael McGrath, CEO, Muscle Help Foundation charity
Blue skies bursting with gratitude must also go to Muscle Warrior Volunteers Jason Smith of CineCloud for capturing the magic both on the ground and from up above using his drone technology and to the always supportive and spirited Sarah Lowther for ensuring strict socially distanced car-parking protocols, amongst other duties, were fully observed – thank you both! You guys rock!