"Welcome to your Club!" Lifelong Tottenham Hotspur Fan Azeem's Awesome Muscle Dream with Spurs First Team Squad
Posted on

October 10th, 2022

Some might say that nearly 4 years is a long time from receipt of a Muscle Dream nomination to fulfilment but that's pretty much exactly how long it took (give or take 3 months) to deliver what was the Muscle Help Foundation (MHF) charity's 436 Muscle Dream for 22yr-old Azeem from Leyton, East London and what a memorable experience it was!

The human spirit is a wonderful thing and whilst the journey is sometimes filled with family hardships, real life circumstances that derail even the best laid plans and adversities that come from a global pandemic, MHF together with support from the Lord-Lieutenant of Hertfordshire finally delivered on the promise – patience is indeed a virtue!

"These moments are priceless – the look on my beautiful son's face was wonderful for me, his father, to see. The day was one of the best days of my life seeing my son Azeem filled with pure joy and happiness" (Source: Imran Ali, Azeem's father)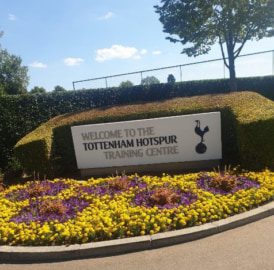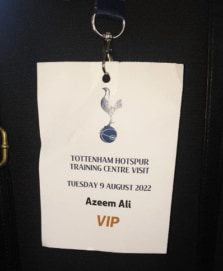 Nov 2018 – Azeem's original nomination was received by the charity from his mum Shazia in Nov 2018 and as MHF discovered, pandemic aside, special VIP visits such as this are extremely rare. Azeem has an extremely rare X-linked genetic progressive variant of Muscular Dystrophy known as Pelizaeus-Merzbacher disease (PMD), a degenerative central nervous system disorder in which coordination, motor abilities, and intellectual function deteriorate.
Sept 2019 – nearly a year later, a date in Sept 2019 was suggested but it soon became apparent that Azeem's sister, who has severe scoliosis, was scheduled to have spinal fusion surgery on the visit date in question.
Dec 2020 – wind the clock forwards to Dec 2020 and unfortunately due to the pandemic, nobody knew how long it would be before such events could recommence. That said, hats off, absolute respect and gratefulness to Spurs who sent a small gift to Azeem for Christmas to let him know that his beloved club was thinking of him.
Aug 2022 – "Welcome Azeem to your club" the warm and friendly words spoken on Tues 9th Aug 2022 by the Spurs security gatehouse staff at the club's Training Ground in Enfield (Hertfordshire) on what was a hot summer's afternoon, to the excited Muscle Dream beneficiary Azeem and his equally excited father Imran – Azeem spent the afternoon with his father watching the First Team train and then meeting all the players afterwards – the rest as they say is history.
Imran Ali (Azeem's father) said of his son's experience:
"I would like to give a massive thank you for this amazing experience for my dear son, Azeem who is a very special kid now growing into adulthood. Azeem is a very happy and bright boy who has a very complex muscle dystrophy condition which prevents him from physically being able.
Azeem has been a lifelong Spurs fan alongside me – we have been going for many years and are season ticket holders which makes my son extremely happy especially when we see those winning smiles. His happiness is very precious to us as a family"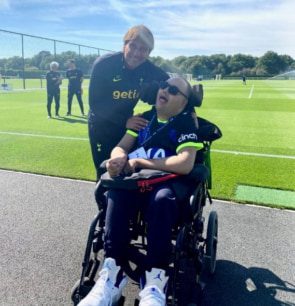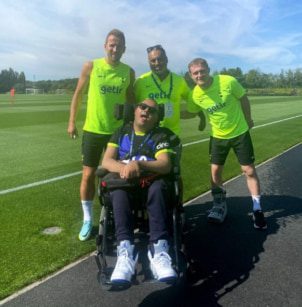 Imran Ali (Azeem's father) goes on to say:
"The news of being able to see the players train and meet and greet them was a very emotional moment that I will never forget for the rest of my life.
Having seen Azeem's face whilst the news of going to see the players was incredible – his positive happiness is very infectious, and it brings lots joy to our family. Big thank you to the Muscle Help Foundation and to dear Michael (and those others) for arranging this for my son.
A Day of Emotions – we kept this experience a surprise for Azeem which made it even more amazing for us on the day. We were greeted with a welcome from the security man who said "Welcome Azeem to your club"! I reflected afterwards that getting this personal greeting was so touching for me. We started the day by taking Azeem in and meeting the club's admin team and knowing the agenda for the day. We visited the press rooms where we took pics. Azeem was asked whom his favorite player was – he mentioned Heung-Min Son & Harry Kane. The day went along with snacks and drinks which Azeem enjoyed, with much chocolate which he adores"
Imran Ali (Azeem's father) concludes:
"We were then taken to see the facilities in the Tottenham Hotspur Training Centre and watch the training – the players came to see my son! Azeem's astonishment when Heung-Min Son came to greet us and even quoted Azeem's name saying "Hello Azeem, it's great to meet you. How has your day been?" After spending some time with us, he signed autographs, took time with photos and then along came Harry Kane. Then rest of the squad followed suit which made Azeem very very happy.
These moments are priceless – the look on my beautiful son's face was wonderful for me, his father, to see. The players were all very good – they took extra time whilst having their photos taken and chatted with us. Thank you to all the Tottenham squad for making us feel like VIP special guests.
The day was one of the best days of my life, seeing my son Azeem filled with pure joy and happiness. He has been very smiley after this event. From the bottom of our hearts, amazing. The charity has been brilliant to make this day happen. Thank you".
When Azeem finally returned home, he found out that over the next few days, the family would be coming together over some Manjaros cuisine, Azeem's favourite takeaway, to enjoy a fusion feast of African and Caribbean dishes, courtesy of the charity.
MHF has long understood the value of fostering a sense of belonging among the vulnerable beneficiaries and families that we are so privileged to work with. All are welcomed into the charity's Muscle Warrior tribe, where there is a sense of community and shared understanding awaits. As we say, that's the #powerof657.
About the Muscle Help Foundation (MHF) charity
MHF is a small charity delivering highly personalised, transformational interventions in the UK called Muscle Dreams for children and young adults (8-28yrs) with the muscle wasting condition, Muscular Dystrophy (MD).
Uplifting, joyful and often cathartic in nature, MHF's academically validated work and impact is rooted in the idea that well executed, shared experiences can be powerfully transformative in nature.