#JUMP4MUSCLEDREAMS
Date:

Multiple dates available
#JUMP4MUSCLEDREAMS
Fancy an adrenaline rush? #Jump4MuscleDreams will give you an experience you'll never forget! Are you an adventurous type? We'd love you to #Jump4MuscleDreams!
Click the JUMP TOGETHER image below or click HERE and book online today.
Fly through the clouds above mother earth from 10,000 feet at up to 120mph and help raise vital funds and awareness for MUSCLE DREAMS, amazing once-in-a-lifetime experiences for children and young people with Muscular Dystrophy (MD).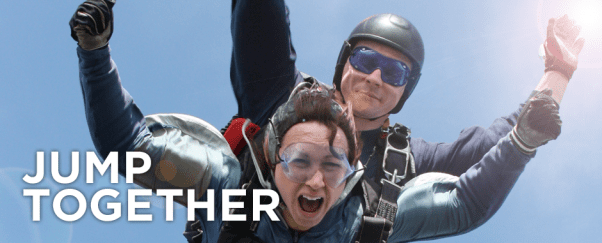 Pictured above – MUSCLE WARRIOR Tracy Ward blasted past her fundraising target raising the magnificent sum of £1200 for MUSCLE DREAMS, highly personalised, once-in-a-lifetime experiences in the UK for children and young people with muscular dystrophy. Thanks Tracy for helping us change lives. We know that her #Jump4MuscleDreams was an experience of a lifetime, something she will never forget! She's a true MUSCLE WARRIOR! Now it's your turn…
NOW IT'S YOUR TURN!
BOOK ONLINE – CLICK 'AHH-YEA' BELOW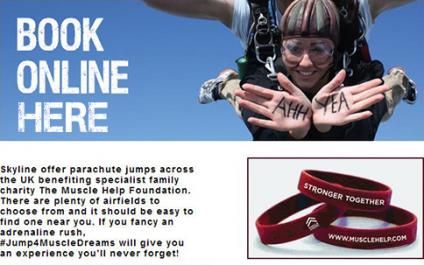 #powerof657
Of course we're after your FLYING-MUSCLES but we're also after you're FUNDRAISING-MUSCLES in support of our #powerof657 initiative. There are approximately 657 muscles in the human body; we're aiming to fulfil 657 MUSCLE DREAMS – that's why we love the number 657!
STEP 1 – BOOK YOUR JUMP ONLINE
We've partnered with professional event organisers SKYLINE CHARITY SKYDIVES to bring this challenge to you – click HERE to book online.
Choose to pay for your jump yourself or choose to raise money for our charity and jump for FREE! To receive your FREE jump, raise the minimum sponsorship of £395.00 or £595.00 (depending on the type of jump) ie. TANDEM Skydive v ACCELERATED Freefall  Skydive
Reserve your place with a £70.00 deposit
Spend the rest of your time fundraising in the lead up to your jump
Participation guarantees a minimum donation and many of our supporters have used this as an opportunity to raise further funds for MUSCLE DREAMS – remember, everything you raise over the minimum goes straight to the charity
Click HERE to book online today
Pictured below – #Jump4MuscleDreams participant MUSCLE WARRIOR Jake Kanter gives one of the charities distinctive MUSCLE WARRIOR salutes, a visible symbol of hope, courage, joy and unity for those with muscular dystrophy. Love the head-gear and that t-shirt – top man!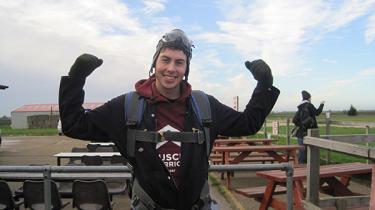 STEP 2 – CREATE YOUR ONLINE FUNDRAISING PAGE
Set up your online fundraising page with Golden Giving – select a fabulous photo of yourself (you decide!), tell your story in one or two paragraphs ie. explain why you are raising funds for our charity and finally, set your fundraising target (ideally linking to our #powerof657 initiative) … so how about aiming to raise £657.00 or £1,657.00 or shoot for the stars and raise £6,570.00 (you get the gist!).
STEP 3 – PROMOTE YOUR PAGE, TELL YOUR WORLD
Be sure you tell your world about your fundraising page! Invite family, friends and work colleagues to sponsor you – remember, the more people who receive your Golden Giving fundraising link and read about your challenge, the more donations you'll hopefully receive! Why not ask your supporters to donate £6.57 or £16.57 or if they're feeling really flush £65.70 – you get the idea!
Click HERE to book online today!
Want to #Jump4MuscleDreams either as an individual or in a group, book online by clicking HERE or contact us by emailing fundraising@musclehelp.com or call 01763 274658.
Follow @musclewarrior on Twitter
Use the hashtags: #powerof657 / #Jump4MuscleDreams