GRIM CHALLENGE
Date:

6 - 7 Dec 2014
IF YOU'RE READING THIS, YOU'LL WANT TO KNOW HOW TO SIGN UP!
STEP 1 – SIGN-UP
CLICK HERE to sign-up for GRIM Original on SATURDAY 6th DEC 2014
CLICK HERE to sign-up for GRIM Original on SUNDAY 7th DEC 2014
STEP 2 – IDENTIFY YOUR TEAM
Enter <Muscle Warriors> on the form where it says <Company>
STEP 3 – FUNDRAISE
Start fundraising; the charity is asking each Muscle Warrior GRIM-participant to raise a minimum of £65.70 (excluding gift-aid) for Muscle Dreams in support of our #657appeal
Be sure you have a photo of yourself (the funnier the better!) ready to upload as your profile pic! Once your page is set-up, then simply invite your family, friends and work colleagues to sponsor you – simples! Happy fundraising! Happy Training … and thank you!
NEED INSPIRATION TO HELP YOU FUNDRAISE?
Welcome to our charity's official Flickr Photo-Set – click the image below and be inspired! This is why we do what we do … as you will see, we have a lot of fun, but ultimately, we change lives and give hope. Thank you for using your GRIM-muscles in helping deliver more Muscle Dreams! We are indeed STRONGER TOGETHER!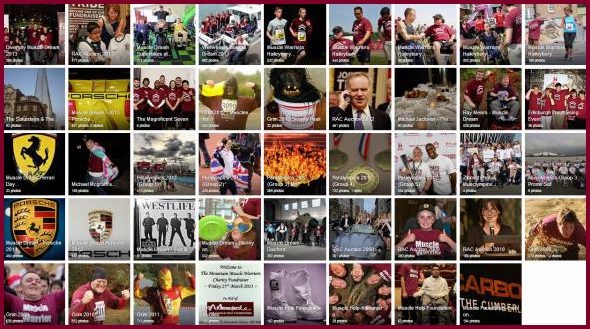 AND FINALLY …
MATCHED-FUNDING – ASK YOUR COMPANY TO:
> match what you're raising in sponsorship
> help promote your GRIM-efforts on your company intranet
> adopt us as your Charity of the Year in 2014