Triggerfish MD raises >£2500 by swimming from Europe to Asia in Bosphorus Cross Continental Race
Posted on

August 6th, 2015

The MD of London-based marketing communications company Triggerfish PR has successfully completed this years Bosphorus Cross Continental Race, a 6km swimming race, which took place on 26th July 2015 – in the process, this now fully-fledged Muscle Warrior has raised more than £2500 for The Muscle Help Foundation.

Pictured below: Andrew White wearing his swim-face
The annual event is organised by the Turkish Olympic Committee who incredibly arrange for the world's busiest shipping lane to be closed for just 2 hours as some 1700 competitors from 47 nations take to the waters and swim across the Bosphorus. The race crosses from Europe to Asia with Istanbul as its backdrop.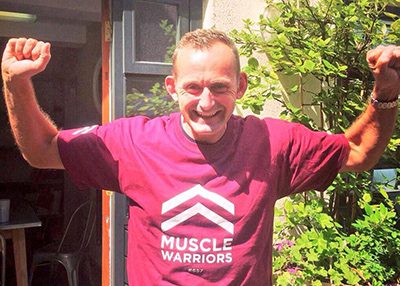 There's still time to make a donation as Andrew's Golden Giving fundraising page is still live – if you would like to make a donation and leave Andrew a congratulatory message, you can do so by clicking HERE – thank you.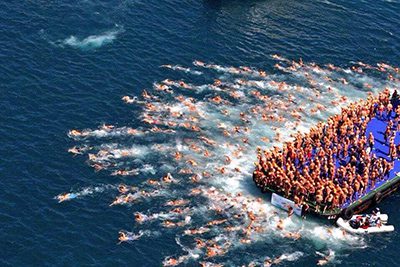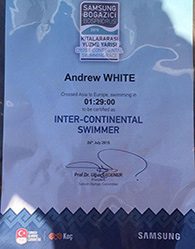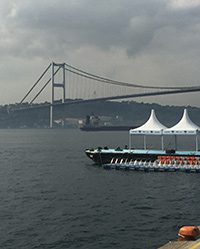 EXCERPTS BELOW ARE TAKEN FROM ANDREW'S BLOGPOSTED ON THE TRIGGERFISH WEBSITE

DATED: 29.07.15
TITLE: Slippers, shipping lanes and overcoming the psyche
< EXCERPT ONE – BEGINNING OF BLOG >
It takes something to stop a shipping tanker. It takes a whole lot to bring a shipping lane to a stand and it takes some bloody mindedness to swim from one continent to another, down the middle of that shipping lane! 
< EXCERPT TWO – END OF BLOG >
I soon realised I'd misjudged and over-egged the finishing point – so I put my race face back on! It was only as I approached the grandstand and the spectators I began to see more swimmers as we honed in on the finishing point. We were literally all focused on getting up on to a 20m pontoon and back on to terra firma! At 1hr 29 I finished, I was 38th in my age group and 311th out of 1300 males. The achievement was great and looking up the course to see a thousand or so swimmers pounding down the world's busiest shipping lane was a ludicrous site! The important thing was that I was doing the race to help people with far fewer abilities but far greater mental drive than me. I drew on my mettle to get over the finishing line, but what really struck was how lucky I am to be able put myself in this kind of situation. 
CLICK HERE TO READ THE FULL BLOG
MHF's CEO Michael McGrath said: "What an incredible effort and you can be sure that every penny that Andrew has raised will make a difference in helping the charity deliver a few more Muscle Dreams. I recall texting Andrew afterwards and then eventually speaking to him 24hrs after the race where he told me that he had been to the gym that morning! He certainly used his swimming muscles and I know that many of his friends and clients generously donated in support of Andrew's chosen cause. I'm now looking forward to hearing what Andrew's next swimming endeavour might be … someone mentioned the Hudson but perhaps closer to home, the Channel awaits! An extraordinary feat of endurance which commands respect. That's the #powerof657!"
Contact:
Lydia Drukarz, Director
Wavelength Public Relations
M. 07977 454180
E. lydia@wavelengthpr.com
Follow Wavelength PR on Twitter
http://twitter.com/WavelengthPR