Sainsbury's store announces support of Muscle Dreams
Posted on

September 4th, 2013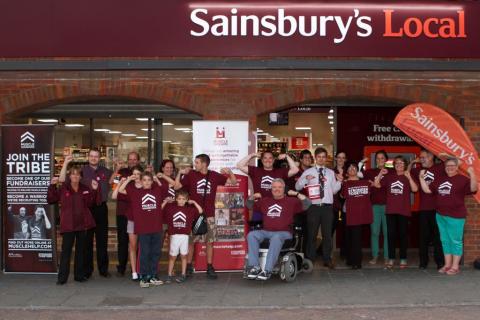 The Muscle Help Foundation is delighted to be working in partnership with the new Sainsbury's local store in the town of Buntingford, East Herts.
Pictured above: staff from Sainsbury's Buntingford store including Paul Saward (Store Manager) together with several volunteers from the surrounding villages including Braughing can be seen sporting the charity's distinctive Muscle Warrior t-shirt.
The group shot kindly taken by talented Hertford photographer and charity volunteer William Ferguson publicly announces the store's support of The Muscle Help Foundation. The photograph depicts the charity's signature Muscle Warrior salute, a visible symbol of hope, courage and strength in support of Muscular Dystrophy sufferers across the country.
Pictured CENTRE RIGHT, the Store's Manager Paul Saward (in white shirt and tie) with the charity's CEO, Michael McGrath himself a muscular dystrophy sufferer, full time powerchair user and inspirational business speaker.
"There are already a number of exciting initiatives planned – we're kicking off with a Muscle Warriors fundraiser and awareness event taking place at the store during the '13th Buntingford Classic Car Festival' on Sat 7 Sept that sees the annual Buntingford Classic Event come to town. Classic cars, trucks, tractors and bikes of all ages will adorn the town's historic High Street with a vibrant and colourful spectacle. This event will provide a brilliant platform for people to learn more about our unique, award-winning national family charity that works tirelessly to help fulfil the cherished dreams of children and young people in the UK suffering from the muscle wasting disease, Muscular Dystrophy. We're delighted to be working in partnership with Paul and his team," said McGrath.
"Our charity needs support to make many more of these amazing experiences in the UK known as 'Muscle Dreams' a reality, so please do come along to the Sainsbury's Buntingford store for a natter with some of our Muscle Warrior volunteers and find out more about our work and the difference you can make in helping us change lives and give hope. Our sought-after STRONGER TOGETHER wristbands will be on sale at just £2.00 each and along with donation buckets and information leaflets, I've no doubt it will be a fantastic day amongst all those beautiful classic cars!" added McGrath.
The relationship with Sainsbury's goes back to their sponsorship of the 2012 London Paralympics where Michael pictured above received the honour of carrying the Paralympic Torch through the London Borough of Waltham Forest. "It was a massive honour to carry the flame and something I will never forget," he said.
Contact:
Lydia Drukarz, Director
Wavelength Public Relations
M. 07977 454180
E. lydia@wavelengthpr.com
Follow Wavelength PR on Twitter
http://twitter.com/WavelengthPR