Muscle Warriors Grim and bear it
Posted on

December 14th, 2012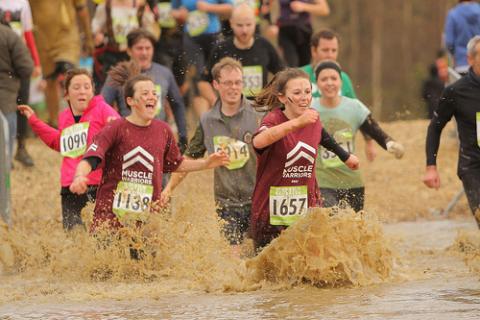 Nearly 50 Muscle Warriors braved ice and mud to raise cash for Muscle Dreams in the infamous Grim Challenge.
The runners raised as much as £6,000 completing the eight mile event across an army tank training course in Aldershot on the 1 and 2 of December.
In true Muscle Warrior spirit, they tackled icy puddles, waist-high clay pits and army-style obstacles with plenty of smiles.
Along the way, the competitors were cheered on by a special team of volunteers, who were armed with steaming cups of tea and hotdogs at the finish line.
A special Muscle Warrior salute goes out to Ryan Stevenson, who was the fastest runner in the Muscle Help Foundation's distinctive burgundy colours.
He completed the race in just under an hour and two minutes, meaning he finished 68th out of a total of nearly 3,000 runners.
Ryan helped gather a spirited group of runners from London housing association Family Mosaic, who all competed with impressive panache.
Congratulations also to the PricewaterhouseCoopers Muscle Warriors. The company entered a ladies team on behalf of the Muscle Help Foundation and they finished 12th out 37 other competitors. A fantastic result for the Grim novices!
Contact:
Lydia Drukarz, Director
Wavelength Public Relations
M. 07977 454180
E. lydia@wavelengthpr.com
Follow Wavelength PR on Twitter
http://twitter.com/WavelengthPR