Muscle Warrior'ette Jackie heads to Brighton to flex her running muscles over 26.2 miles
Posted on

April 10th, 2019

Sunday 14th April sees the Brighton Marathon celebrate its 10th year! And we're thrilled that among the thousands of marathon participants, we have an extraordinary lady called Jackie Bye who'll be running in aid of our little charity.

Give it up for Jackie Bye (pictured above) giving a fabulous Muscle Warrior salute but also check out her absolute commitment in matching her chosen race-day nail varnish to our charity colours – now that's real dedication!
And in terms of her fundraising efforts, over 30 supporters have so far donated on Jackie's JustGiving fundraising page. The charity is absolutely thrilled that with less than a week to go, she's hit her £657.00 fundraising target (click below to read more about Jackie's story and to donate) in support of our Muscle Dream activities – as we say, that's the #powerof657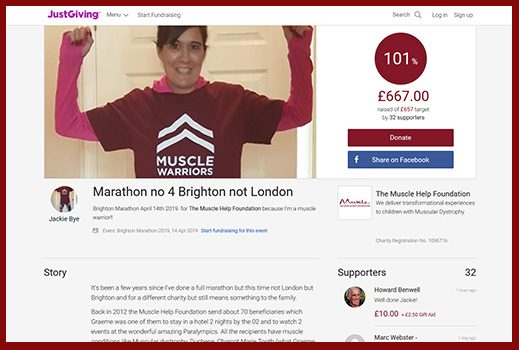 If you would like to make a donation, just click Jackie's JustGiving image above and be sure to leave a little message of support – thank you!
Jackie commented:
"It's been a few years since I've done a full marathon (26.2 miles). Back in 2012 the Muscle Help Foundation hosted some 70 beneficiaries at the London Paralympics. My son Graeme and I were selected; we stayed in a hotel by the 02, we watched two events and we became part of the charity's Muscle Warrior tribe! All the recipients had different types of muscular dystrophy incl Duchenne, Becker and Charcot Marie Tooth, the condition that Graeme has – 4 months after this Games Inspired Muscle Dream programme, Graeme was due to have surgery on his spine. Along with having CMT, he has scoliosis (curvature of the spine); Graeme received a phone call from the charity's CEO Michael McGrath wishing him luck in the surgery.
So, to say thank you to Michael and his team, I'd like to raise money towards a Muscle Dream so that another Muscle Warriors, like my Graeme, can have an experience realised, as I know it will be something they won't forget in a hurry!! That's why I'm hoping to raise £657.00 in support of their #powerof657 initiative, that's just £1.00 for every muscle in the human body"