Muscle Help Foundation charity wins £5000 Movement for Good Award as part of Benefact Group's Health & Wellbeing Special Draw
Posted on

June 1st, 2023

The Muscle Help Foundation charity has won a £5,000 Movement for Good Award from the Benefact Group thanks to nominations from the public. The charity was selected to receive a £5,000 donation as part of Benefact Group's 'Health & Wellbeing Special Draw. The 'Movement for Good' Award is giving over £1million to charities for the fifth year running.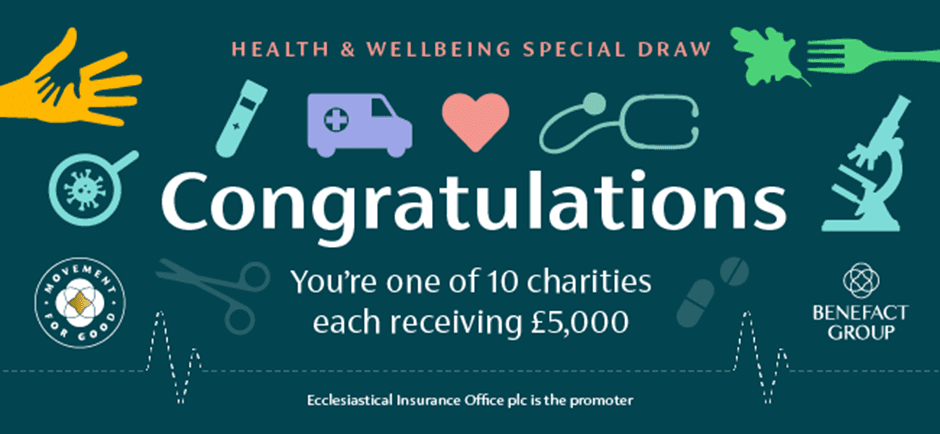 Members of the public were invited to nominate a health and wellbeing charity to receive one of 10 special grants and winners, including The Muscle Help Foundation charity, were drawn at random.
Mark Hews, Group Chief Executive of Benefact Group, said:
"We would like to thank every single person who took the time to nominate a health charity as part of our Movement for Good Awards. Benefact Group is the third largest corporate donor in the UK and has an ambition to be the biggest. Owned by a charity, all of its available profits go to good causes, and the more the Group grows, the more the Group can give. We know that £5,000 can make a huge difference to the incredible work that health and wellbeing charities do and we're looking forward to seeing how this financial boost will change lives for the better."
[Movement for Good is funded by EIO plc, part of the Benefact Group]
The Benefact Group's donation of £5000 will help contribute towards a mix of both virtual and in-person Muscle Dream experiences for young people like Amandeep, Alex, Izzy, Jimoh, Max, Sophie & James – you can read about their stories HERE
The donation will directly support the wellbeing of between approximately 15-20 beneficiaries, improving confidence and self-esteem but also giving an increased sense of hopefulness as well as establishing a powerful shared identity that connects vulnerable families together.
The charity's Muscle Dream interventions give hope, but they also provide a much-needed platform to share knowledge, memories and establish lasting friendships. This donation will help the charity move a little closer to its overarching goal of delivering 657 Muscle Dreams, one for every muscle in the body. As of May '23, the charity will have fulfilled 473 Muscle Dreams, leaving 184 to go!
Mark Hews, Group Chief Executive of Benefact Group, said:
"Last week, the charity invited its supporters, families, friends, donors, key partners, volunteers, suppliers, trustees and as I've now heard, so many others who've asked their own networks, friends and even schools to get involved, to invest just .20secs of everyone's time to nominate our charity to receive £5000 in the Benefact Group's Health & Wellbeing Special Draw. I am absolutely thrilled to say that we were one of the 10 chosen UK charities so to every single person who went online and voted, thank you, thank you, thank you!
Whilst a picture is worth a 1000 words, how about a video? If you went online and voted last week, the £5000 thank you video below is sent with gratitude and love from me to you! If you didn't get the chance to vote and by asking, perhaps I've made you feel a teensy-weensy bit guilty, well maybe a little donation to the charity here will make you feel better. Either way, on behalf of the charity, thank you to every single person who nominated us – you've made a difference!"
Michael McGrath, added:
"Right now, every single penny counts, so if you would like to get involved by for example helping to tell our 657 story, or maybe your business might like to sponsor one of our upcoming Muscle Dream programmes, or perhaps your company is looking to adopt a small charity, get in touch and let's have a conversation."
ABOUT THE MOVEMENT FOR GOOD AWARDS
Benefact Group's Movement for Good Awards is giving away over £1million to help charities change lives for the better.
150 £1,000 grants will be given away in June, a further 150 £1,000 grants will be donated in September, followed by 120 £1,000 grants which will be given away in December. £200,000 will also be given away in £5,000 special grants, and £500,000 will be given in larger grants of £10,000 or more later this year.
The £1,000 awards are open to all UK-registered charities. Anyone can nominate a registered charity at any time for the chance to receive £1,000.
Movement for Good is funded by EIO plc, part of the Benefact Group.
For more information visit movementforgood.com
ABOUT BENEFACT GROUP
Benefact Group is an independent, specialist financial services group that exists to give all its available profits to charity. Owned by a registered charity, Benefact Trust, Benefact Group's family of businesses provide specialist insurance, investment management and broking and advisory services in the UK, Australia, Canada and Ireland.
Benefact Group is the third-largest corporate donor to charity in the UK, according to the UK Guide to Company Giving 2023/24. It has donated almost £200m to charity since 2014 and is aiming to reach its target of giving £250m by 2025. Find out more here: benefactgroup.com
ABOUT 2023 – MHF'S 20th ANNIVERSARY YEAR

2023 sees the charity reach a milestone, its 20th Anniversary – since 2003, it has touched the lives of 1000's of people across the UK living with Muscular Dystrophy, from families and local communities to schools and businesses; today, its impact and reach continues to grow.
Plans for many other unique Muscle Dream experiences and programmes in the 2023 / 2024 period are shaping up – right now, with the cost of living crisis in mind, every single penny counts, so please, if you're able to support our cause with a donation, whatever you can give, whether £6.57 or £20.00 to mark MHF's 20th anniversary, all donations will be hugely appreciated – thank you.
To push on with its 657 mission, the charity is not only looking to establish new partnerships and collaborations but like many small charities, it desperately needs support in order to continue its important work – if you can help, please donate £20.00 or whatever you can give by clicking HERE – thank you.
GREAT PARTNERSHIPS START WITH A STORY – WILL YOU TELL OURS?

Part of this milestone anniversary year is a focus on storytelling, a powerful tool that can influence behaviours, change mindsets and move people to take action. We know that storytelling in today's digital age is crucial – stories have to cut through which is why we have published several new beneficiary case studies, powerfully illustrating via personal insights, emotions and feelings why MHF's work matters and how you can easily support our mission by helping to tell our story.
ABOUT THE CHARITY'S IMPACT

Uplifting, joyful and often cathartic in nature, MHF's academically validated work and impact is rooted in the idea that well executed, shared experiences can be powerfully transformative in nature.
ABOUT MUSCULAR DYSTROPHY (MD)

Thanks to MHF's friends at Muscular Dystrophy UK, research reveals that approximately 110,000 people (babies, children and adults) in the UK live with muscle-wasting conditions. Muscular Dystrophy is a progressive condition that gets worse over time. It is the single biggest genetic killer of children in the world today. It robs sufferers of their mobility, their independence and finally for those with the most severe type (Duchenne Muscular Dystrophy or DMD), their lives. Although there is some excellent research going on around the world, there is still currently no known treatment.
ABOUT MHF'S UNIQUE POINTS OF DIFFERENCE

Over the past 12-months, MHF's tailored approach in operationalising bespoke virtual 'person-centred' Muscle Dream programmes continued to deliver positive outcomes for beneficiaries and families. The 'lived experience' of the charity's CEO (Michael McGrath) who has Muscular Dystrophy (LGMD2A) and who is the driving force of the organisations work, provides both a unique, valuable and trusting influence on those for whom MHF exists to serve.
ABOUT MHF'S VULNERABLE BENEFICIARIES

Duchenne Muscular Dystrophy (DMD) is the most severe form of Muscular Dystrophy (MD) – it is life-limiting affecting approximately 1 in 3,500 new-born boys. The majority (some 96%) of MHF's beneficiaries are boys and young adults with DMD. On average, those aged 10-13yrs will transition into a manual wheelchair. By the time they reach 17-19yrs, breathing, cardio and diminishing arm movements are increasingly prevalent.
THINK 657 – THE MORE UNUSUAL AND INTRIGUING, THE BETTER!
The more unusual and intriguing the connection to the number 657, the greater the opportunity to tell our charity's story."

(Source: Michael McGrath, CEO, Muscle Help Foundation)
MHF is running a national campaign called The Power of 657 and its mission is simple – to deliver 657 transformational interventions for children, young people and their families with Muscular Dystrophy in the UK, that's one life-changing experience for every muscle in the human body.
WHAT'S YOUR 657 CHALLENGE?

We want you to think about the number 657 – the charity is on the lookout for all/any links to the number 657 and as such, we are keen to establish mutually beneficial collaborations ideally around the number 657. So, get in touch if you know of any 657 connections in your world or in your work ~ the more unusual, the more intriguing, the better!