Take your artistic expression to the next level with our new Virtual Muscle Dream Programme 'Drawing Strength – Art 1.0', taking place on Saturday 20th March! Find your inner strength in art! Apply below.
Applications are now open for 'Art 1.0 Drawing Strength' – an innovative live art experience that will  encourage creative expression and strength by drawing inspiration from the nature around us. An opportunity to express yourself and leave your mark by contributing to our Charlie Mackesy inspired Drawing Strength Muscle Masterpiece!
DON'T DELAY, APPLY TODAY
Hosted by Sue Duraikan of Duraikan Training, who is passionate about developing people to reach their potential, together with Debbie Roberts of Engage Visually, who will be capturing insights and bringing them to life using real-time graphic facilitation and recording.
Applications are encouraged from anyone with muscular dystrophy (8-18yrs) with an interest in art and creativity. This programme offers a unique opportunity to be a part of our Charlie Mackesy inspired Drawing Strength Muscle Masterpiece together. Using the power of your imagination, you'll be able to create your own signature expression using a pre-designed template. An opportunity to learn how to express your inner Muscle Warrior strength artistically in drawing inspiration from the world around us.
>>APPLICATIONS DEADLINE DATE = THUR 18TH MARCH<<
Know someone with muscular dystrophy (MD) aged between 8 & 18yrs old? Please share this so that as many children and young people with MD across the UK hear about this opportunity and can be nominated to participate in our inaugural Virtual Muscle Art Dream programme .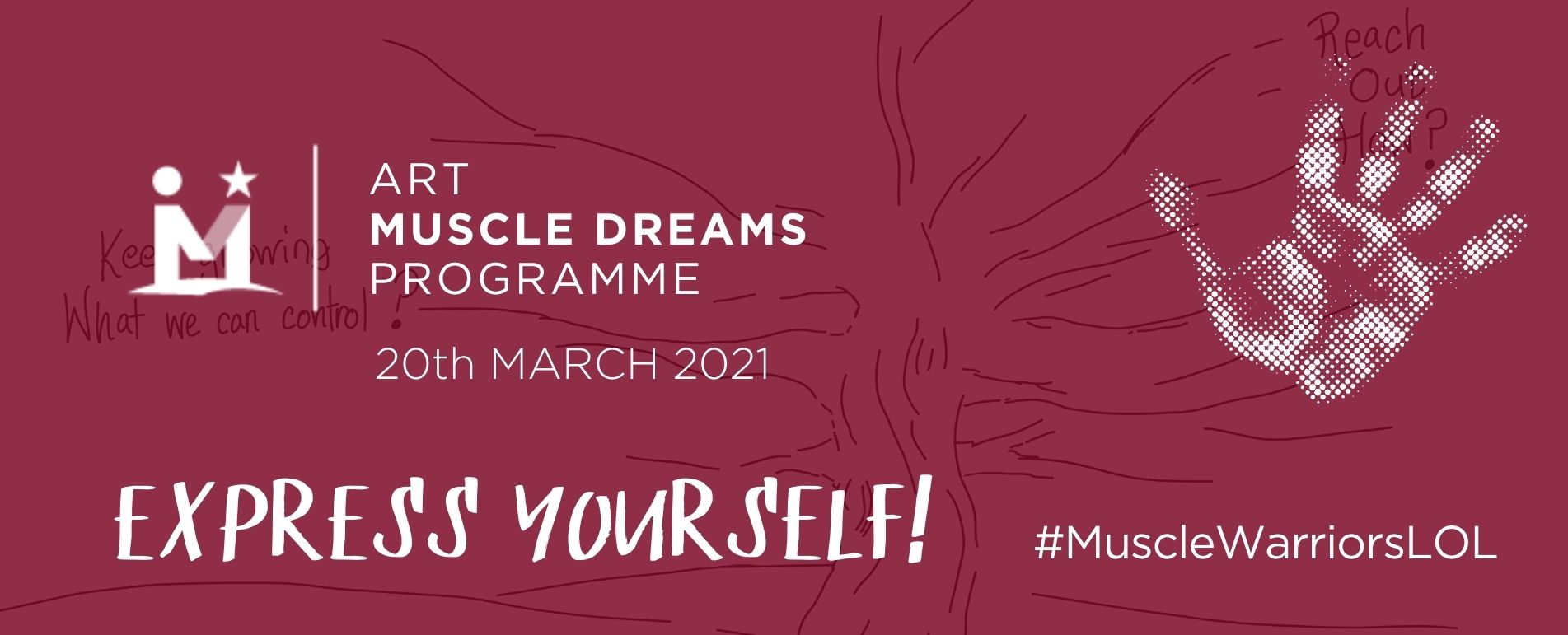 To participate and express yourself in 'Drawing Strength – Art 1.0', check out what you'll need to do to participate and then complete the online application below.  
Create your own Charlie Mackesy inspired Drawing Strength Muscle Masterpiece with our template
Post your completed masterpiece or most memorable moment from Art 1.0 in our Facebook Group
Be included in our prize draw for a chance to win some fabulous prizes including a Hotel Chocolat gift hamper and a £100 gift voucher of your choice!

U

se the hashtag

#MuscleWarriorsLOL

on your

social

posts
ALL PARTICIPATING FAMILIES WILL RECEIVE
>>APPLICATIONS DEADLINE DATE = THUR 18TH MARCH<<
KEY PROGRAMME CRITERIA
♦ Minimum age = 8yrs, maximum age = 18yrs
♦ We will inform successful nominees by email within 24hrs of the applications deadline date
♦ The charity's decision is final
MUSCULAR DYSTROPHY
As with all Muscle Dreams, our beneficiaries are defined as children & young people in the UK with Muscular Dystrophy (MD) & allied neuromuscular conditions.