MHF's annual auction raises £11,500
Posted on

November 26th, 2012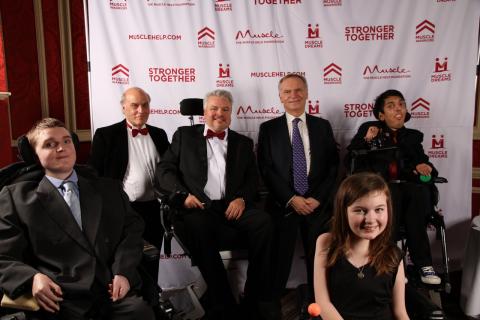 Bestselling author Jeffrey Archer helped the Muscle Help Foundation (MHF) raise around £11,500 for Muscle Dreams at the charity's glittering annual auction.
The man behind books including Kane and Able turned auctioneer for the evening, persuading MHF's supporters to bid on a sumptuous array of gifts and experiences.
Guests at the event, held at London's Royal Automobile Club (RAC) for the fifth time, jostled for lots including a personal training session with Richard Callender, the star of ITV1's The Biggest Loser, and three bottles of Bollinger Champagne in limited edition gun silencer-style cases.
"Jeffrey Archer conducted the evening's proceedings with great wit, insight and moments of brilliance in helping our family charity achieve a respectable outcome," said Michael McGrath, MHF chief executive.
Olivia faced intense competition from another bidder, but a compromise was reached when Archer artfully spoke to Rankin on the phone and the Scottish novelist generously agreed to feature both Olivia and the other MHF guest in the book.
McGrath added: "Jeffrey's comment to the odd RAC passerby was in my opinion sublime: "If you've got no money, don't come in." He was bang on message!"
Archer, who has raised more than £2m for charities through similar auctions, was won over by MHF's mission.