MHF AMBASSADOR JOSH WEBSTER
Posted on

May 2nd, 2013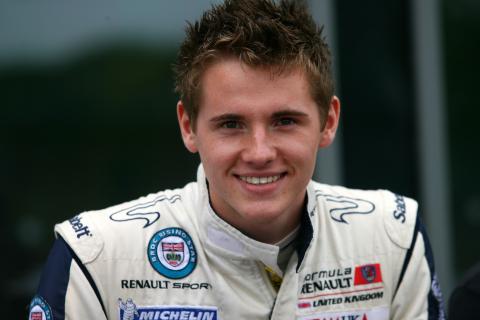 19yr-old British racing driver Josh Webster from Stowmarket, who races in the GP3 Series for Status Grand Prix, joins forces with the Muscle Help Foundation as an MHF Ambassador.
"When I heard about The Muscle Help Foundation, I was keen to learn more about this unique family charity and help in any way possible to fulfil more Muscle Dreams for young people affected by Muscular Dystrophy. I am honoured to be invited to be an MHF Ambassador and I'll be proud to carry the charity's logo on both wings of my GP3 race car this year. I'm really looking forward to getting involved with up-coming events and having fun with many of MHF's beneficiaries who are motorsport fans!" said Josh Webster.
The Silverstone-based Status Grand Prix team signed the British driver in his first year to join its attack on the 2013 GP3 Series – the championship enters its new era with a 400hp engine. Josh makes the step up to the Formula One™ support series with the support of long-time sponsor Nine Group, who have backed him in his previous three seasons of racing in Formula Renault in the UK.
"We are delighted to be working closely with Josh and his family. This is a very exciting partnership underpinned by a real desire to make a difference in helping to not only raise awareness and funds but also change more lives and give hope – the charity is already looking at a number of exciting events that will involve Josh personally meeting some of our Muscle Dream beneficiaries. To see MHF's logo on the inside of both wings of his racing car was a pretty cool moment – undoubtedly, this will bring additional much-needed exposure to the work of our charity," commented MHF's CEO Michael McGrath
.
Josh lives in Suffolk with his parents and two sisters; his hobbies include cycling, skiing and fitness training.
For more information about Josh – www.joshwebster.co.uk
Contact:
Lydia Drukarz, Director
Wavelength Public Relations
M. 07977 454180
E. lydia@wavelengthpr.com
Follow Wavelength PR on Twitter
http://twitter.com/WavelengthPR