Jordan's Muscle Dream sees him start Nico's 6.57km Fun Run at Mercedes AMG PETRONAS Formula One Team's HQ
Posted on

May 20th, 2016

The sun shone on Thursday 5th May 2016 for the charity's latest Muscle Dream beneficiary from Hasting's (East Sussex), 19yr-old Jordan Wright who has Duchenne Muscular Dystrophy (DMD) and his family. A beautiful day in Brackley at the Mercedes AMG Petronas Formula One Team's HQ unfolded for Jordan who had absolutely no idea what was going down … the element of surprise is often a key ingredient when it comes to delivering the charity's unique Muscle Dream experiences!

Pictured below: Nico Rosberg with Jordan Wright (front row, right) with his mum Sarah (2nd row, right), younger sister Aimee and MHF's CEO Michael McGrath delivering one of the charity's distinctive Muscle Warrior salutes, a visible symbol of hope, courage, strength and unity for all those with Muscular Dystrophy across the UK.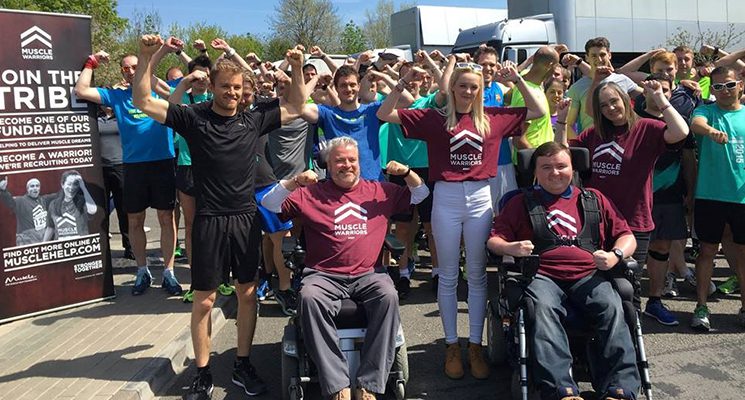 Jordan Wright (pictured above) is the charity's 211th Muscle Dream beneficiary. On his Facebook page, Jordan said:
"Thanks for an amazing day at Mercedes AMG Petronas's factory (in Brackley). I was given a meet and greet with Nico Rosberg!! and a tour around the factory of the team! Thanks for an amazing unforgettable day!
After enjoying a dinner and spending a night as guests of the charity at the award-winning Whittlebury Hall and Spa near Towester, Jordan and his family were escorted from the hotel to the Mercedes AMG Petronas Formula One Team's HQ at Brackley. A tour of the factory by MHF Charity Champion Mel Ridgers provided a fascinating insight into the world of F1 racing.
This was followed by a wonderful meet and greet with F1 racing driver Nico Rosberg before Jordan was invited to start 'Nico's Run'. Some 70 or so employees took part and many came out of the factory into the sunshine to support their team colleagues including Technical Director Paddy Lowe (snapped below by the charity's Volunteer Photographer Will Ferguson) writing some words in Jordan's autograph book; thank you Paddy!
Once the running race had finished, Jordan and his family were escorted to the Boardroom where lunch was enjoyed and where Jordan was presented with an array of beautiful gifts some of which had been personally signed by Nico as well as one or two of the key Mercedes AMG Petronas Formula One Team Directors. Another magic dust moment occurred when Nico very kindly came to join the group in the Boardroom for another natter with Jordan; they chatted about his earlier run, Nico's winning trophy from the Russian F1 Grand Prix that Jordan had earlier held, motor racing in general and the season ahead ~ it was a delightfully memorable lunch!
Watch the film below to see Jordan start 'Nico's Run' and see who finished in first place!
This year's now traditional Hinton-in-the Hedges Fun Run saw Nico Rosberg challenge the Mercedes AMG PETRONAS Formula One team to a 6.57km run in support of The Muscle Help Foundation.
Michael McGrath, MHF's CEO said:
"It was such a privilege to spend some quality time with Jordan and his family ~ his beaming smile on first meeting Nico was absolutely priceless! Nico was a true gent, warm and generous in spirit … and now a fully-fledged Muscle Warrior! And it was great to also spend time with Paddy Lowe, the team's Technical Director and mix it up with many of the Mercedes F1 staff who participated in 'Nico's Run' helping to raise much-needed funds so the charity can continue to deliver more Muscle Dreams in the future. As we say, that's the #powerof657!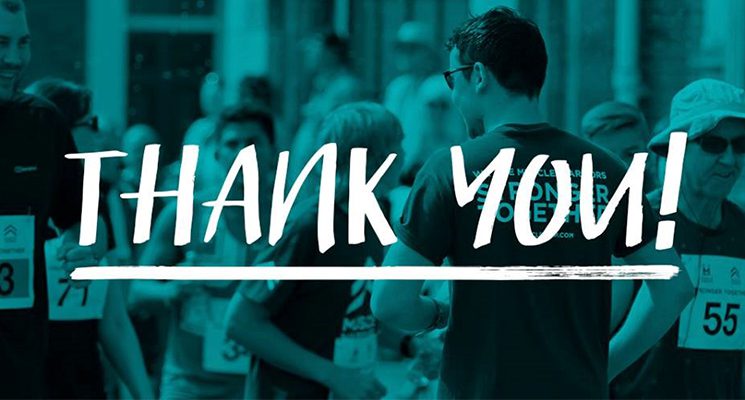 Thank you to all those who donated on the day, who took part in the run and who helped organise the event but also those who simply stopped by before, during and after 'Nico's Run' to say hello to Jordan and meet his family. And also a very special note of thanks to Muscle Warrior'ettes Nicole Bearne and Mel Ridgers from the Mercedes AMG PETRONAS Formula One team for hosting the day so generously, laying on lunch and of course championing the cause!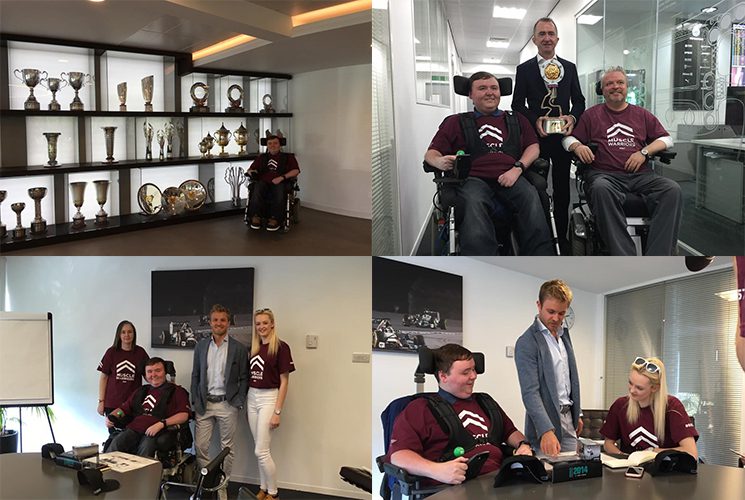 Source: Photos from Jordan Wright's Facebook Page (Mobile Uploads)
MHF is a multi-award winning, niche family charity delivering life-changing, highly personalised experiences, known as 'Muscle Dreams', for children and young people in the UK with Muscular Dystrophy (MD) and allied neuromuscular conditions.
The charity has one singular aim to deliver 657 Muscle Dreams, that's one life-changing experience for each muscle in the human body. To date, 211 have been fulfilled for some incredibly deserving young people; that's the #powerof657.
Contact:
Lydia Drukarz, Director
Wavelength Public Relations
M. 07977 454180
E. lydia@wavelengthpr.com
Follow Wavelength PR on Twitter
http://twitter.com/WavelengthPR