Ironman Triathlon Team Races towards £10,000
Posted on

July 17th, 2007
Ironman Triathlon Team Races towards £10,000 Charity Fundraising Target.
Three amazing Hertfordshire triathletes have been flexing their muscles and raising vital funds for the Hertfordshire-based charity MHF (The Muscular Help Foundation) – they will in July be flying to Austria to line up with over 2000 other triathletes from around the world competing in the gruelling Ironman Austria Triathlon taking place in the lakeside resort city of Klagenfurt
To flex your financial muscle, simply click the DONATE NOW button on our Road2Ironman MHF Team Challenge Barometer on our charities homepage or click www.justgiving/road2ironman
KarnTen Ironman Triathlon Austria (logo)
The Hertfordshire based Ironman Triathlon Team consists of Doug Grant, Justin Webb and Dr Justin Roberts – they have over the past 6 months been training hard for the Ironman Austria Triathlon in Klagenfurt, Austria on Sunday 18th July 2007. They are raising funds for the Muscular Help Foundation, a small charity based in East Hertfordshire and they are racing towards their incredible target figure of £10,000 which will enable the charity to realise more Muscle Dreams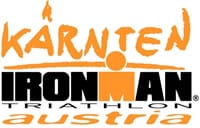 Michael McGrath, MHF's Chief Executive is the inspiration behind the teams Ironman efforts, being the only disabled person in the world to have walked to both the North and South Poles. Despite having the muscle wasting disease muscular dystrophy, McGrath travels extensively as a motivational speaker, engaging and inspiring action audiences around the world; when not speaking, he is promoting awareness, educating and raising funds for MHF.
He had this to say about MHF's three Triathletes – "Doug, Webby (known affectionately as 'go-faster-stripes') and JR have I know sacrificed much in the pursuit of achieving both personal and team objectives. They will face the biggest test of their triathlon lives in July in Klagenfurt, Austria. Tremendous efforts have been made, they're training regime has been awesome, they're motivated, families and friends have been incredibly supportive and I've every confidence that they will finish with their adrenalin pounding, their hearts racing and their spirits will I've no doubt be through the stratosphere. I'm hugely proud of their endeavour, commitment and motivation in supporting the work of our charity – they are indeed true Muscle Champions!"
The Ironman consists of an open water swim for 3.8km/2.4miles, then a bike section of 180km/110 miles and finally a full marathon, that's 42km/26.2 miles – they will begin a long day that will include a swim in the stunning Lake Worthersee situated in Carinthia, followed by a new two-loop bike course that takes in the beautiful countryside and picturesque villages of the Karnten region – the day finishes with a flat, fast, fan-filled run that takes in downtown Klagenfurt. Karnten is the southernmost region of Austria, and offers an incredible mix of mountains and lakes, and lots of sunshine. It is a beautiful spot for an Ironman, which explains why the race reached capacity in record time this year!
Maximuscle, the UK's number one sports nutrition supplier has been sponsoring the three triathletes and has helped them hugely, thanks to the products that the company supplies – these have helped the team in terms of both individual work rates and most importantly recovery times. Maximuscle sponsor many leading sportsman and women in the UK and they are now helping Doug, Webby and JR to get into the best shape possible for July 8th 2007.
About Maximuscle

Maximuscle
Founded in 1995 by sports nutrition expert Zef Eisenberg, Maximuscle embodies the notion that through commitment and understanding, your physique goals can be easily achieved and your sporting performance surpassed.
As the UK's number one sports nutrition supplier, Maximuscle has focused on highly effective research-supported formulas that deliver what they promise. By making great tasting, science supported, safe products easily available, Maximuscle has helped sportspeople – from the gym enthusiast to the elite Olympian – realise their full potential.
Contact:
Lydia Drukarz, Director
Wavelength Public Relations
M. 07977 454180
E. lydia@wavelengthpr.com
Follow Wavelength PR on Twitter
http://twitter.com/WavelengthPR