Resounding success at Silverstone for 5th Annual Porsche Muscle Dream Programme
Date Fulfilled:

18th June 2015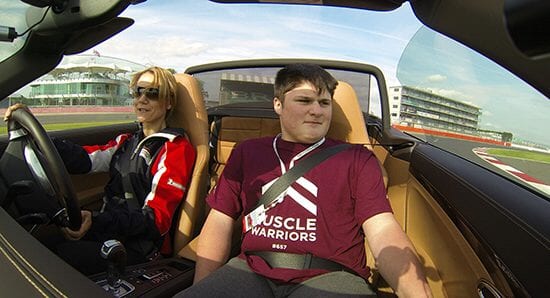 Pictured above: 16yr-old 'Muscle Warrior' Ryan White burning rubber on the famous Silverstone Grand Prix Circuit.
For the fifth year, the luxurious Whittlebury Hall Hotel & Spa together with the Porsche Experience Centre at Silverstone hosted eight 'Muscle Warriors' from across the UK. The eight successful applicants joined MHF's annual Porsche 'Muscle Dream' Driving Experience Programme on Thurs 18th – Fri 19th June 2015.
Aged between 9yrs – 23yrs, the eight beneficiaries and their families travelled from different parts of the country arriving at Whittlebury Hall. No sooner had they arrived when they were 'buddied-up' with their dedicated Volunteer Charity Hosts. After refreshments in the Silverstone Bar, a scrumptious lunch was served in the Bentley Suite followed by a two very special 'reveals' in the hotel's courtyard to the group.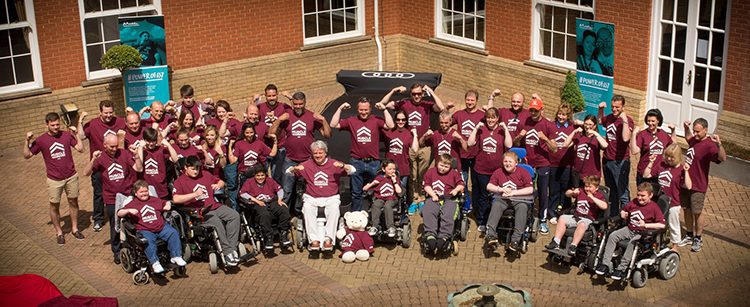 Pictured above: The #Classof2015 delivers an outstanding Muscle Warrior salute (unique to MHF): a visible symbol of hope, courage, strength and unity for all those with muscular dystrophy, prior to the reveal of an Audi R8 kindly provided by the owner of Progressive Motorsport, a dynamic Motorsport Engineering, Research and Development Company based in Brackley, Northants in the heart of the UK's "Motorsport Valley"
The self-confessed 'petrol heads' were also treated to a once-in-a-lifetime' moment when Lewis Hamilton's 2014 F1 Championship Car was revealed with the charity's mascot 'Ernest' jumping into the drivers seat!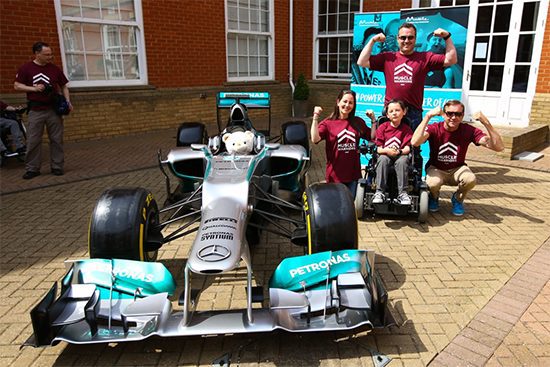 Pictured above: 9yr-old Muscle Warrior Will Cleary with his mum Stephanie and dad (Steven, standing) together with their host Mark Whitman giving a Muscle Warrior salute alongside a very special car!
"Thank you so much for such an amazing Muscle Dream! Our whole family are so grateful for your kindness, thoughtfulness and generosity. We all thoroughly enjoyed every moment and seeing Will having the time of his life in the cars, and his delight at the many surprises throughout the day and night warmed our hearts. We are so overwhelmed by all that your charity has done for our family – we feel so very lucky to have been part of it and to have had the chance to create these special memories to keep forever."
SOURCE: Stephanie Cleary (mum to Will)
This year, all the beneficiaries were not only treated to some time on the Porsche Experience Centre track but for the first time, permissions were given for them to experience the world famous Silverstone Grand Prix circuit in full where once again rubber was indeed burned in various Porsche 911's.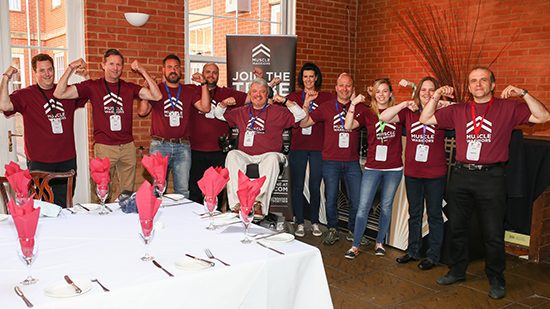 Pictured above: MHF's 2015 Volunteer Charity Hosting Team (left to right): Scott Barrowcliffe, Mark Whitman, Steve Luff, Clive Goodchild, Michael McGrath, Rhian Jolley, Steve Torricelli, Emma Harding, Mel Ridgers and Jonathan Finnerty
"A massive thank you to all our volunteer hosts on behalf of the charity for giving so generously of your time, support, energy and care yesterday. The boys and their families thoroughly enjoyed their day and we've had some wonderful thank you messages, calls and emails today. We couldn't have done it without all of you. We loved watching you interact with and get to know each of the families and seeing how much they enjoyed spending the day with you. Your care and thoughtfulness really made their day extra special!Particular thanks to Mel Ridgers for organising the delivery of those amazing cars that went down such a storm with the boys and their families and for providing some fabulous goody bags and other treats! You could see the boys' faces light up when they were presented with their signed Lewis Hamilton photographs and I know that they will be heroes when they show off their goodies to their friends in school!"
SOURCE: Lydia Drukarz, MHF's Programme Event Manager
Below a number of excerpts illustrating some of the feedback received by the charity in the form of text messages, emails and hand-written notes demonstrating the impact of the programme.
"Thank you so much for such an unforgettable, fantastic experience. No words can describe the feeling we had to see our son so happy. Excellent organisation from start to finish – made Zidhan feel special, like a VIP."

SOURCE: Sahal & Fawzia (Zidhan parents): heard about Muscle Dreams via Zidhan's school

"The whole day was amazing from start to finish. I did something that I thought would never be possible."

SOURCE: Daniel Fox (14yr-old beneficiary): heard about Muscle Dreams via Duchenne Family Support Group

"Toby had an absolutely marvellous time! Unbelievable! Thank you all so much for the warmth and kindness. Truly remarkable! If there is anything I could do to help the charity in the future, please let me know"

SOURCE: Andrew Maurice (dad of 12yr-old Toby): heard about Muscle Dreams via Facebook

"Thank you soooooooooooo much for an AMAZING time and all of the presents and all the fun at Silverstone …. :-)"

SOURCE: Will Cleary (9yr-old beneficiary): heard about Muscle Dreams from a friend

"Had a great day yesterday and want to say many thanks to the whole team for making the day as good as possible – made me feel that life is still worthwhile"

SOURCE: Michael Coleman (23yr-old beneficiary): past beneficiary & has friends who are also previous beneficiaries

"The chance to go fast with no one saying slow down and that it had to end!"

SOURCE: Ryan White (16yr-old beneficiary): heard about Muscle Dreams from school & friends
Michael McGrath, CEO of the Muscle Help Foundation, said: "Once again, the sun shone! It was so good to see everyone smiling and enjoying themselves. Huge thanks to our key partners at Whittlebury Hall and the Porsche Experience Centre. And of course to our volunteers, the life-blood of our family charity; you know who you all are! You did us so proud!"
"As always, it is a real privilege for our families to let us in, to entrust us with their sons and to allow us to do all the thinking on their behalf – such a responsibility requires a team who understand and who subscribe to our values as a charity as well as what it means to be a part of our Muscle Warrior tribe."
"Thank you once again in helping us change lives and give a little hope to our eight VIP's and their families – each year, the proverbial bar is set a little higher and this year, it was without doubt surpassed. I now have an eye on our 2016 programme! Watch this space!" added McGrath.
Contact:
Lydia Drukarz, Director
Wavelength Public Relations
M. 07977 454180
E. lydia@wavelengthpr.com
Follow Wavelength PR on Twitter
http://twitter.com/WavelengthPR