Folkstock Christmas Festival is a resounding success
Posted on

December 16th, 2013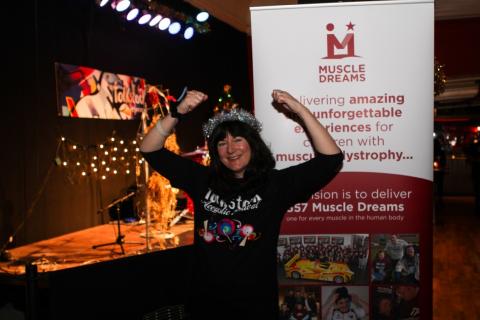 Helen Meissner, MD of the Folkstock Arts Foundation pictured above giving a Muscle Warrior salute (a visible symbol of hope, courage and strength for all those with muscular dystrophy). Helen nominated family charity The Muscle Help Foundation at her recent Folkstock Christmas Festival which took place at the Hertford Corn Exchange on Sunday 8 December 2013.
Together with wristband sales and individual donations totalling £116.08, some excellent awareness was raised amongst the growing Folkstock community.
"Thank you to all those who donated, to the many talented artistes who tweeted so positively about the event and about our cause – local events such as these are so important in helping to inform people about our family charity and about Muscle Dreams, specialist highly personalised experiences in the UK for children and young people with muscular dystrophy. We look forward very much to partnering with Helen in the future", said the charity's CEO Michael McGrath.
The Hertfordshire Mercury ran a number of editorial pieces about Folkstock including the one below published on Wed 11 Dec 2013 which included a great pic of Lewis Sallows from The Tritones – all the members of the band go to Freman College (in Buntingford, East Herts) whose 6th form earlier this year adopted the charity.
Click here to read the piece
Info about Folkstock:
Go to: http://www.folkstockfestival.com
Facebook: https://www.facebook.com/Folkstock
Twitter: https://twitter.com/Folkstock
Info about Folkstock Art Foundation:
Go to: http://www.folkstockartsfoundation.com
Contact:
Lydia Drukarz, Director
Wavelength Public Relations
M. 07977 454180
E. lydia@wavelengthpr.com
Follow Wavelength PR on Twitter
http://twitter.com/WavelengthPR