FLYING MUSCLE DREAM PROGRAMME
FLYING MUSCLE DREAM PROGRAMME
TAKE THE CONTROLS, EXPERIENCE LEVEL FLIGHT, EARN YOUR WINGS
Delivered By: Aerobility, Blackbushe Airport, Hampshire
DATE: Wednesday 6th September, all day
AGE RANGE: 10 – 28yrs
MAX NUMBER OF BENEFICIARY PLACES: 3
DEADLINE FOR NOMINATIONS: Sun 27 August (midday)
Chocks away! Time to take the controls in level flight, enjoy the thrill of a lifetime and earn your wings! This personalised and very popular flying intervention gives a powerful sense of achievement, where horizons are broadened. A unique opportunity to experience the joy and freedom of flying. Lunch and afternoon tea will be provided.
As a small charity with extremely limited resources, priority will always be given to children, young people and young adults who have NOT been the recipient of either a unique Muscle Dream or one of the charity's Muscle Dream programmes, whether delivered virtual or in-person. We will aways do our very best to accommodate. We will inform successful nominees by phone and as ever, the charity's decision is final.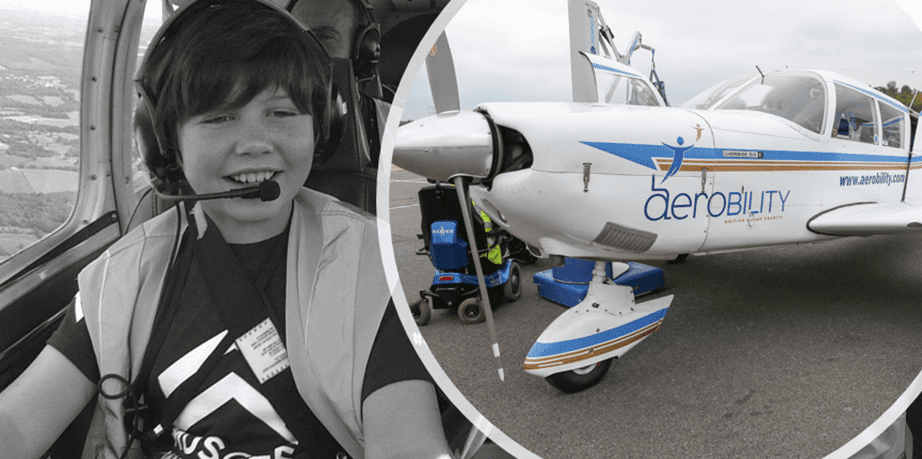 KEY OUTCOMES / TAKEAWAYS
Yes, you can fly!
Enormous sense of achievement.
Boost your self-confidence & your self-esteem.
Listen to the Captain, take the controls & feel the freedom!
Uplift your wellbeing, feel amazing at what you have accomplished.
Connect with other Muscle Warrior
Be presented with your wings!
THREE (3) PLACES AVAILABLE + NUMBER Of PASSENGERS
We are offering 3 places to young people and adults with muscular dystrophy. Each beneficiary may bring his/her family and/or PA/carer/guardian i.e. up to a max of three (3) people. Therefore, the total group size including the one (1) beneficiary per family will be four (4) people in total. We know that occasionally a 2nd carer is needed to assist a beneficiary; if this is the case, please let us know. Up to a maximum of three (3) family member's including one (1) beneficiary will be able to go in the aeroplane.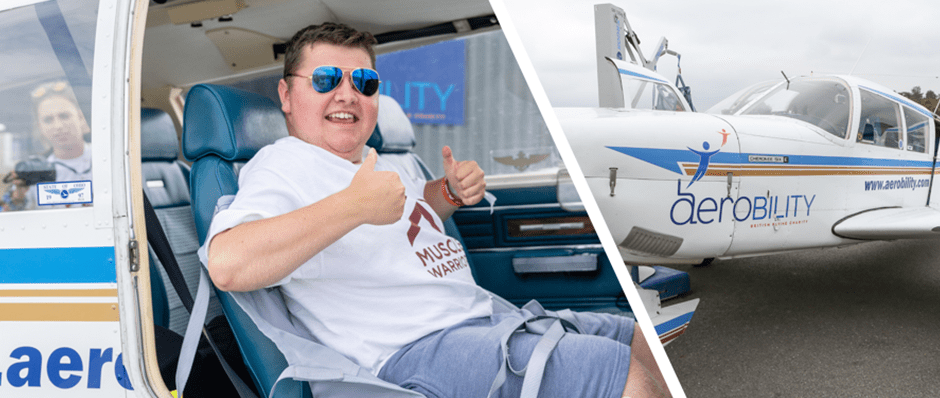 KNOW SOMEONE WITH MUSCULAR DYSTROPHY?
If you know someone aged 10 – 28yrs with muscular dystrophy (MD)? Please share this so that as many young people and adults with MD across the UK hear about this rather special opportunity and can either self-nominate to participate or ask a parent/PA/carer or guardian to nominate them.
WE LOVE NOMINATIONS THAT MAKE US LAUGH!!
Tell us as creatively as you can in the message section of the online nomination form what it would mean to you and your family to be selected for this year's 2023 Flying Muscle Dream programme. Should any beneficiaries have a learning disability, mums and/or dads and/or brothers/sisters etc can of course and indeed are encouraged to help with the nomination – remember, the more fun, the more creative, the better!
IMPORTANT NOTE ON EQUIPMENT / HOISTING
Hoisting is often necessary for those unable to self-transfer. Possession of portable hoists and appropriate slings (if required to enable ease of transfer) must be brought by beneficiaries and/or their families; please note, the charity does NOT provide any equipment. In cases of extreme muscle weakness, where breathing support is needed or for example the head needs support, solutions are available. Aerobility have an excellent hoist system which the Muscle Help Foundation charity has used very successfully in previous years, enabling safe and comfortable aircraft access and exit.
OPERATIONAL PARTNER / OUR FRIENDS AT AEROBILITY
Celebrating their 30th anniversary, we are delighted to announce that once again our operational partner is Aerobility based at Blackbushe Airport (Reg Charity No. 1149629), Hampshire. Over several years, Aerobility has supported the charity's Flying Muscle Dream programmes.

MAKING FLYING ACCESSIBLE FOR ALL
Aerobility is a user led charity run largely by disabled aviators with experienced instructors trained to work with disabled individuals using adapted aircraft, making flying accessible for all. Aerobility are regulated and approved by the Civil Aviation Authority.
CREATING A HIGHLY PERSONALISED FLYING EXPERIENCE
Our aim is to take a pioneering stance by giving a highly personalised flying experience to young people with muscular dystrophy (MD) by encouraging them to literally take-the-controls in level flight.
SELF-BELIEF, CONFIDENCE, PERSONAL RESILIENCE
Over many years in delivering this programme, we know that it gives 'flyers' a powerful sense of real achievement underpinned by greater self-belief, improved confidence and personal resilience. In broadening beneficiary horizons, we aim to transform a person's outlook and encourage a desire to experience new things in their lives.
FILMING + PHOTOGRAPHY
The programme may be filmed and photographed – the Muscle Help Foundation charity will require written consent by parents (for those under 18yrs of age).
INDEMNITY FORMS – SAFETY FIRST & FOREMOST
Safety is of vital importance – our aim is to ensure that all beneficiaries and those involved have a brilliant experience – indemnity forms will need to be completed along with the charity's Medical Recipient and Muscle Dream profile forms. Additionally, a Fitness to Fly Declaration form (provided by Aerobility) must be signed. These forms will be emailed once the chosen beneficiaries have been accepted onto the programme.