DEAN FINISHES MARATHON IN MUSCLETASTIC TIME
Posted on

April 17th, 2014
On Sunday morning 13 April 2014, family man Dean Dipple set off on the 26.2 mile Virgin Money London Marathon. Exactly 4h:44m:15s later, he crossed the finish line. Dean is now a fully-fledged Muscle Warrior – huge congratulations!
In the process of using his running muscles, Dean has so far raised over £1,040 for Muscle Dreams in support of the charity's #657appeal.
It's not to late to show your appreciation for Dean's Muscletastic efforts as you can still donate on his Virgin Money Giving fundraising page HERE – could we ask you to perhaps donate £6.57 or more and leave a 'top man, well done' message?
On crossing the finish line,
Dean was quoted as saying:
"I'm off for a beer!"
What's even more remarkable is that Dean through his own humble admission 'doesn't do sport', 'doesn't do running' and much prefers to watch his beloved Spurs. Dean is a joiner working at Cavendish Joinery in Hoddesdon (East Herts). He lives in Buntingford, is married, has two children and enjoys the local pubs.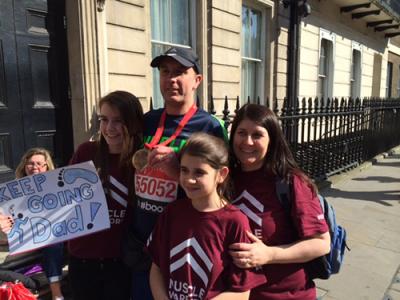 Pictured above: Dean with his family and the 'Keep Going Dad' sign that inspired him to get the job done.
His training 'regime' which started in December last year involved pounding the pavements (sometimes three times a week) and having completed 20 miles one week before the big day without to much trouble (this despite a slightly dodgy knee), the marathon came and went.
Like many of us, Dean's watched the London Marathon on the telly for many years and thought that one day he'd like to do it himself! So he applied and got in – the rest as they say is history! When asked 'did you walk at all', Dean swiftly responded by saying 'nope'; so rather like Forest Gump, our man in true Muscle Warrior style just kept putting one step in front of the other, some 33,000 times and just kept going. Dean's goal was to run it in under 5 hours which he achieved.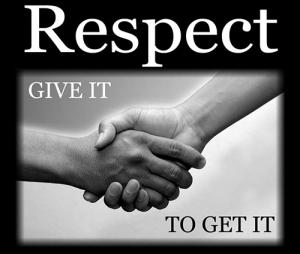 Pictured below: charity mascot 'Ernest' congratulates Muscle Warrior Dean Dipple proudly wearing his medal and 'finisher' t-shirt and displaying one of the charity's A5 leaflets promoting the upcoming RUN FOR THEIR LIVES event at Haileybury College on Sunday 13 July.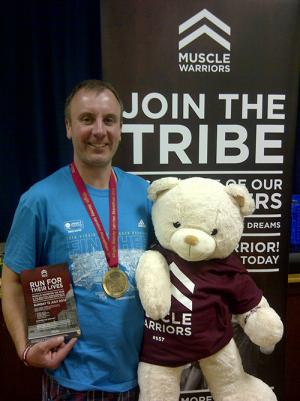 Why not come along and congratulate Dean – the word is that he and his family will be participating in the 1k Superhero Family Toddle, a walk in the park for our marathon man who it's rumoured will be celebrating his birthday on the same day! For further information about our RUN FOR THEIR LIVES event at Haileybury and to sign-up, click the banner below.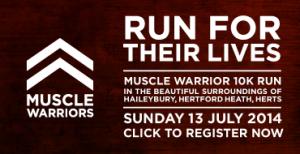 Contact:
Lydia Drukarz, Director
Wavelength Public Relations
M. 07977 454180
E. lydia@wavelengthpr.com
Follow Wavelength PR on Twitter
http://twitter.com/WavelengthPR