Danny's 10 Peak Snowdonia Challenge + 10 Muscle Warrior Salutes, >52k Steps Taken in 21 Degrees, 4 Blisters + >£1k Raised
Posted on

June 1st, 2021

Sunday 30th May 2021 saw long-standing Muscle Warrior volunteer and fundraiser Danny Pallett successfully complete Snowdonia's 10 highest peak challenge trek, an incredible journey through the jaw-dropping landscape of North Wales. This was a demanding challenge and one that required good fitness, patience and hydration from start to finish.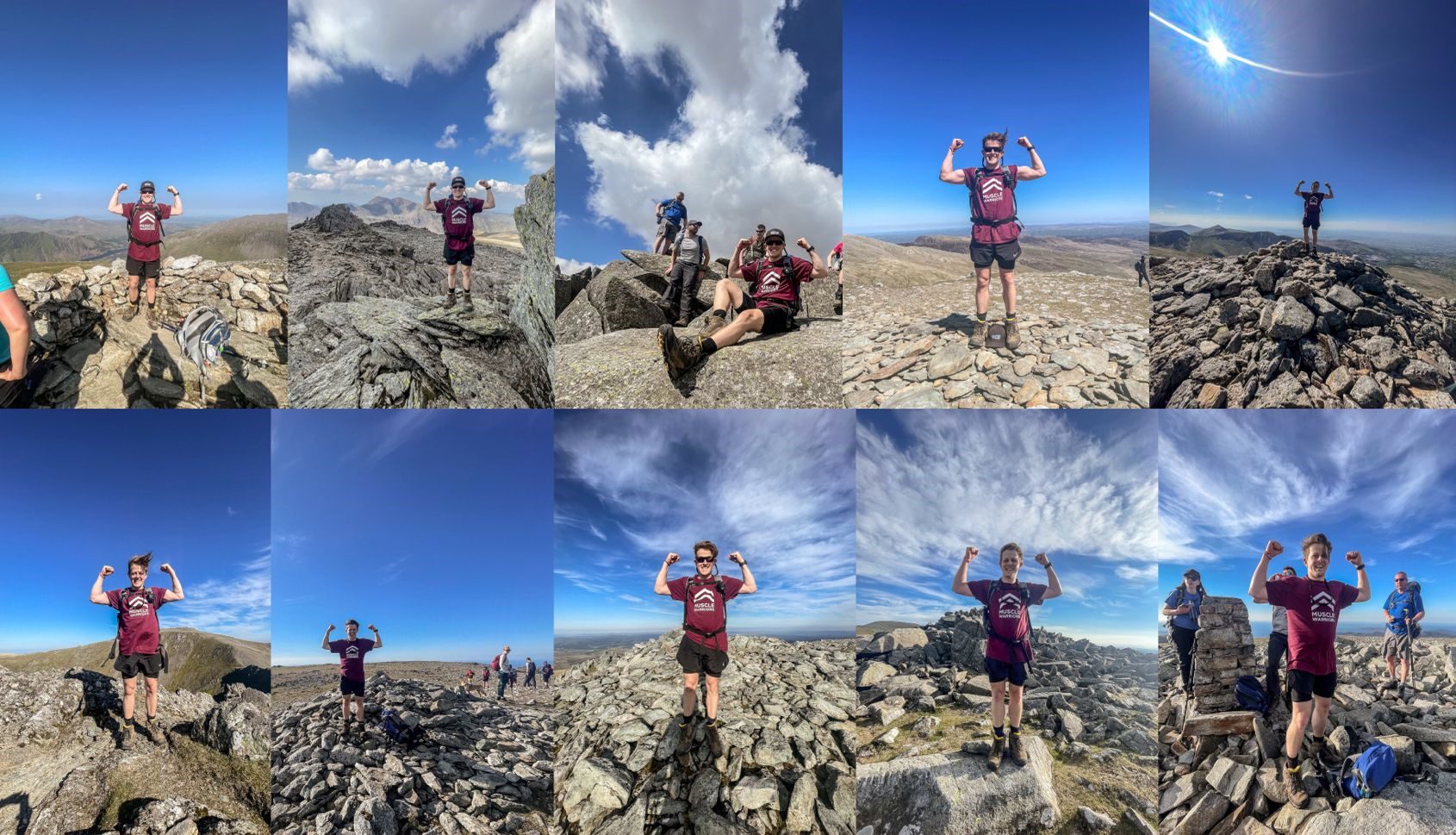 "I can't believe how much I lucked out with the weather, although at one point just after lunch it was almost too warm to get up the 4th mountain! 10 peaks, 10 Muscle Warrior salutes, 32km hiked, 2200m ascent, over 52k steps, 21 degrees heat, 4 blisters and some stunning views!
Sunday's Snowdonia 10 peak challenge went really well, competing the hike in just over 12 hours and with such stunning weather – kicking off at 7am sharp, we spent the first 5/6hour completing the first 3 peaks which got me used to the terrain and inclines. As we came down from the 3rd peak, we had the steepest decline and that was tough on the knees but was going to be the worst of them all.
I drank the freshest water from a mountain spring, ate all my flapjack protein bars and was guided by the best (Dave Talbot) – the team, the hike, and the whole day was just incredible and even more incredible has been the support from everyone towards the charity and myself."
Danny Pallett
As of Tuesday 1st June 2021, £1,031.42 has been raised from 45 donations via Danny's dedicated Golden Giving fundraising page HERE in support of the Muscle Help Foundation charity.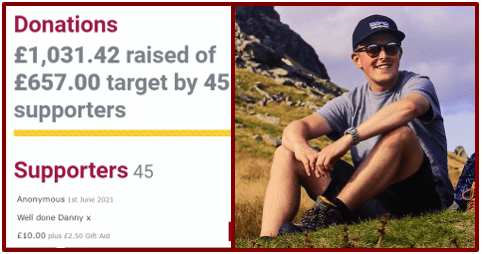 Below a list of the Snowdonia peaks that Danny stood tall on:
Y Garn – 947m
Glyder Fawr – 1000m
Glyder Fach – 997m
Tryfan 917m – Optional
Pen yr Ole Wen – 978m
Carnedd Dafydd – 1044m
Carnedd Llewelyn – 1064m
Foel Grach – 976m
Carnedd Gwenllian – 926m
Foel-fras – 942m
Drum – 770m
"I am so incredibly proud of Danny! What a truly awesome effort. I know that he has been training really hard over the past year – what makes this all the more remarkable, is that we're living through a pandemic that has disrupted some of the original challenge plans, meaning a switch to the Snowdon 10 Peaks Challenge which he succeeded in completing in just over 12hrs! WOW!
If ever you need an example of what commitment looks like by a fully-fledged Muscle Warrior, look no further than Danny. And if like me, you're impressed by what he's achieved, can I encourage you to please dig deep and make a donation – he's not only smashed his original fundraising goal of £657.00 but he's now got an amazing story to tell and some spectacular photos.
As fundraising challenges go, this is truly what going above and beyond looks like! On behalf of the charity, huge kudos and gratitude to Danny – as we say, that's the #powerof657!
Michael McGrath
CEO, The Muscle Help Foundation