Charity Announces Exciting New Ambassador Programme To Help Champion Its Cause
Posted on

September 26th, 2017

Multi award-winning family charity, the Muscle Help Foundation (MHF) has announced the launch of its new Ambassador programme to help champion its cause.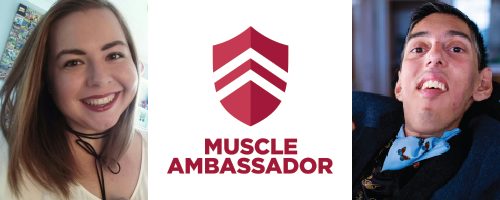 The charity is thrilled to announce the appointment of two new Ambassadors – Leah Booth (pictured above, from Blackburn, Lancashire who has spinal muscular atrophy type 2 or SMA2) and Sulaiman Khan (pictured above, from Woodford Green, East London, who has merosin-deficient congenital muscular dystrophy or MD-CMD).
At the helm of MHF's Ambassador strategy is a plan to further establish its growing nationwide Muscle Warrior tribal community that offers support but also gives past beneficiaries and their families the opportunity to more fully engage with its STRONGER TOGETHER ethos. Its members will have more of a voice in not only sharing their Muscle Dream experiences but also championing the cause by raising awareness and funds in helping MHF meet its goals.
Alongside the charity's main Facebook page, MHF has created a closed Facebook group for the new Ambassadors to generate conversations, share their experiences and bring their considerable energy, insight and passion to the charity's future fundraising activities.
As part of their duties, Leah and Sulaiman will take over some of MHF's social media streams, communicating directly with the public and others who may be interested in learning about the charity's work and impact. They will share their stories, inspiring others to follow and support as well as bring their unique blend of fun and humour.
Leah Booth said:
"Experiences come in all shapes and sizes. Some are positive, some are negative, some are small and seemingly insignificant and some have the ability to shape you and alter your future. I have been through them all. My Muscle Help Foundation #EarnYourWings Flying Muscle Dream experience back in September 2015 catapulted my life into a new direction and gave me a new vision of a brighter future.
Simply taking part in that experience, learning new skills and developing my confidence allowed me to realise that all my experiences in life meant I had a story to tell and a dream worth exploring. Now I am honoured to be a Muscle Ambassador for the very charity that helped shape my future to where it is today – at a time in my life when I was lost, this small charity gave me the ability to dream again."
Sulaiman Khan commented:
"It's a huge honour to be a Muscle Ambassador for the Muscle Help Foundation. I am genuinely excited to give back to this amazing family run charity and support those with Muscular Dystrophy.
This role is hugely important to me because I want to help children and young people find their shining light to do awesome things in their lives. I'm looking forward to working with the charity to inspire hearts and change minds, and to help continue to grow the wonderful tribe known as Muscle Warriors across the UK. Onwards and upwards!"
MHF delivers highly-personalised, transformational experiences in the UK called Muscle Dreams for children and young people with the muscle wasting disease, Muscular Dystrophy (MD) and allied neuromuscular conditions; the charity's goal is to deliver 657 Muscle Dreams, that's one for every muscle in the body. As of October 2017, 264 have been delivered.
The charity has a loyal following of beneficiaries, families, carers, volunteers, corporate partners and supporters, whom MHF affectionately call Muscle Warriors.
MHF's CEO, Michael McGrath commented:
"I am delighted to welcome Leah and Sulaiman on board as Ambassadors in representing our small family charity. They've both been past Muscle Dream beneficiaries and by default, great MHF advocates and friends. We're already supporting them as they begin this new journey that will see them not only champion our work, but also attract vital new fans, followers and supporters to our growing tribe of Muscle Warriors across the UK.
There's a strong alignment of values that both Leah and Sulaiman have with the charity – these key appointments will support our aim to not only grow our community and reach new families but also directly support new beneficiaries as their Muscle Dreams unfold.
It's my belief that in this changing world, the power of their voices gives even greater causal credibility than some celebrities where the value of endorsements are increasingly being questioned – a view underpinned by research consultancy NfpSynergy who found that only one in five young people aged between 11 to 25yrs (across mainland Britain) said they would support a charity because a celebrity happened to endorse it. It's interesting to note that the research found that 'causal enthusiasm' diminishes with age – with this forefront of mind, harnessing the talents, skills and endorsement of Leah and Sulaiman to positively influence other potential future Ambassadors is extremely valuable. Being an Ambassador also gives them a great development platform – they know that they 'own' the opportunity and the 'responsibility' that the role brings. They also know that they are very much at the heart of its ongoing evolution and future success.
Put simply, they get what we do because they've both directly experienced the transformational nature of our work – they want to help, they want to influence and I know they can educate, inform and inspire loyalty because I've already witnessed their passion and their ability to engage – I'm so incredibly proud to have such awesome, authentic Ambassadors on our team!"
Click HERE to learn more about our Ambassadors.
Click HERE to see our Muscletastic fundraising pack.
Click HERE to learn about the charity's #powerof657 campaign.
Contact:
Lydia Drukarz, Director
Wavelength Public Relations
M. 07977 454180
E. lydia@wavelengthpr.com
Follow Wavelength PR on Twitter