CEO Shortlisted for Excellence in Diversity Awards 2015
Posted on

May 11th, 2015

Michael McGrath, CEO of The Muscle Help Foundation (MHF) has been shortlisted for the 2015 Diversity Champion Award for Charity, part of the Excellence in Diversity Awards programme (in association with National Diversity Awards) that honours the work of inclusive employers and unsung diversity champions across the UK.
J.P Morgan, The Guardian, ITV, PWC, Thomson Reuters, CIPD and The Cooperative are just some of the sponsors supporting a sky fall of inclusive talent – Diversity Champions, inclusive employers and pioneering campaigns from all aspects of diversity have been shortlisted for this year's ceremony. Hundreds of nominations paid tribute to inspirational individuals and diverse companies nationwide that have showcased their incredible achievements to the equality agenda.
"Being shortlisted for this Award is truly humbling – diversity is the one true thing that we all have in common. I'm reminded by the words of Malcolm Forbes who said 'Diversity: the art of thinking independently together'; it's my belief that disabled people in society today, especially children and young people, want to be overwhelmed by ordinariness, want to be valued regardless of circumstance or ability, want to fully participate and positively contribute. MHF's tagline STRONGER TOGETHER resonates – as a fearless champion of inclusion, celebrating difference is something that lies at the very heart of our work and our impact." said Michael McGrath, MHF's CEO (pictured below).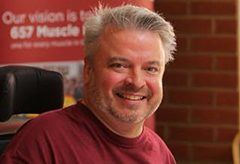 Michael has had a remarkable life – his story is one of consistently overcoming incredible odds. At 18yrs, he was diagnosed with muscular dystrophy, a muscle wasting disease that remains the single biggest genetic killer of children in our world. Some 30 years on, Michael is in demand as a sought after inspirational business speaker – he provokes, stimulates and inspires change. Past clients have included Roche, the NHS, PWC, Shaw Trust, Hilton, Reaseheath College and Ladbrokes.
When not speaking or consulting, Michael is raising funds and awareness for MHF, an award-winning family charity that that delivers transformational experiences in the UK called Muscle Dreams for children and young people with muscular dystrophy and allied neuromuscular conditions.
Underpinned by his life credo 'Quant Je Puis' (As much as I can), Michael returned from Antarctica in January 04, having led his team to the South Pole. In doing so, he made history by becoming the first disabled person in the world to have led expeditions to both the North (April 2002) and South Poles. A nationwide role model to disabled people, Michael is the driving force behind MHF.
The Midland Hotel in Manchester will play host to this black-tie event on May 14th 2015, to honour the outstanding achievements of inspirational individuals and diverse companies nationwide.
Business journalist and broadcaster Steph McGovern will host the evening. The awards ceremony will applaud the contributions of those that have gone above and beyond their corporate social responsibility, tackling issues internally and externally to influence change in the field of diversity and inclusion.
Baroness Campbell of Surbiton, who has continuously campaigned for disability rights most notably against the legalisation of assisted suicide, said, "If we do not champion people's diversity in Britain, whether that be in employment, education or full access to public life, then we cannot call ourselves progressive, inclusive and successful human beings. I cannot think of anyone who would want that, but sometimes we need role models to help show us the way. These awards will help society to understand and learn what it means to genuinely include all diverse people in our communities. To be part of that process is very important to me".
The event is definitely one to mark down on your calendar and provides recognition for excellence regardless of age, disability, gender identity, sexual orientation, race, faith, religion and culture.
PwC, CIPD and Action for Children are amongst those supporting the campaign to reward organisations that operate across all aspects of diversity. A panel of judges including Andy Woodfield PwC, Miranda Wayland ITV, and Dianah Worman OBE gathered to finalize the widely anticipated shortlist.
Winners will be announced at The Midland Hotel Manchester on Thursday May 14th 2015.
Click HERE to view a full list of nominees.
Contact:
Lydia Drukarz, Director
Wavelength Public Relations
M. 07977 454180
E. lydia@wavelengthpr.com
Follow @Wavelength PR on Twitter
http://twitter.com/WavelengthPR