CEO Michael McGrath featured in 2016 Power 100 listing recognising Britain's most influential people with a disability
Posted on

December 8th, 2015

On Thursday 3rd December 2015, the 2016 Power 100 listing revealed Britain's 100 most influential people with a disability or impairment. This year's publication featured the Muscle Help Foundation's CEO and inspirational speaker Michael McGrath.

To mark UN International Day of Persons with Disabilities, leading figures from across business, sport, politics, education, media, public and third sectors were named in the list that celebrates British diversity and highlights 100 achievers with disabilities from across the UK. The publication was launched in London at the headquarters of Lloyds Banking Group.

Produced by Powerful Media and sponsored by Thomson Reuters and Lloyds Banking Group in partnership with Shaw Trust, the publication (pictured below) can be seen in full by clicking the image below or by clicking HERE.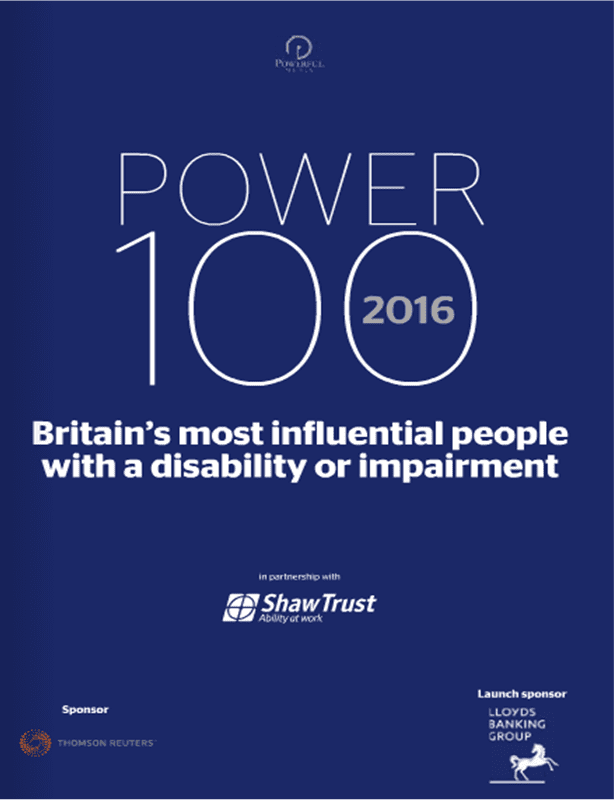 Michael McGrath said:
"Whilst I am very proud and humbled to have been recognised in this way for the work carried out by the Muscle Help Foundation (MHF), I look forward to the day when a Power 100 list is no longer required because inclusion is simply a societal norm, a part of our cultural DNA. Perhaps utopia but for now, it's my hope that as role models, I believe we have a really important responsibility to not only inspire tomorrow's young people and lead by example but also make a commitment in helping others travel their own journey to achieve success."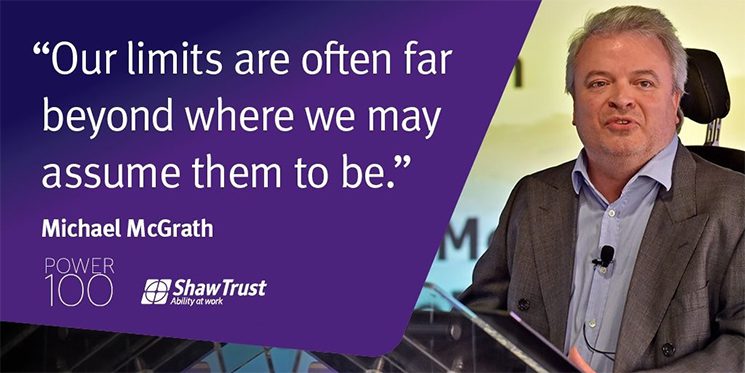 The driving force behind MHF, a multi-award winning family charity, Michael (pictured below with paralympian Baroness Tanni Grey-Thompson DBE) has also built up a reputation as one of the UK's leading inspirational speakers.
Michael was diagnosed with MD in 1984, aged just 18. Twenty years later, he made history, becoming the first disabled person to lead expeditions to both the North and South Poles. These adventures inspired a new life plan and MHF was born.
From 'Muscle Dreams' such as interviewing Al Pacino to meeting the England football team, MHF's vision is to offer hope, inspiration and empowerment to its beneficiaries and their families. Its impact and profile has gone from strength to strength under Michael's leadership.
Justin Tomlinson MP, Minister for Disabled People, spoke at the launch event and led the launch on the day. He said: "The Power 100 is a great way to celebrate the International Day of Disabled People. This list is full of powerful, inspirational figures from across the UK's top industries, and highlights how many disabled people hold prominent and influential roles in our society. This is great news and I hope that their example will further change how people and businesses view disability. Over the last two years 339,000 more disabled people have found work, and I want to use the Power 100 to continue showcasing disabled talent and achieve our goal of halving the disability employment gap."
The 2016 Power 100 top ten includes: Baroness Grey-Thompson DBE, DL (this year's No.1 on the list): former legendary Paralympian wheelchair racer, Parliamentarian and highly respected television presenter. Alex Brooker (featured at No.2): high profile journalist and presenter, best known for his television work with Channel 4 and for fronting Scope's 'End the Awkward' campaign. Ellie Simmonds, OBE (No.10): professional swimmer for Great Britain, world record holder and 4 times Paralympic Champion.
Roy O'Shaughnessy (Chief Executive of Shaw Trust) said:
"The launch of Power 100 2016 is an important opportunity to recognise the achievements of disabled people across Britain. Shaw Trust is privileged to sponsor the publication for a second year and we hope it inspires more young disabled people to realise their full potential.Society has a shared responsibility to help eradicate social exclusion and break down traditional barriers holding disabled people back from achieving their life goals. Power 100 drives home the message that aspiration and ambition can increasingly be without limits for all abilities and backgrounds."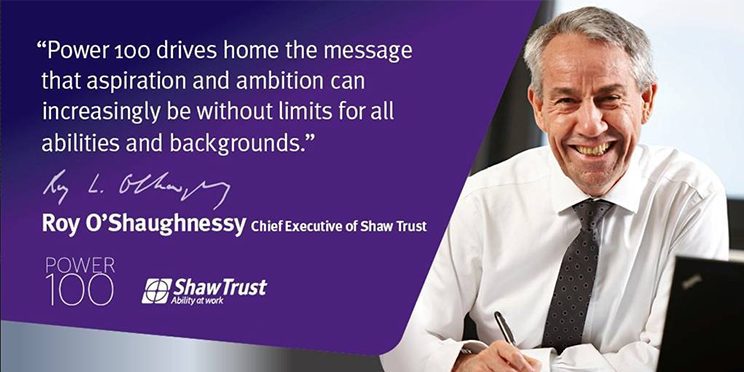 Contact:
Lydia Drukarz, Director
Wavelength Public Relations
M. 07977 454180
E. lydia@wavelengthpr.com
Follow Wavelength PR on Twitter
http://twitter.com/WavelengthPR