Braughing Rovers Show 'No Mercy'
Posted on

May 29th, 2009

On Saturday 30th May 2009, FA affiliated 'Braughing Rovers' participated in a charity football match against local pub team 'Brown Bear Barbarians'

The match took place in Braughing, one of Hertfordshire's most picturesque villages with a population of just over 1000; it was organised by resident Mr Steven Stone, a member of the 'Brown Bear Barbarians' pub football team.

FINAL RESULT
Brown Bear Barbarians: 3
Braughing Rovers: 9

Pictured below, the two teams line up with Michael McGrath for the charity's trademark Muscle Salute™, a visible symbol of hope, courage and inner strength for those 60,000 or so sufferers in the UK whose lives are being destroyed by the muscle wasting disease muscular dystrophy.
"The margin of defeat does not do any justice to the courage and mental strength displayed by the Brown Bears", commented Michael McGrath who watched the match.
"Despite the Brown Bears best efforts on what was an extremely hot afternoon on a very hard pitch playing against an FA affiliated team who clearly adopted a 'no-mercy' strategy as evidenced by their physicality on the pitch, the three magnificent goals scored by the Bears enabled local village supporters to erupt with huge enthusiasm and cheer for their side! It was a great match and a lot of fun. Dare I say it, the best team won and nearly £300 was raised for the charities Muscle Dreams™ programme which was fantastic!" added McGrath.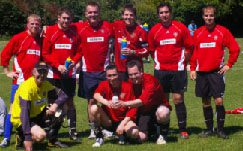 The game was watched by many local Braughing families including the local constabulary, all of whom came along to support their favourite pub team. The Brown Bear Public House supported the event with a delicious BBQ after the match and entertainment in the form of a disco was generously provided by the talented Mr Stone.
About The Brown Bear Public House
14 High Street, Braughing, Herts, SG11 2QF
http://thebrownbearpub.co.uk/
An old pub, altered in the 16th century and again in the 17th and finally extended into a public house in the 19th century. As a Grade II listed building, you cannot help but be charmed by the old world interior of wooden beams. Surrounded by thatched cottages, it's like a step into a bygone time.
About Braughing village
http://www.braughing.org.uk/
Braughing recently won the prestigious Village of the Year Award for the eastern part of the county of Hertfordshire. It is best known for its famous geese and ducks, local sausages and its annual wheelbarrow race.
Contact:
Lydia Drukarz, Director
Wavelength Public Relations
M. 07977 454180
E. lydia@wavelengthpr.com
Follow Wavelength PR on Twitter
http://twitter.com/WavelengthPR