Beneficiary Case Study: Max
Beneficiary Case Study: 5
Beneficiary Name: Max
Muscle Dream Number: 300th
Back in June 2019, the Muscle Help Foundation charity received a Muscle Dream nomination from Max's mum who in her words "had been searching for some time for ways of opening up some exciting experiences to get the wind in her son's hair".
Max has a progressive neuromuscular disease which has over recent years, not only impacted his levels of fatigue but also considerably reduced his mobility. He now uses a wheelchair outside of the house, with some small adaptations inside.
Max's mum said:
"Any car experience to drive or be driven would be good so Max can experience this more fully and importantly for him, be able to share and speak with others about what he has been doing. Max and all the family are aware of how things have changed for him and we want to create and enjoy more experiences together"
Alongside this, Max's mum and dad have shared a caring role for his younger sibling. They have dealt with their own serious mental health issues in the past few years, so for them and their brother to enjoy something very different and special together was also high on the agenda.
Meticulous planning is one of the Muscle Help Foundation charity's trademarks and arranging an unforgettable driving experience at Silverstone, the home of British motor sport, is something the charity has done for many years for a multitude of beneficiaries.
The charity engaged the services of several key partners and suppliers to deliver a fully immersive, standalone driving experience complete with overnight stay for the whole family a few days before Christmas on 22-24 December 2019.
Over several months, the charity worked collaboratively and sensitively with the family, liaising with suppliers to create the perfect day and night – MHF also took into account Max's love of music to make sure that this also featured in the day with a personalised playlist, and which saw a saxophonist invited to play for the family over a celebratory dinner in the evening.
Max's Muscle Dream was also the 300th transformational experience delivered by the charity as it works towards its goal of delivering 657, that's one Muscle Dream intervention for every muscle in the human body.
As a small family-centred charity rooted in family values, MHF's goal is to ultimately create a moment-in-time, an intervention that's transformational, that changes lives and gives hope to those for whom the charity exists to support.
Max's mum initially found out about the work of the charity after searching online to find driving-related experiences for people living with muscle related conditions. She found the MHF website and got in touch. The rest as they say 'is history' – in December 2019, Max's unique driving experience became a reality.
Max's mum credits what was a unique Muscle Dream driving experience with improving Max's confidence, giving him a new skill, improving his self-esteem, and inspiring him to take up a new activity.
Commenting on the experience, Max said:
"Going in the Porsche and skidding, that was a real adrenalin rush. The whole thing was amazing; the lovely evening meal we spent together, and the saxophone being played at dinner for us [Max's sibling also plays saxophone]"
Max's dad said of the experience:
"A Muscle Dream will enable the beneficiary to do something they wouldn't normally get the opportunity to do"
Max's mum added:
"It was so special to step away from all the things that Max, his sibling, that we all cope with day to day. Because of the care and attention Michael and the team gave us, we were allowed the time and space to take in every moment and make some wonderful memories together"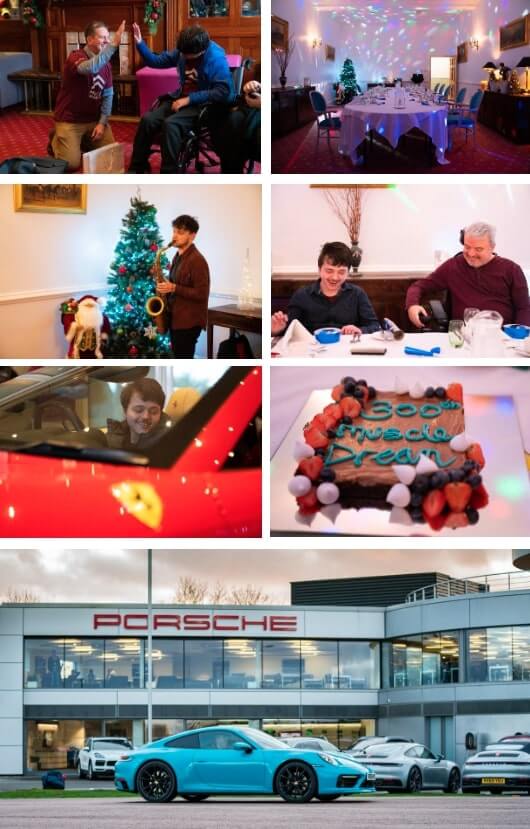 With thanks to the following who helped make Max's Muscle Dream so very memorable:
Whittlebury Park, Towcester, Northants
Porsche Experience Centre, Silverstone Circuit
Will Ferguson Photography
CineCloud, Aerial Cinematography
Dan Smith, Saxophonist & Composer
Check out Max's 300th dedicated online Flickr Photo Album HERE.
Contact the charity HERE should you have any further questions.