BBC Radio 5 Live
Posted on

November 15th, 2013

BBC Radio 5 Live 'The Big Interview' on The Stephen Nolan Show features MHF's Michael McGrath on Sat 16 Nov 2013. The pre-recorded interview will be aired at 11.30pm on BBC Radio 5 Live. Tune in to hear a wide-ranging interview with The Muscle Help Foundation's co-founder and CEO Michael McGrath, talking about his life, his family, muscular dystrophy, the Poles, the work of the charity, his hopes for the future and what keeps him going!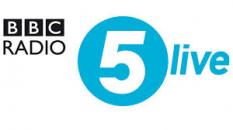 The Big Interview on The Stephen Nolan Show came about as a result of a BBC Radio 5 Live journalist hearing Michael speak in early October where he was delivering the keynote at this year's Mid Staffordshire NHS Foundation Trust STARS Awards. He had been invited by Maggie Oldham, Chief Executive at Mid Staffordshire NHS Foundation Trust who heard him speak at an NHS Leadership Conference in 2012.
McGrath is an experienced and inspiring motivational business speaker talking on a variety of topics including leadership, change, risk and overcoming adversity. At 18yrs, he was diagnosed with the genetic, muscle-wasting disease, Muscular Dystrophy. He is currently the first and only disabled person in the world to have successfully led expeditions to both the North and South Poles.
Known in the charity as the Chief Muscle Warrior, Michael describes himself as the black sheep of his family; most of them are in medicine. He is a catalyst for change and a champion of difference. In August 2012, Michael was a Paralympic Torchbearer proudly carrying the flame on one of its final legs to the Olympic Stadium. In the words of Alexandra Shackleton, one of his South Pole Expedition Patrons, Michael continually demonstrates, like her grandfather Sir Ernest Shackleton, the qualities of optimism, courage, imagination and strong leadership – his polar achievements are extraordinary triumphs of physical and mental endurance, and should serve as a reminder to us all that, in Michael's own words … "our limits are often far beyond where we may assume them to be".
Contact:
Lydia Drukarz, Director
Wavelength Public Relations
M. 07977 454180
E. lydia@wavelengthpr.com
Follow Wavelength PR on Twitter
http://twitter.com/WavelengthPR