Ambassador Tom Gears Up For Ironman Challenge
Posted on

July 31st, 2014
The Muscle Help Foundation is delighted to announce that double Olympian, world medallist and MHF Ambassador Tom Solesbury is gearing up for the inaugural Challenge Weymouth Triathlon taking place on Sunday 14th September 2014.

The challenge will consist of a 3.8km SWIM, a 190km CYCLE and a 42.2km RUN. Always going the extra mile, Tom is aiming to smash his previous time and complete this gruelling challenge it in 9 hours 45 minutes. Tom participated in two half distance events, namely at The Belvoir Castle Triathlon (24 May) and the Cotswold 113 (15 June) by way of a warm-up!
Tom is raising funds and awareness for Youth Sport Trust (YST) and The Muscle Help Foundation (MHF) – a passionate supporter of the YST, he strongly believes in the organisation's determination to improve PE and school sport for young people. A dedicated Ambassador and now fully-fledged Muscle Warrior, Tom's commitment to helping our small family charity on its journey has been demonstrated through his direct engagement in attending a number of events as well as meeting several beneficiaries.
To show your support, why not click Tom's Virgin Money Giving fundraising page below and leave an appropriately motivational message for Tom and if you're able to, make a donation in support of both YST and MHF – thank you.
IN SUPPORT OF YST & MHF
CLICK THE IMAGE BELOW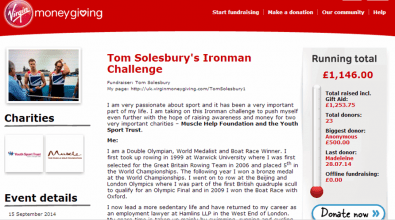 Tom is also offering a highly personalised and bespoke fundraising initiative – he is offering an exclusive three hour OLYMPIC ROWING EXPERIENCE for 12 PEOPLE, with all money raised going towards his Ironman fundraising efforts.
CLICK THE IMAGE BELOW
FOR MORE INFORMATION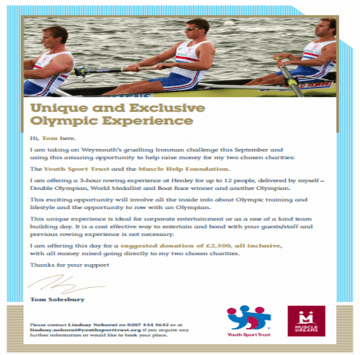 Please share this unique opportunity with your friends, family and colleagues, and contact Lindsay Nehorai on fundraising@youthsporttrust.org if you require any more information or would like to book your place – thank you.
Contact:
Lydia Drukarz, Director
Wavelength Public Relations
M. 07977 454180
E. lydia@wavelengthpr.com
Follow Wavelength PR on Twitter
http://twitter.com/WavelengthPR