9yr-old Jasmine's marvellous Meerkat Muscle Dream is fulfilled
Posted on

April 30th, 2015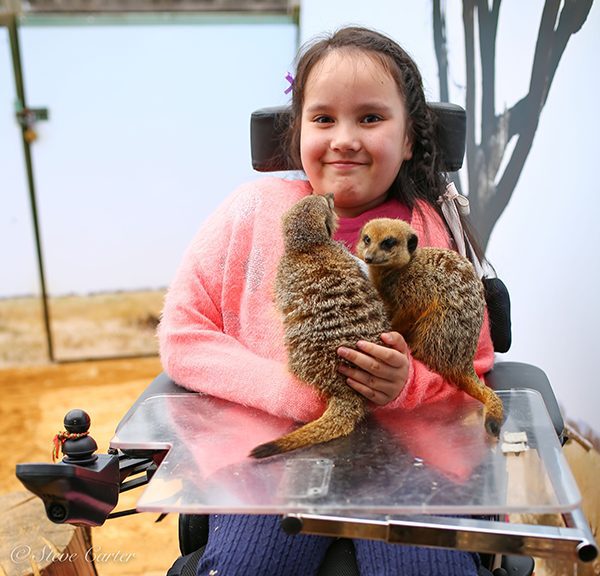 On Sunday 19th April 2015, Paradise Wildlife Park in Broxbourne helped a 9yr-old with Muscular Dystrophy realise a very special Meerkat 'Muscle Dream'.
Thanks to the fantastic teams at Paradise Wildlife Park in Broxbourne (Herts) and Fanhams Hall Hotel in Ware (Herts), 9yr-old Jasmine Eardly, who has Spinal Muscular Atrophy (SMA type 2), realised her lifelong dream of getting 'up close and personal' with various animals, including several adorable meerkats!
The charity delivers life-changing 'Muscle Dreams' for children and young people across the UK with Muscular Dystrophy and allied neuromuscular conditions that includes SMA.
Sarah Jeffery, one of Jasmine's teachers who last year participated in MHF's 'Run for their Lives' 10K race at Haileybury College, Hertford, nominated Jasmine. After the event, she sent a text to the charity saying: "Thank you all so much for Jasmine's amazing day! What your charity does is just fantastic! Thank you!"
On what was a chilly Sunday, Jasmine, her family and some of her school friends enjoyed their own exclusive VIP tour, meeting and handling a variety of animals, including a giant centipede with 300 legs, a baby tortoise, a bearded dragon and a boa constrictor. Special arrangements had also been made for Jasmine to get-up-close to a beautiful snow leopard.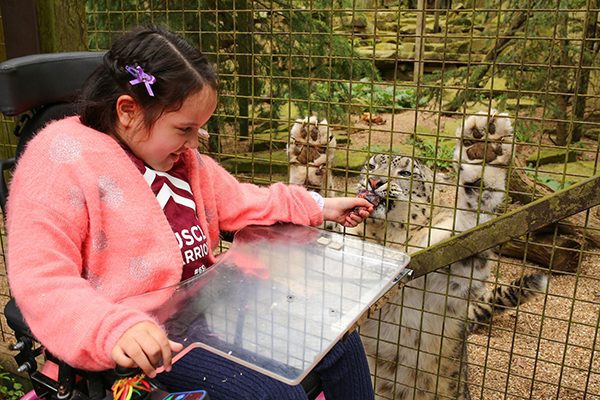 The highlight included a 30-minute private session inside an enclosure with several very cute meerkats! Jasmine's experience included her own Meerkat Adoption Kit Pack, kindly gifted by Paradise Wildlife Park. The day culminated in a spectacular Meerkat Afternoon Tea at Fanhams Hall, where the pastry chefs created an array of magical pastries and Meerkat cup cakes. In addition to Jasmine's very own Sweet Cart, everyone enjoyed a sing-a-long in the Karaoke Klub and much fun was had by all.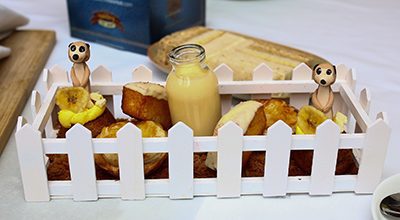 Spinal Muscular Atrophy (type 2) is characterised by slowly progressive muscle weakness and atrophy of the limb muscles associated with motor neurone loss in the spinal cord: it develops in children between the ages of 6 and 12 months. Children with SMA (type 2) can sit without support, although they may need help getting to a seated position but they cannot stand or walk unaided.
Michael McGrath, CEO of MHF, said: "Big thanks to those volunteers who came along and gave of their precious time on Sunday to support Jasmine's unique Muscle Dream. We worked in partnership with both Paradise Wildlife Park, Fanhams Hall and Paula Radford who did some wonderful nail painting for Jasmine and her girlfriends – we couldn't have asked for a more dedicated, energetic and fun team of partners; thank you all!"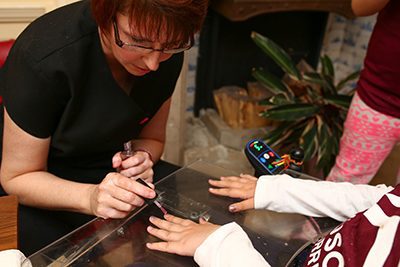 One of the charity's volunteer's Marilyn Kanter, who travelled from Teddington with her 10-year-old daughter Freyja (the charity's youngest ever volunteer), sent a note of thanks into the charity after the event saying: "Chatting and reflecting over the wonderful day we have just had. Can't thank you all enough for giving us the opportunity to be part of Jasmine's Muscle Dream and experiencing the joy and pleasure you bestow upon the families. We would relish future opportunities to be involved again."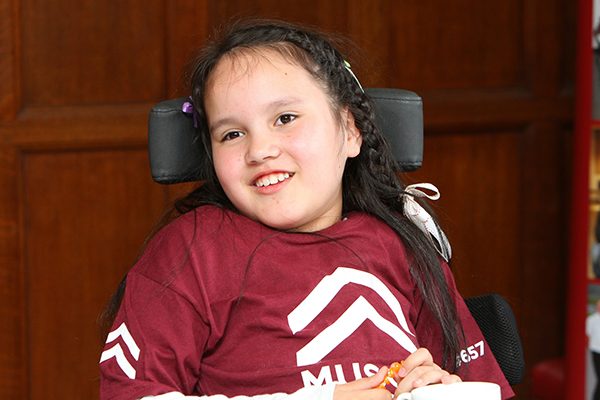 Click HERE to check out Jasmine's dedicated Flickr photographic album collated by one of the charity's volunteer photographers Steve Carter. You are welcome to view, share and download any photographs. Please provide the following credit: © 2015 Steve Carter. A short film is in the process of being produced!
Contact:
Lydia Drukarz, Director
Wavelength Public Relations
M. 07977 454180
E. lydia@wavelengthpr.com
Follow Wavelength PR on Twitter
http://twitter.com/WavelengthPR