£15k raised at MHF 4th London Fundraiser
Posted on

December 1st, 2010

The Muscle Help Foundation raised £15,000 at its 4th Annual London Fundraiser, hosted by TV Presenter Lorraine Kelly, a Patron for the charity. The occasion took place at the prestigious Royal Automobile Club on Pall Mall and was attended by some 120 guests, including a host of well-known names. The event raised nearly £15,000 for Muscle Dreams, once in a lifetime experiences for young sufferers of muscular dystrophy.
Lorraine Kelly pictured above with the charity's Chief Muscle Warrior (CEO) and co-founder Michael McGrath, was the host for the evening and was thrilled with the success of the event. "It's been a truly fantastic evening and we are absolutely delighted about the amount raised, which will help to make a real difference to children and young people in the UK with the terrible, genetic muscle wasting disease, muscular dystrophy."
"I first got to hear about Michael McGrath, who set up the Muscle Help Foundation, when he was planning to disappear off down to Antarctica in 2004. Reaching both the North Pole back in April 2002 and then the South Pole in January 2004 were two very special moments in Michael's life that I know he will cherish forever. These two extraordinary achievements today underpin why the charity exists," commented Lorraine.
"It's a great privilege for me to be part of such a phenomenal, life-changing charity and to meet many of the charity's Muscle Warriors (supporters, donors, friends) who have given so generously so as to provide amazing experiences to children and young people with muscular dystrophy."
The money was raised through two auctions, one silent and one live, which both proved to be a big success and helped the Muscle Help Foundation far surpass its original target, achieving just shy of £15,000 on the evening. The auctioneer in charge was former England cricketer Chris Cowdrey. The most popular of the items up for grabs in the live auction was the 'Do Goodwood in Style' experience, which included a helicopter arrival, whilst the signed Bob Dylan limited edition graphic was the most popular item in the silent auction. Other popular auction prizes included a signed Rolling Stones replica gold disc; an England Rugby shirt and Twickenham 100th Anniversary book, personally signed by Martin Johnson CBE; and an inspirational talk by motivational speaker Michael McGrath.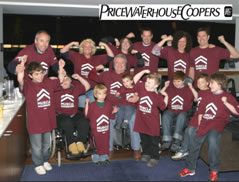 A Gift Certificate for a Gordon Ramsay Michelin starred restaurant was generously gifted by the consulting firm PricewaterhouseCoopers (PWC). This came as Michael McGrath, a muscular dystrophy sufferer himself, announced the start of a three year partnership with the firms Transaction Services (TS) practice.
Will Jackson-Moore, a Partner in PWC Transaction Services, said, "We are excited to be working with the Muscle Help Foundation as it plans to scale up its capability in delivering unique and unforgettable experiences for children suffering from muscular dystrophy. The children and their families gain real hope and courage from these experiences and we are working closely with the charity to become part of their journey."
How can my company get involved?
If your company would like to help us raise further funds so we can deliver more Muscle Dreams or perhaps sponsor a specific Muscle Dream or offer resources (people) with skills and/or time in helping MHF scale up its future operational capability, email ceo@musclehelp.com or phone the charity on +44 (0) 1763 274658
Later in the evening, Michael McGrath announced that a new partnership has been established between the Muscle Help Foundation and the Duchenne Family Support Group (DFSG). The DFSG is a small national charity that provides a positive national support network of parents, families and professionals. It is run by families for families affected by the most severe form of muscular dystrophy, Duchenne Muscular Dystrophy (DMD). DMD is severely disabling and life limiting and affects around two boys born every week. There is currently no cure, but with good management, sufferers can live to their late twenties.
Phillippa Farrant, Chair of the DFSG said, "The DFSG is excited to be involved in building a partnership with the Muscle Help Foundation to help fulfil even more Muscle Dreams for children affected by muscular dystrophy."
In a very exciting step forward for the charity, Michael also announced that the junior sprint star and 2012 Olympic hopeful, Jodie Williams (pictured below with Michael McGrath in the grounds of Haileybury School), has become the Muscle Help Foundation's first ever MHF Ambassador, reinforcing the connection between muscles, movement and the power of sport.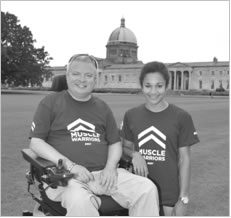 Michael commented, "Following on from her support of the charity's inaugural 10K and Family Fun Day event at Haileybury earlier this year, I am delighted that Jodie Williams has agreed to become our first Muscle Help Foundation Ambassador. This is a long-term commitment on both sides and we're really looking forward to working closely together on a number of initiatives that will not only raise further awareness about the vital work of the charity but also engage children from an educational perspective."
Contact:
Lydia Drukarz, Director
Wavelength Public Relations
M. 07977 454180
E. lydia@wavelengthpr.com
Follow Wavelength PR on Twitter
http://twitter.com/WavelengthPR