10th Anniversary Porsche Programme Sees 10 Muscular Dystrophy Petrol-Heads Rock Silverstone With A Once-In-A-Lifetime Driving Experience
Posted on

October 19th, 2022

Last month (Sept 2022), the Muscle Help Foundation (MHF) charity gave ten lucky beneficiaries the experience of a lifetime at a unique Porsche driving experience event at Silverstone, the home of British motorsport. After three long and challenging years due to the pandemic, the charity's signature Porsche Muscle Dreams Driving Experience Programme finally returned to mark the 10th Anniversary of its flagship event.

Ten beneficiaries living with Muscular Dystrophy (MD) took to the tracks in a Porsche 9-11 at Silverstone to experience the thrill of a ride around the iconic Grand Prix Circuit as well as Porsche's own racetrack of nearly 5km including their handling circuit, the straights, the kick plate and the ice hill.

MHF's CEO Michael McGrath said:

"Seeing the happiness on everyone's faces as they zoomed around the track was just priceless. It's why we do what we do. For every beneficiary and their family this is about empowerment, increasing confidence, bringing vulnerable families together and ultimately creating cherished memories that last a lifetime.

"I know that so many families are desperately worried about the increasing costs of living, the energy crisis and their ability to pay bills as well as ongoing inflationary pressures, meaning there's even more uncertainty in addition to the ongoing impacts of the COVID-19 pandemic – I'm really concerned that many of our already very vulnerable families will face additional social isolation, more stress, more financial pressures, not least diminishing mental health and emotional wellbeing, more so now than ever before. Being able to offer some temporary respite from those day-to-day worries through our transformational work and moments-in-time like the charity's unique Porsche programme, has never been more important"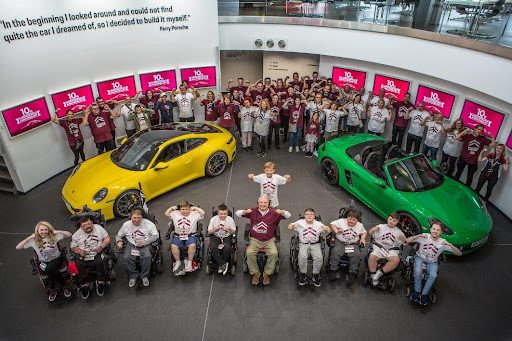 What some of this year's Class of 2022 beneficiaries and their families said:
Toni Charlick from Gravesend, Kent, mother to Adam (17yrs, pictured below) who took part in the programme, said:
"Adam has always loved cars; it is his biggest passion, so to have this opportunity was amazing! Families living with MD must miss out on so many things because of accessibility etc so the work of the Muscle Help Foundation charity is incredibly important to us and all families living with MD. The event was fantastic. Adam was smiling from ear to ear the whole day. He is keen to pursue a career in car engineering and design and this has inspired him to further pursue that dream. This experience has had a hugely positive impact upon his mental health and how he views life"
Adam (pictured below) said:
"My ultimate dream is to work with cars and I'm currently studying for my BTEC engineering at sixth form so I can achieve this. I just love being in or around cars, especially fast ones. I am determined not to let Duchenne Muscular Dystrophy stop me achieving my dreams"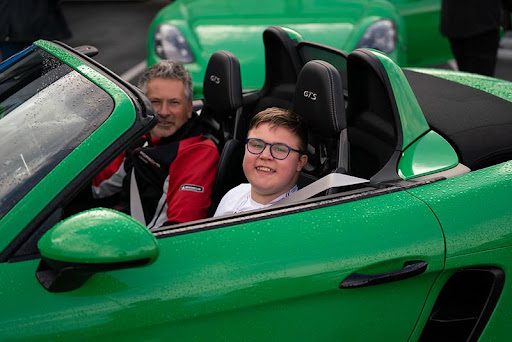 Another family that took part in the programme are from Ukraine. They are currently living in the UK with a sponsor family after fleeing the country due to the war.
Marharyta Yashchenko, mother to Danyil (15yrs, pictured below) with Duchenne Muscular Dystrophy (DMD), said:
"It's been a difficult time for us having relocated here this year due to the war so when we got this opportunity, we were so excited and emotional. My son is very fond of cars, as are many boys. Being in a fast car allowed him to realise his dreams.
"Very often, people with disabilities are embarrassed about their condition and lead a secluded lifestyle. This usually leads to disease progression and physical deterioration. Such support like this, from charities like The Muscle Help Foundation, provide an opportunity for people with Duchenne to be themselves, to be in society, to get new acquaintances, expand their horizons, and get new experiences. In Danyil's words he said, 'the Porsche is a machine for the soul'!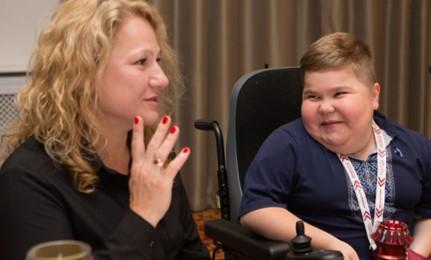 The event was supported by the charity's key partners, namely the Porsche Experience Centre at Silverstone and Whittlebury Park, near Towcester. The first Porsche Muscle Dreams Programme took place in May 2011.
A mini army of incredibly devoted MHF Volunteer Hosts (pictured below) from all walks of life have over the years selflessly given up their time to ensure that beneficiaries and their families have the most magical experience of their lives.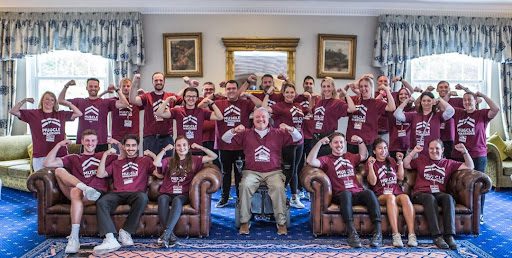 Jake Hudson (28yrs, pictured below) from Crewe, Cheshire, also with Duchenne Muscular Dystrophy (DMD) said:
"This opportunity was really special to me and my family as we have always loved cars. To actually be in a Porsche is something of a dream, one that I never thought was possible. Having access to wish-fulfilment experiences like this is very important in my opinion – it can be difficult to accept MD and it can be all too easy to believe an active life is not possible, but that's not the case. This experience has definitely enhanced my self-belief, confidence, and my can-do attitude.
"Overall, it was just awesome. The adrenaline was pumping and as we went faster, my smile got bigger. It was emotional too though – knowing this is a once in a lifetime moment which I will cherish forever! My disability was left at the front door. The whole experience empowers you to just be yourself"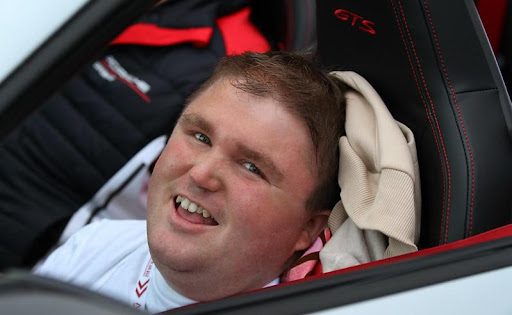 Vanessa Hagg from Norfolk, Mum to Will (13yrs, pictured below) said:
"Will wants to go again; it has ignited his passion for cars even further and he's determined he will drive his own car one day. He's also asked if I can buy a convertible car so I can take him for drives along the coast – it will not be a Porsche though!"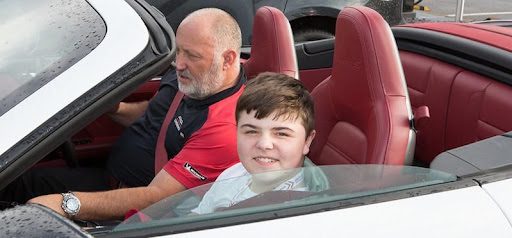 Gill Kerr, Manager, Porsche Experience Centre Silverstone said:
"Sharing the excitement of Porsche is core to what we do at the Porsche Experience Centre Silverstone. But sharing that excitement with the Muscle Warriors and their families is particularly special. 2022 marked the 10th anniversary of Porsche's partnership with Muscle Dreams and we're delighted to have helped realise the dreams of the very deserving beneficiaries over those 10 years in support of this transformational charity"
Charles Sargeant, Managing Director, Whittlebury Park said:
"The Muscle Help Foundation charity is a fantastic cause, and we were delighted to welcome the Muscle Warriors back to Whittlebury Park to help fulfil some of their wishes. Being a car enthusiast myself, nothing makes me happier than seeing the enjoyment we are able to give to others by sharing our passion"
David Munson, General Manager, Whittlebury Park added:
"It was amazing for us to welcome back the Muscle Help Foundation for their 10th Anniversary of the Porsche programme at Whittlebury Park this year. Having seen what the charity has accomplished in the last decade and making the dreams of so many young people a reality, it really is a delight and privilege to continue to be a partner for such an amazing charity and for such a fantastic event.
Seeing the smiles on the faces of the 10 Muscle Warrior beneficiaries as they returned from Silverstone this year was truly wonderful – I'm sure we'll see many more in the future. We look forward to being part of the journey in helping the charity achieve its 657 mission"
How you can support our small charity:
The Muscle Help Foundation (MHF) organises and facilitates highly personalised events, experiences, and activities, which they refer to as Muscle Dreams, for young people with Muscular Dystrophy or related muscle-wasting conditions and their families.
Thanks to Muscular Dystrophy UK, new research reveals that approximately 110,000 people (babies, children and adults) in the UK live with muscle-wasting conditions. Muscular Dystrophy is a progressive condition that gets worse over time. It is the single biggest genetic killer of children in the world today. It robs sufferers of their mobility, their independence and finally for those with the most severe type (Duchenne Muscular Dystrophy or DMD), their lives. Although there is some excellent research going on around the world, there is still currently no known treatment.
The Power of 657:
The MHF charity is running a national campaign called The Power of 657 and its mission is simple – to deliver 657 transformational wish fulfilment experiences for children, young people and their families with Muscular Dystrophy in the UK, that's one life-changing experience for every muscle in the human body.
For the charity's beneficiaries, every Muscle Dream experience is an opportunity to not only realise their potential but also become a Muscle Warrior and by default, join the charity's tribal community. For their family and friends, each one opens up a support network of like-minded individuals.
To date, the charity has delivered 436 Muscle Dream interventions with 221 to go to reach the overall target of 657.
Uplifting, joyful and often cathartic in nature:
MHF is a small charity delivering highly personalised, transformational interventions in the UK called Muscle Dreams for children and young adults (8-28yrs) with the muscle wasting condition, Muscular Dystrophy (MD).
Uplifting, joyful and often cathartic in nature, MHF's academically validated work and impact is rooted in the idea that well executed, shared experiences can be powerfully transformative in nature.
2023 is MHF's 20th Anniversary:
Next year, 2023 will see the charity reach its 20th anniversary – since 2003, it has touched the lives of 1000's of people across the UK living with Muscular Dystrophy, from families and local communities to schools and businesses – its impact and reach continues to grow.
For MHF to continue its vital work and push on with its 657 mission, the charity desperately needs support – if you can, please donate by clicking HERE – thank you.