106 Muscle Warriors raise £30,000 for MHF
Posted on

January 15th, 2011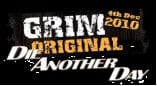 Question: What are we?
Answer: Muscle Warriors!
The Muscle Help Foundation (MHF) smashed all GRIM-day records with an amazing group of over 106 GRIM Muscle Warriors who raised in excess of a staggering £30,000 for Muscle Dreams by participating in our 2010 Die Another Day GRIM-day Challenge on Sat 15 Jan 2011.
This was the charity's third appearance at this annual event and one that will always be remembered in the years to come, not least because of the postponement from its original date of Sat 4 Dec 2010 due to severe weather (ice, freezing conditions & rock-hard terrain!) but also for the quite extraordinary Muscle Warrior camaraderie of everyone that embraced the GRIM-day spirit before, during and after the event!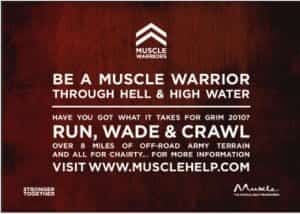 There were so many individual stories of courage, endurance and sheer bloody-mindedness to get round the course. A massive thank you to all those who helped out, to those who handed out the hot-dogs, dished out the soup and hot tea and made sure that all of our Muscle Warriors were suitably loved and cherished – this has become our GRIM-trademark and we're already planning our return for this year's 2011 STRONGER TOGETHER GRIM-day Challenge on Sat 3 Dec 2011 where once again … we will be out in force!
A colossal thank you must also go to all those who raised money through various fundraising channels including our new online partnership with Virgin Money Giving who were exceptionally helpful and who lived up to their promise of making online donations easy. Particular thanks to our growing number of corporate supporters and the matched-funding that enabled in excess of £30,000 to be raised for the charity – most notably, The Muscle Help Foundation recognise the astonishing Ladbrokes Muscle Warrior team, the ARK team and the boys from the Concep Global Group – respect to you all!
Contact:
Lydia Drukarz, Director
Wavelength Public Relations
M. 07977 454180
E. lydia@wavelengthpr.com
Follow Wavelength PR on Twitter
http://twitter.com/WavelengthPR