Zibrant's 100 mile Coast-to-Coast Challenge
Posted on

September 4th, 2013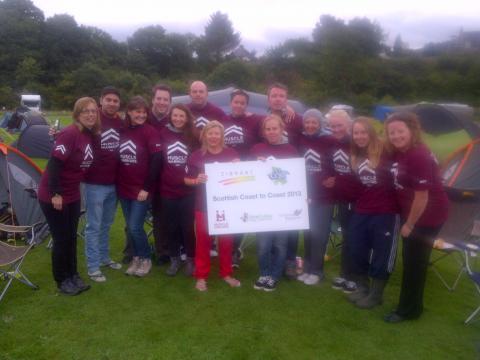 NEWS UPDATE: An enormous Muscle Warrior salute of congratulations to all Zibrant 14-15 Sept Scotland Coast to Coast Challengers & the Support Crew! Despite atrocious weather conditions, you prevailed! An amazing effort! Huge respect to you all – on behalf of our charity, thank you to each and everyone of you! STRONGER TOGETHER
SHOW YOUR SUPPORT FOR OUR INTREPID CHALLENGERS, PLEASE DONATE HERE – thank you!
Participants from Zibrant's offices in Canterbury, Godalming and its Derby HQ are carrying out their final preparations including some rigorous training before heading north to Scotland for their latest fundraising challenge, a tough journey covering just over 100 miles!
Imagine a route that traverses one of the most famous mountain landscapes in the world by bike, foot and boat, a route that takes in some of the most iconic locations and amazing views in the Scottish Highlands: Loch Ness, the Great Glen, Ben Nevis and Glen Coe!
One of the Coast-to-Coast Challengers is Zibrant's Managing Director Fay Sharpe who said, "Zibrant fully supports The Muscle Help Foundation. I am delighted to support this charity as Chair of Trustees. The Zibrant team and I love to be involved and support this family charity's amazing work. We are delighted to support them on an on-going basis."
The Muscle Help Foundation is one of three beneficiary charities that include Send a Cow and The Charlotte Blackman Memorial Fund, all nominated by the award winning agency that places more than 25,000 events annually in more than 50 countries and employs 200 staff predominantly in the UK, Ireland and France.
"Their adventurous spirit, collective ambition, fundraising efforts and their real desire to help us change more lives and give more hope through our Muscle Dream activities is something the charity is very grateful for – we wish all Zibrant Muscle Warriors participating in this Coast-to-Coast Challenge heading off on Friday 13th Sept the very best of luck!" said MHF's CEO Michael McGrath.
"Know that we're right behind you, supporting each challenger every step of the way, every paddle, every moment – I know the final few hundred metres run to the finish after the 105 miles behind you will hurt, so big respect and big thanks for using your muscles to help others whose muscles are wasting away – when the going gets tough, remember the STRONGER TOGETHER words on the back of your t-shirts," added McGrath.
Set up in 1988, Zibrant's services include venue-finding, event production, event and incentive management and hotel booking services. The company operates independently as part of Motivcom, an AIM-listed UK business services group offering marketing communications, event management and incentive expertise to corporate clients.
Contact:
Lydia Drukarz, Director
Wavelength Public Relations
M. 07977 454180
E. lydia@wavelengthpr.com
Follow Wavelength PR on Twitter
http://twitter.com/WavelengthPR