WOW! Awards Ceremony Raises £1600 for Muscle Dream
Posted on

November 4th, 2009

WOW! Awards is a not for profit organisation. It is the only national awards scheme for customer service based purely on customer nominations – their chosen charity at this year's 2009 WOW! Awards Ceremony held in London on Wednesday 4th November 2009 was The Muscle Help Foundation, a small UK-based charity that delivers Muscle Dreams™, designed to give amazing and unforgettable personalised life experiences in the UK to children and young people afflicted by Muscular Dystrophy.

Co-founder and inspirational speaker Michael McGrath delivered the keynote address to some 400 invited guests from across the UK where nearly £1600 was raised on the night for the charity's Muscle Dreams™ programme.
One of the WOW Awards licensees EverMedia Ltd generously sponsored a quantity of Michael McGrath's recently launched film titled 'Powerful Beyond Measure' produced by Well Drawn Productions and narrated by Actor, Film Director and one of the charity's Patrons, Kenneth Branagh. The film together with a special editorial feature about the charity and a personal note of thanks was sent after the event to all guests. The film gives a brief insight into Michael's life and his work.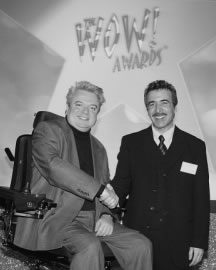 Pictured above is Michael McGrath congratulating Amir Azizpour, the Customer Services Manager of EverMedia Ltd who commented, "Michael is an inspiration to anyone faced with the seemingly impossible. We are urging all of our customers and suppliers to remember that it takes 10 muscles to smile, 12 to frown but only 1 to make a difference."
He added, "Michael is a true inspiration to us all. We can all help his charity continue to make that difference by getting involved, perhaps becoming a Muscle Warrior™ or by simply making a donation."
The WOW! Awards paid tribute to the very best customer service providers in the UK. All of the finalists were nominated by customers for these prestigious awards. An independent panel of expert judges decided the winners. Awards Ceremony Sponsors included: Ladbrokes, Vertigo 42, Tower 42, Rhodes 24, Connexions and Kall Kwik.

About the WOW! Awards
Contact Derek Williams
Founder – The WOW! Group
http://www.thewowawards.com
The WOW! Awards is the only national awards scheme for customer service based purely on customer nominations. Ordinary people doing wonderful work can be nominated, lauded, rewarded with certificates and recognised by peers as customer service icons. Seventeen categories were recognised this year ranging from Best in Financial Services to Most Inspiring Frontliner.

About EverMedia Ltd
Contact Amir Azizpour
Customer Services Manager – EverMedia Ltd
http://www.EverMedia.co.uk
The web's favourite media conversion company, EverMedia Ltd is a truly customer oriented business dedicated to providing the best possible advice, quality and service at affordable prices.
Whether you want to preserve your precious memories from your video tapes, cine films, photos and slides on DVD, or want to convert your corporate videos for playback on PC or web, EverMedia has the right combination of services to satisfy all media conversion needs. EverMedia serves customers throughout England, Scotland, Wales, Ireland, Spain, France, Norway, Switzerland, Netherlands, Germany and the USA.
EverMedia is registered with The WOW! Awards for Customer Service. The company is proud to have been announced as the Finalists for two Customer Service Awards at the 2009 WOW! Customer Service Awards, a unique programme that relies on their customers to directly nominate the organisation.
Contact:
Lydia Drukarz, Director
Wavelength Public Relations
M. 07977 454180
E. lydia@wavelengthpr.com
Follow Wavelength PR on Twitter
http://twitter.com/WavelengthPR