#POWEROF657 CHARITY DINNER
Date:

30 Sept 2015

Robinson College is teaming up with national charity The Muscle Help Foundation (MHF) to host the #powerof657 Charity Dinner at 7:00pm on Wednesday 30th September 2015; an exceptional evening of fine dining in the heart of Cambridge.

Tickets for this dinner are £50.00 + VAT per person
Why not take a table (based on 10 guests) at £500 + VAT
Click the image above and follow the links to register and buy your tickets
Accommodation for the evening can be purchased via the clic+ 2015 website here
WHAT'S INCLUDED
Guests will look forward to a sumptuous three-course dinner with matching wines and a special auction full of prizes, the proceeds of which will go directly to The Muscle Help Foundation. This gala evening precedes clic+2015 which takes place at Robinson College the following day.
MORE ABOUT THE #POWEROF657
The charity's latest national campaign, which lends its name to this dinner, is the #powerof657 – MHF's aim is to deliver a total of 657 'Muscle Dreams', one for every muscle in the human body.
To date, 205 Muscle Dreams have been delivered.
Since its launch, the #powerof657 campaign has seen a 129% increase in web traffic with a reach of 5.2 million.
The charity's preferred minimum donation of £6.57 reflects its new tiered giving levels that encourage sponsors to for example donate £657 or set-up a #powerof657 challenge to raise £6,570 in return for headlining one of its signature programmes.
Commenting on the event Nick Milne (pictured below), College Steward & Head of Conferencing and Catering at Robinson College said:
"We are delighted to be hosting The Muscle Help
Foundation for this special #powerof657 Charity
Dinner. I hope this event will increase awareness
of the impact and incredible work of this
wonderful charity. We are passionate about
playing our part to ensure everyone has a
delicious meal and a very enjoyable evening.I would like to take this opportunity to
encourage local businesses to attend, in
addition to raising money for an outstanding
cause that changes lives and gives hope;
it also represents a great networking
opportunity as well as an excellent platform
to entertain clients/colleagues."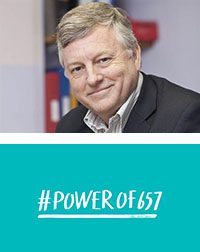 Why not join the conversation on Twitter:
Follow: @RobCollConf & @ClicPlus2015
Use the hashtags: #clic15 #powerof657