NIGHT OF INSPIRATION
Date:

4 Nov 2014
Following the success of our fundraising event last year, we are delighted to announce that the prestigious Royal Automobile Club in Pall Mall will once again play host to our Muscle Dreams NIGHT OF INSPIRATION Annual London Charity Fundraiser on TUES 4th NOV – doors open from 7pm.
TO PURCHASE TICKETS
CLICK THE RUGBY BALL BELOW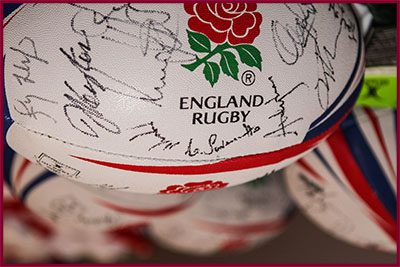 We are delighted to announce that Peter 'Scrivs' Scrivener will be our GUEST AUCTIONEER at this year's fundraiser – Peter is the CEO of KLAS International and a Trustee for the Wasps Legends Charitable Foundation – he was a professional rugby player at London Wasps from 1992 – 2003 until he was forced into retirement with a career ending injury. He won two Tetley Bitter Cups, three Premiership titles and one Heineken Cup. He also represented England at U18's, U21's, A and Sevens as well as the Barbarians. In 2006, Peter joined London Wasps as Commercial Director and enjoyed four seasons with rugby's most successful club.
This year, the theme of rugby is being applied – with the 2015 Rugby World Cup fast approaching, the charity is hoping to play its part in taking a group of young people with muscular dystrophy who love rugby to experience the thrill and excitement of one of the largest events in world sport. It is therefore fitting that our auctioneer is someone who knows a thing or two about rugby!
On the night, you will also hear from and meet some of our past MUSCLE DREAM beneficiaries (our VIP's), participate in our TREE OF DREAMS and enjoy an uplifting film with a difference showing our impact – the evening will we hope inspire, inform and entertain!
YOUR TICKETS INCLUDE:
1.    Entry into our Grand Raffle Prize Draw2.    A complimentary glass of wine (red or white) or a soft drink on arrival into The Committee Room (a cash bar will be available)3.    Complimentary canapés will be served on arrival into The Committee Room4.    One of our distinctive STRONGER TOGETHER charity wristbands
NOTE ON DRESS CODE:
We encourage all of our guests to dress-up if they wish.
DJ's and cocktail dresses are most welcome!
As a minimum, jacket and ties must be worn by chaps(RAC rules).
Ladies are invited to dress with appropriate formality.
We ask all guests to respect the spirit of these rules – thanks.
VENUE ADDRESS:
The Committee Room
Royal Automobile Club
89 Pall Mall
London
SW1Y 5HS
Please note there is limited on street parking – the nearest car park is: Q-Park Trafalgar, Spring Gardens, Westminster, SW1A 2BN.
Pall Mall is a two-way street:a cashless parking system is now in place on Pall Mall and surrounding streets.
Nearest mainline railway stations:Victoria and Charing Cross.
Nearest tube station:Green Park (Victoria Line), Piccadilly (Piccadilly Line), Charing Cross (Bakerloo or Northern Line).
ENJOY LAST YEAR'S FILM BELOW
The YouTube film below will give you an insight into last year's NIGHT OF INSPIRATION event – once you've watched it, don't delay, purchase your tickets for this year's event on Tuesday 4thy November 2014. This film was generously sponsored by Zibrant.
WATCH THE SLIDE SHOW BELOW
The Flickr photographic slide show below will also give you a fun perspective into what happened last year – feel free to share and/or download any of the pics. Big thanks to our volunteer photographs Steve Carter and William Ferguson.
https://www.flickr.com//photos/musclehelpfoundation/sets/72157638711258815/show