JUST WALK
Date:

09 May 2015
AT GOODWOOD RACECOURSE
In this our second 'JUST WALK' year, the charity is looking to recruit MUSCLE WARRIOR 'walkers' to join our '10K walk' on SATURDAY 9th MAY 2015. All we ask is that you bring a smile and head to the SOUTH DOWNS at GOODWOOD (HORSE) RACECOURSE, near the beautiful cathedral city of CHICHESTER located on the River Lavant.
FUNDRAISING MUSCLES #657APPEAL
We're after your WALKING-MUSCLES but we're also after you're FUNDRAISING-MUSCLES in support of our #POWEROF657. We're encouraging all of our walkers to raise a minimum of £65.70 or more online (excluding gift-aid). Did you know that there are approximately 657 muscles in the human body and as a charity we're aiming to deliver 657 Muscle Dreams … that's why we want you to love the number 657 as much as we do!
TO SIGN UP, CLICK THE PHOTO BELOW!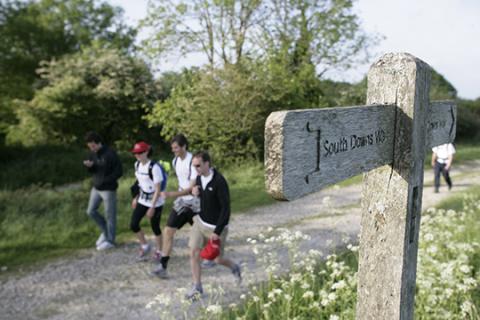 THESE BOOTS WERE MADE FOR WALKING, AND THAT'S JUST WHAT THEY'LL DO, ONE OF THESE DAYS THESE BOOTS ARE GONNA WALK … ALONG THE SOUTH DOWNS FOR MUSCLE DREAMS!
STEP 1 – AFTER YOU'VE SIGNED-UP, START FUNDRAISING
The charity is asking every 'JUST WALK' participant to raise a minimum of £65.70 (excluding gift-aid) for MUSCLE DREAMS in support of our #POWEROF657.
STEP 2 – CREATE YOUR ONLINE FUNDRAISING PAGE
It's really quick and easy to set up your online fundraising page with Virgin Money Giving – select a fabulous photo of yourself (perhaps one of you walking!), some choice words, maybe something about why you are walking in aid of our charity, perhaps something about your training regime and your fundraising target! Then share your fundraising page with your friends, family and colleagues – simples!
ABOUT THE WALK
JUST WALK is an exciting charity fundraising walk across the South Downs – whilst we will be looking to recruit as many walkers to join our 10k walk, there is a distance to suit every fitness levelal, it's the fun and easy way in helping raise money and awareness for MUSCLE DREAMS, highly personalised, once-in-a-lifetime experiences that #changelives and #givehope.
CHOOSE YOUR DISTANCE
You and your family and friends can choose to walk:
10km (our favourite!) / 20km / 40km … or a whopping 60km
WHAT'S PROVIDED ON THE EVENT
– Medical support team and lots of TLC from ATD staff
– Complete safety back up
– Power stations along the route with, drinks, support & big smiles!
– All stations have loos apart from the Graffham Down station
– Hot drinks at the start and finish
– Hot food at the start (40km and 60km only)
– Packed lunch on route (20km, 40km & 60km only)
– JUST WALKED T-shirt
JUST WALK REGISTRATION FEES
Once you have paid the event fee (see below), ALL the money you raise will go to our charity – there are no hidden overheads.
10km walk – 16 years and over = £19.00pp
10km walk – under 16s = £5.00pp
20km walk – 16 years and over = £39.00pp
20km walk – under 16s = £15.00pp
40km walk – over 16s only = £59.00pp
60km walk – over 16s only = £69.00pp
IMPORTANT NOTE
Under 18yrs must be accompanied at all times by a responsible adult
No under 16's are allowed on the 40km and 60km walking routes
Sadly no dogs are allowed on the event at Goodwood Racecourse
Also, no dogs are allowed on the walking routes
ACROSS THE DIVIDE (ATD)
'JUST WALK' is a charity challenge initiative, owned and managed by a specialist event management company providing unique charity challenges and group experiences. Across the Divide (ATD) has a heritage stretching back over a decade and we are looking forward to working with them on this and other events in the future.
We look forward to seeing you on the day!