SUPPORTERS FLEX MENTAL MUSCLES
Posted on

April 23rd, 2013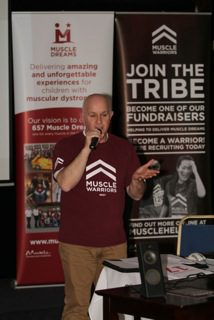 Muscle Warriors from around the country sharpened their pencils and minds for the Muscle Help Foundation's first ever quiz night earlier this month.
Some 17 teams gathered at Stevenage Football Club to compete in the event, which raised nearly £1,500 for Muscle Dreams – once in a lifetime experiences for children and young people with muscle wasting disease Muscular Dystrophy.
The 102 guests flexed their mental muscles as they completed several eclectic rounds of general knowledge questions under the watchful eye of quizmaster extraordinaire Jeremy Silverstone.
A big Muscle Warrior salute to Team 13, who were crowned victorious after clocking up 166 points, and generously auctioned their prizes to raise extra cash for MHF.
The charity offers a similar salute to Barclays, who agreed to match the money we raised from raffle ticket sales on the night. Hip hip hooray!
MHF's co-founder and CEO Michael McGrath said: "I'm thrilled to announce that our first ever quiz night was a resounding success with over 100 guests participating – together with several extremely generous supporters that included a mother of one of our beneficiaries who confirmed on the night that her employer Barclays would match the raffle income, a quite magnificent £1500 was raised for the charity."
The charity is planning another quiz in September this year.
Contact:
Lydia Drukarz, Director
Wavelength Public Relations
M. 07977 454180
E. lydia@wavelengthpr.com
Follow Wavelength PR on Twitter
http://twitter.com/WavelengthPR