Singing Herts Bobbies Entertain at Police HQ
Posted on

March 1st, 2011

An invited audience of some 150 guests arrived at the Hertfordshire Constabulary HQ based near Stanborough Lakes in Welwyn Garden City to bear witness to a very special event – guests listened attentively and watched in wonderment as a group of talented singing bobbies effortlessly sung their hearts out to various Beatles, Abba and Beethoven favourites – the Hertfordshire Constabulary Choir not only sung brilliantly and entertained but also raised a magnificent £1200 through ticket sales and raffle prizes for The Muscle Help Foundation.
The 35 strong member mixed-voice choir, which was originally for men only, has raised tens of thousands of pounds for charity since it was founded by former Assistant Chief Constable David Williams in the 1980s. The group's current Director of Music, Detective Constable Jim Frost, said: "We are a group of people, officers and staff, with a common interest in music who like to sing for worthy causes."

Home of the charity's longest standing Muscle Warrior supporters, Knebworth resident James Utting (pictured below) nominated The Muscle Help Foundation to receive funds raised from the evening event which was organised by the Constabulary's Choir Master – the total amount raised of £1239.11 was for the charity's Muscle Dreams programme that delivers amazing experiences in the UK for children with Muscular Dystrophy.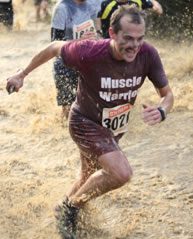 James said, "I would like to show my appreciation and thanks for all the effort you and the Herts Police Choir put into the evening on behalf of my fundraising efforts in support of The Muscle Help Foundation. A massive thank you! I am truly flattered at the amount of time and effort that you must have put into the evening and I am proud to tell you that everyone I spoke to said what a wonderfully entertaining evening it had been. Thanks a million for an absolutely brilliant night."
The concert programme included favourites such as – Mamma Mia, All That Jazz (Ladies only), Swing Low Sweet Chariot, Rhythm of Life and Amarillo. During the interval the charity's co-founder and Chief Muscle Warrior (CEO) Michael McGrath gave a short talk about the charity and his polar experiences.

The charity's Executive Assistant Julie Street said, "Huge thanks to you Jim, your choir members and to Janet for her enthusiasm, magnificent voices and good humour in putting on a very entertaining evening. There was a real buzz afterwards and everyone we spoke to said how much they had enjoyed it. We really felt that everyone embraced what it is we're trying hard to achieve in the charity and for that we are grateful and appreciative for your support. We do hope there'll be another opportunity to work together in the future."
Contact:
Lydia Drukarz, Director
Wavelength Public Relations
M. 07977 454180
E. lydia@wavelengthpr.com
Follow Wavelength PR on Twitter
http://twitter.com/WavelengthPR