Silverstone Class of 2013
Posted on

June 23rd, 2013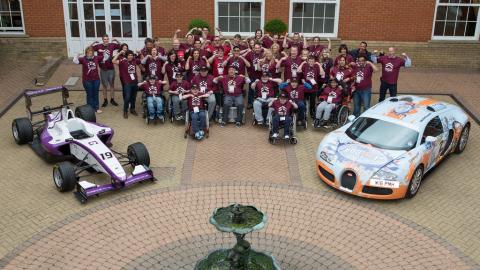 Nine boys with Muscular Dystrophy were treated to the ride of their lives at the Muscle Help Foundation's third annual 2013 Porsche Muscle Dreams programme.
The petrol heads, ranging from 11 to 23 years old, were whisked to Silverstone on the afternoon of 13 June where their need for speed was fulfilled with a white knuckle ride by professional racing instructors in a variety of Porsche.
As well as a special spin on the famous Stowe Circuit used by the top Formula 1 teams, the Porsche Experience Centre also laid on a number of Porsche Cayenne's so that beneficiaries could experience controlled driving on a specially designed off-road course, which encompasses 45 degree declines, ascents and rough terrain.
The day, designed to change lives and give hope through a once in a lifetime experience, kicked off with a warm welcome at the amazing Whittlebury Hall, lunch and the grand unveiling of two very special cars on display in the hotel's courtyard.
The boys and their families were invited to touch and be photographed with a million pound Bugatti Veyron provided by world renowned classic and competition car specialist Duncan Hamilton & Co Ltd.
In addition, British racing driver and MHF Ambassador Josh Webster, who has made his debut in the GP3 Series driving for Status Grand Prix, generously arranged one of his GP3 show cars for the beneficiaries to marvel at. The boys were in awe when they were presented with individual GP3 authenticated race car parts as a keepsake.
The experience was rounded off with a celebratory dinner at Whittlebury Hall, where the boys received a signed photo of F1 driver Jenson Button, as well as a host of other goodies.
The charity's CEO and Chief Muscle Warrior Michael McGrath said: "Our nine 2013 Porsche Muscle Dream beneficiaries graduated with flying colours – one of the highlights from this year's 'Class of 2013' was their reaction to seeing close-up a Bugatti Veyron; it was an incredibly special moment when the car was revealed; their faces said it all.
"We work extremely hard to ensure that these highly-personalised Muscle Dream programmes are organised down to the finest details including for example bespoke goody-bags that were covertly room-dropped while the families were enjoying dinner.
"A special thank you to our army of volunteers, the lifeblood of our charity – we simply would not be able to change lives in the way we do without their fantastic support – bring on 2014!"
Vicky, mum of 11-year-old Duchenne Muscular Dystrophy (DMD) sufferer Ben, summed up her son's experience: "We would just like to thank you so much for the totally awesome time we have had at Silverstone, in fact we have been so overwhelmed by the whole experience no words can thank you enough.
"We have just watched Ben's video of him in the Porsche racing around the track, which is fantastic and it also made me chuckle and smile. He had an absolutely incredible time"
Pauline, mum of Joshua aged 14 who also has DMD, commented on Facebook: "Had the best day today, thank you to everyone who helped organise this and every fundraiser who made it possible. To hear him say today was the best day of his life is just priceless – thank you."
Congratulations to our Class of 2013: AJ, Jack, Ben, Farhan, Alex, Joshua, Dan, Zack and Matin. All are now fully-fledged Muscle Warriors – we salute you and your families!
This Muscle Dream Programme was made possible with the generous support of the Porsche Experience Centre, Silverstone and Whittlebury Hall Hotel together with donations from individual fundraisers – Thank You!
Contact:
Lydia Drukarz, Director
Wavelength Public Relations
M. 07977 454180
E. lydia@wavelengthpr.com
Follow Wavelength PR on Twitter
http://twitter.com/WavelengthPR