Sarah Ferguson [The Duchess of York]
Posted on

June 30th, 2003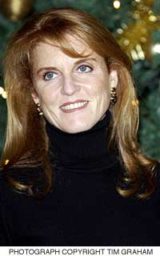 I am delighted to be a Patron of the pole2pole Expedition, conceived and planned by Michael McGrath to challenge the constraints imposed by Muscular Dystrophy. This is the inaugural event for The Muscular Help Foundation, established as a charity by Michael to help others with this muscle wasting disease.
Having taken part in a number of challenging activities involving disabled people, I have some insight into the hardships as well as the immense courage required to overcome harsh environments such as Antarctica. I have also witnessed the strength of character and great determination of those with me who had special needs when facing up to the tough times. For a disabled British man to challenge this last great wilderness of ice degree is almost beyond comprehension, but I am sure he will meet and overcome the adversity before him.
Despite his severe disability, Michael is undertaking this journey in order to help others. I believe this demonstrates not only his enormous inner strength and self-belief, but also demonstrates the significant power of mankind's spirit, which in this case, is clearly alive and well. The project mantra of "use a muscle to save a muscle" should be an inspiration to each and every one of us.
The project is very much about ability, as opposed to disability and success depends entirely on teamwork. Driven by a compelling desire to make a positive impact on those with muscle disorders worldwide, Michael will not only become the first disabled person in history to conquer both Poles, but more significantly will provide hope to many whilst raising global awareness of his condition and in doing so, reinforce the positive benefits of an inclusive way of thinking.
I wish Michael and his team good luck, fortitude, success, and a safe return. I whole-heartedly endorse the pole2pole Expedition.
Contact:
Lydia Drukarz, Director
Wavelength Public Relations
M. 07977 454180
E. lydia@wavelengthpr.com
Follow Wavelength PR on Twitter
http://twitter.com/WavelengthPR