Reacting to one of 50 photograph's, MHF's CEO pens heartfelt poem to support 'Reflections in Colour', MDUK's major new online exhibition
Posted on

June 30th, 2021

The Muscle Help Foundation charity's CEO Michael McGrath, who has limb girdle muscular dystrophy (LGMD2A), was invited to spearhead new online photographic exhibition 'Reflections in Colour' that saw 50 people with different muscle-wasting conditions share how an array of stunning pictures made them feel.

Michael's reflection came in the form of a poem here, on one of the photographs called The Holly Hill Tree (pictured below) that caught his imagination, and which forms a part of the online exhibition.

Launched in May 2021, 'Reflections in Colour' is a series of photographs born of the friendship between businessman Andrew Robertson, who also has limb girdle muscular dystrophy (LGMD) and successful cinematographer Chris Howard, both from Kent.

Michael, from Hertfordshire, is the only disabled person to have reached both the North and South Poles. The North Pole expedition in April 2002 raised significant funds for Muscular Dystrophy Campaign (now MDUK), for which Michael was a Trustee at the time.

https://www.crispandsharp.co.uk/views/michael-mcgrath-reflects-on-the-holly-hill-tree/

His story of courage and determination was 'life-changing' for Andrew Robertson, who heard him talk soon after he himself had been diagnosed with LGMD. Andrew, 40, runs his own business and lives with his wife and eight-year-old son.
'The Holly Hill Tree' – a poem by Michael McGrath
Striking, purposeful and resilient.
And after all these years, still turning heads, still stirring imaginations, still drawing strength from mother earth.
Shaped by the elements, by the storms of life.
And yet still stable thanks to roots that nurture daily.
Much time has passed, years, many years.
And despite today's challenging landscape, those roots are being fed like never before.
Holly Hill Tree, you are like many whose muscles are weary.
And yet, spirits are not dampened, we remain vigorous, we remain connected.
Despite the adversities of weather, we remain upright.
We see you Holly Hill Tree, despite appearances, we're alive, we're strong, we're resolute.
You may look withered, you may look sad, you may look alone,
But we know there's a beating heart that cares, that's compassionate, that's listening.
Whilst roots must often deal with rocks, with obstacles, with different adversities,
They more often than not break through the hardships before us, reaching upwards.
Like you Holly Hill Tree, we look to what's possible today, to what we can control, not what we can't.
We're not locked down, we're not helpless, we're not alone.
And when the storm hit, we stood strong, we stood together, we looked up.
When we support each other, when our lives are intertwined, when we care, we will always be stronger together.
Oh Holly Hill Tree, we know its ok to not be ok, we know it's ok to ask for help.
Look up, we see hope glinting through dark clouds, the suns warmth emerging.
Thank you Holly Hill Tree for being you, for reaching out, for casting your shadow.
We only know what we know, we only see what we see, we only feel what we feel.
You will always be striking, you will always be filled with purpose, stay hardy Holly Hill Tree.
We see your hope, your dignity, your humility, we see you Holly Hill Tree.
Andrew, who volunteers as a peer-to-peer supporter for Muscular Dystrophy UK, and his friend, Chris Howard, developed the exhibition together. Alongside each picture, Andrew recorded the thoughts of people with different muscle-wasting conditions from all over the UK.
"I heard Michael (pictured above right) at the first-ever MDUK event I attended. He described how he had refused to allow his disability to stop him becoming a successful business and family man and how he went on to conquer the poles.
"His words, all those years ago, have sustained me in my journey with muscular dystrophy and in my belief that life is what you make it."
Andrew Robertson (pictured above left)
The exhibition, which features very high-quality prints, mounted on Foamex 3mm board and printed in Scotland, are available to buy here. A percentage of profits from the exhibition will be donated to the charity Muscular Dystrophy UK (MDUK).
"The idea for 'Reflections in Colour' was born after Chris and I shared a cup of tea after a walk around Kent Castle. Chris' photograph named 'Pot of Tree' was a symbol of sharing and fun. We named the new fundraising campaign 'Pot of Tree' so we could share the photographs and reflections with everyone. Every sale will result in a donation to MDUK.
Chris' daughter also has muscular dystrophy, and after that first experience together, Chris and I would often meet for coffee.
I was blown away by his wonderful artwork, and what we originally planned as an actual show in a Whitstable art gallery has become a virtual exhibition."
Source: Andrew Robertson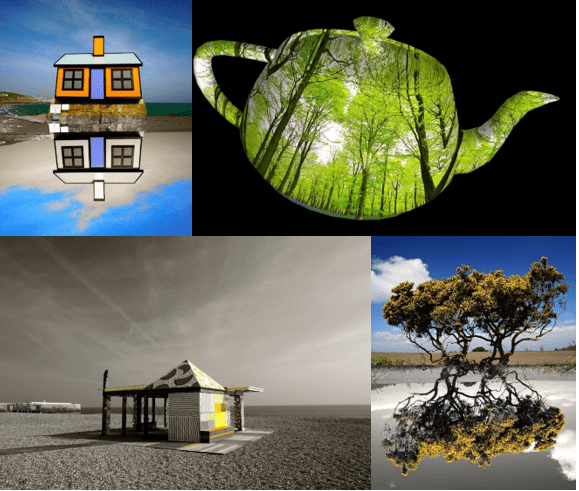 BUY A HIGH-QUALITY PRINT
Raising funds for MDUK
https://www.crispandsharp.co.uk/pot-of-tree-campaign/
BUY THE 'REFLECTIONS IN COLOUR' BOOK
Raising funds for MDUK
https://www.crispandsharp.co.uk/pot-of-tree-campaign/book/
BUY 'THE HOLLY HILL TREE' PRINT
Raising funds for MDUK
https://www.crispandsharp.co.uk/photo/the-holly-hill-tree/
READ THE FULL 'REFLECTIONS IN COLOUR' STORY
Found on Muscular Dystrophy UK's website here
ABOUT MUSCULAR DYSTROPHY UK
Muscular Dystrophy UK is the charity for the 70,000 people living with muscle-wasting conditions in the UK. We bring together and support people affected by more than 60 rare and very rare progressive muscle-weakening and wasting conditions. We are facing the biggest threat in our 60 years with the loss of half our forecast fundraised income (£2.8m), just when our help is most critically needed by those that we serve.
ABOUT LIMB GIRDLE MUSCULAR DYSTROPHY
Limb girdle muscular dystrophy (LGMD) describes a large group of conditions, which mainly affect the shoulder and pelvic girdle muscles. The hip and thigh muscles also weaken and waste over time, causing increasing disability.
Symptoms and complications associated with the condition vary between the different types. In some people, the heart and breathing muscles are also affected, leading to life-threatening health problems. Limb girdle muscular dystrophy can be diagnosed at any age.
WATCH SPECIAL GUESTS ANDREW & CHRIS
ON MHF'S 'IN CONVERSATION WITH' BROADCAST
HOSTED BY MICHAEL McGRATH