POWERCHAIR FOOTBALL
Posted on

February 18th, 2013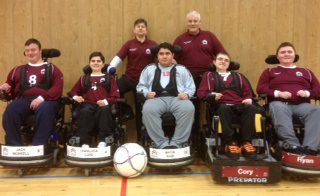 An innovative sporting partnership between Aspire Powerchair Sports Club (APSC) & The Muscle Help Foundation (MHF) has recently been established by the two organisations.
Discussions have been on-going for several months between the APSC and MHF, with a view to formalising The Muscle Warriors Powerchair Football Club. Volunteer organisation and registered charity Aspire Powerchair Sports Club provides sporting opportunities for electric wheelchair users in the form of Powerchair Football.
Steve Kelly (APSC Chair) said: "This is a fantastic opportunity for us to support the great work carried out by Michael McGrath and his team at The Muscle Help Foundation (MHF). It's a win-win situation – the opportunities offered by MHF will be promoted into the exciting world of wheelchair football and conversely, I know MHF will promote the sport of wheelchair football through its growing national stakeholder community. It's hoped that the partnership will promote awareness of the sporting opportunities available to as many Muscular Dystrophy sufferers (both girls and boys) as possible. There's a long way to go, but we hope to grow the club into one of the strongest in the country".
Michael McGrath said: "We're continually learning about the growing sport of powerchair football, increasingly from several of our Muscle Dream beneficiaries who play for different clubs across the country. The partnership with Aspire PSC is underpinned by a real understanding of the benefits derived by actively participating in sport – there's a really great synergy and spirit reinforced by our charity's STRONGER TOGETHER tagline as well as a distinctive new strip. That said, I must confess to being a little nervous as I prepare a guest pep talk in motivating the team; perhaps a few tips from Andre Villas-Boas the Spurs Manager might come in handy – rumour has it that two of our players plus the Team Manager and the Team Coach support Spurs!"
The Muscle Help Foundation delivers highly-personalised, unique Muscle Dreams for children and young people with the muscle wasting disease Muscular Dystrophy; the family charity also delivers a number of bespoke Muscle Dream Programmes for groups of sufferers.
Aspire PSC runs its own powerchair football club, Aspire PFC & facilitates the organisation and general running of another powerchair football club, Evergreen PFC.
Each powerchair football club has its own identity and is affiliated to their relevant County Football associations; they are also affiliated to the Wheelchair Football Association (WFA) – the governing body for the sport of Powerchair Football.
Aspire PSC will host the Muscle Warrior PFC in the same manner, where MWPFC has its own identity and associations. The Muscle Warrior PFC is affiliated to the Hertfordshire FA and the WFA.There is a long way to go with the partnership, but the ambition is to grow the number of players across the country and increase the number of participating teams under the Muscle Warrior banner, initially increasing the player base of MWPFC.
Muscle Warriors PFC – Team Members
Player: Ryan O'Leary (No. 2)
Football Team: Tottenham Hotspur FC
Favourite food: Curry
Thing I most dislike: Peas
Player: Gianluca Luisi (No. 4)
Football Team: Tottenham Hotspur FC
Favourite food: Steak
Thing I most dislike: Arsenal FC
Player: Aaron Small (No. 5)
Football team: Manchester United FC
Favourite food: Salmon
Thing I most dislike: Chelsea FC
Player: Daniel Messenger (No. 6)
Football team: Southend United FC
Favourite food: Sausage & bacon
Thing I most dislike: Vegetables
Player: Cory August (No. 7)
Football Team: Manchester United FC
Favourite food: Spaghetti Bolognese
Thing I most dislike: drivers who disrespect disabled parking bays!
Player: Jack Morrell (No. 8)
Football Team: Chelsea FC
Favourite food: Steak & chips
Thing I most dislike: Manchester United FC
Player: Matin Nabi (No. 12)
Football Team: Arsenal FC
Favourite food: Burgers
Thing I most dislike: Vegetables
Manager: Barry O'Leary
Football Team: Tottenham Hotspur FC
Coach: Vito Luisi
Football Team: Tottenham Hotspur FC
Key Diary Dates
In 2013, there are eleven weekend events:
16th & 17th March (Premiership Division)
13th & 14th April (Premiership Division)
11th & 12th May (Premiership Division)
1st June (Both Divisions, WFA Cup Final & AGM, not all Teams will play)
Learn more about the Muscle Warrior PFC
Official hashtag on Twitter: #MuscleWarriorsPFC
Contact:
Lydia Drukarz, Director
Wavelength Public Relations
M. 07977 454180
E. lydia@wavelengthpr.com
Follow Wavelength PR on Twitter
http://twitter.com/WavelengthPR