Polar Personality Inspires Richard Hale Year 9
Posted on

June 4th, 2009

Hertfordshire polar personality Michael McGrath, the only disabled person in the world to have reached both North and South Poles, spoke to 160 pupils from Richard Hale School in Hertford, as part of their Year 9 Enrichment Week on Thursday 5th June 2008 at the Corn Exchange in Hertford. The Hertfordshire Mercury reported on the event (June 13th 2008 Mercury People) and regional radio station Heartbeat 106.7 FM interviewed three pupils for their primetime evening news.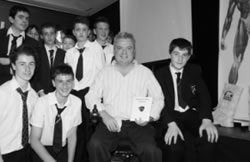 Photograph © Hertfordshire Mercury

"The way Michael McGrath drew parallels between his polar experiences and life today made for a fascinating educational platform. It was fantastic for our pupils to meet someone who has clearly triumphed over adversity. He brought to life the realisation that despite setbacks much can be achieved, a particularly poignant message for our students who are at an important crossroads in their academic careers", said Malcolm Ritchie, Head of Year 9 at Richard Hale School in Hertford.
"Michael visited our school in advance to gain an insight into our historical roots and the school's culture. Students were greatly inspired by his many life achievements. His talk was engaging, interactive and thought-provoking and included many humorous and entertaining excerpts from some of his own 20 year old school reports!" he added.
An established motivational speaker, Michael McGrath is used to engaging with different audiences on a range of subjects. He is increasingly being invited by primary, secondary and special education needs (SEN) schools from around the UK to give talks in not just sharing his life achievements but also exploring the opportunities presented by diversity and specifically disability (he has muscular dystrophy).
"Pupil's horizons are broadened and moral, social and cultural beliefs are positively influenced", said McGrath. "The school talks that I deliver aim to underpin some of the elements of the Citizenship and Personal Health and Social Education (PHSE) curriculum, whilst providing an interactive platform that educates, reinvigorates and motivates".
McGrath goes on to say "Each and every time I give a school talk, my goal is to simply help pupils realise their own aspirations as well as giving them an insight into polar places. I explore the metaphor of challenge, providing a catalyst for pupils to connect with their own inner potential.
School subjects such as geography and science should not just be taught off the internet or from a text book or off a DVD but through direct experiences, giving pupils the opportunity to engage, challenge and most importantly ask questions. I believe that by experiencing and visualizing real life issues gleaned from real experiences tomorrow's leaders can begin to truly learn about the environment around them, whether that be the importance of sport, citizenship, valuing difference or engaging with the community. Only then will their horizons be truly broadened", commented McGrath.
Pupils at Richard Hale School were set a Muscle Challenge Quiz by McGrath who is also the CEO and charity co-founder of The Muscular Help Foundation (MHF), a local charity based near Hertford, which in turn provided the school with an opportunity to help raise some funds for MHF's Muscle Dreams programme. These are designed to give unforgettable experiences for children and young people with muscular dystrophy in the UK, helping them to live a dream or fulfil a cherished ambition.
As Muscle Dreams can cost anywhere between £250 and £5000, the charity is unable to fund every single Muscle Dream nomination received – if you or your company would like to sponsor your own Muscle Dream, you can either contact us via email or phone the MHF office on +44 (0)1763 274658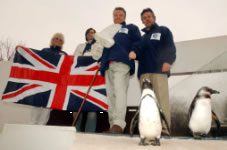 McGrath's 60 minute talk included:
Introductory STV (Scottish TV News) DVD Clip
McGrath's 'DIS' challenge
Famous people & celebrities with disabilities
Golf / Tennis / Rugby / Football / Texting
North & South Poles / Geographical Differences
Polar Bears / Penguins / Extreme Cold / Frost Nip
HAVING a dream / LIVING a dream
Muscle Salute!
The Spirit of Reach Beyond (DVD Film)
Questions & Answers
Muscle Quiz Challenge ~ THE RESULTS
i-Speed Meet Michael McGrath
Individual photos / signed autographs
Richard Hale School
http://www.richardhale.herts.sch.uk

Hertfordshire Mercury
http://www.hertfordshiremercury.co.uk

Contact:
Lydia Drukarz, Director
Wavelength Public Relations
M. 07977 454180
E. lydia@wavelengthpr.com
Follow Wavelength PR on Twitter
http://twitter.com/WavelengthPR