Patron & ITV Presenter Lorraine Kelly joins charity #fitforafiver Zumba class at Xercise4less Southend in Rochford
Posted on

May 11th, 2016

Patron of The Muscle Help Foundation (MHF), TV presenter and fitness role model Lorraine Kelly joined gym goers for a very special zumba session to raise money for Muscle Dreams. The host visited Xercise4Less Southend, in Purdeys Way, Rochford on Tuesday 19th April 2016, to back MHF's 'feel good, do good' campaign that urges people to get #fitforafiver.

#fitforafiver donations raised on the day totalled £203.95 – the day after the #fitforafiver session, the charity was delighted to hear that the Directors of Xercise4less decided to match this amount making the total raised of £407.90 attributed to Xercise4less Southend. Over the next month or so, the company is planning a series of #fitforafiver days across their estate in support of the charity; more information will be available on this exciting initiative soon.
2016 Film Credit: Southend Echo
#fitforafiver is designed to encourage people across the nation to 'lose a few pounds and simply get #fitforafiver. Once participants have located a fitness centre near to them that's taking part in the initiative, they can then donate £5 online via the charity's dedicated #fitforafiver campaign page and attend the session, knowing that they are getting fit and giving back at the same time!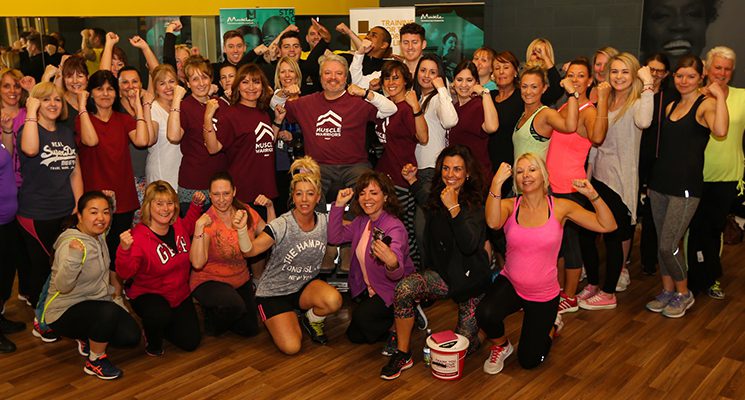 Pictured above: some of the zumba participants with Lorraine Kelly, our CEO Michael McGrath and the amazing Maxine Jones giving one of the charity's distinctive Muscle Warrior salutes. With some 40 clubs across the UK and well over 250,000 active members, Xercise4less have partnered with The Muscle Help Foundation on this campaign.
Pictured below: some of the staff including Club Manager, Natasha Spurr (far left) together with Lorraine Kelly at the 38,000sq ft. Xercise4less Southend branch, the cheapest gym in the area, hosting over 400 pieces of equipment including a fantastic aerobics studio that hosted the charity's #fitforafiver zumba session.

For more information about Xercise4less:
Visit www.xercise4less.co.uk
Like them on Facebook or follow on Twitter
Pictured below: MHF's Patron Lorraine Kelly with Maxine Jones.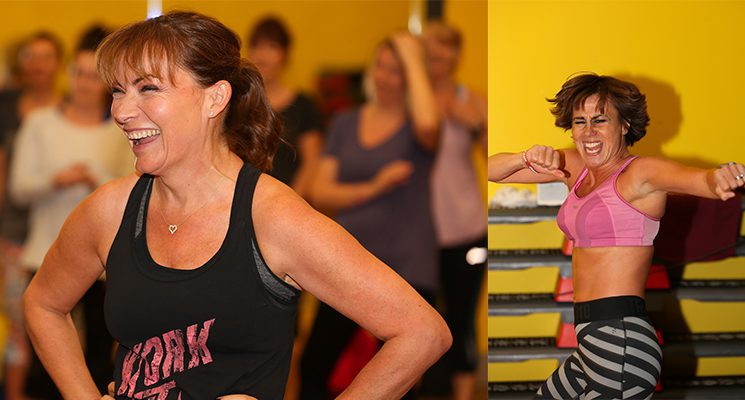 MHF is a multi-award winning, niche family charity delivering life-changing, highly personalised experiences, known as 'Muscle Dreams', for children and young people in the UK with Muscular Dystrophy (MD) and allied neuromuscular conditions.
The charity has one singular aim to deliver 657 Muscle Dreams, that's one life-changing experience for each muscle in the human body. To date, 208 have been fulfilled for some incredibly deserving young people; that's the #powerof657.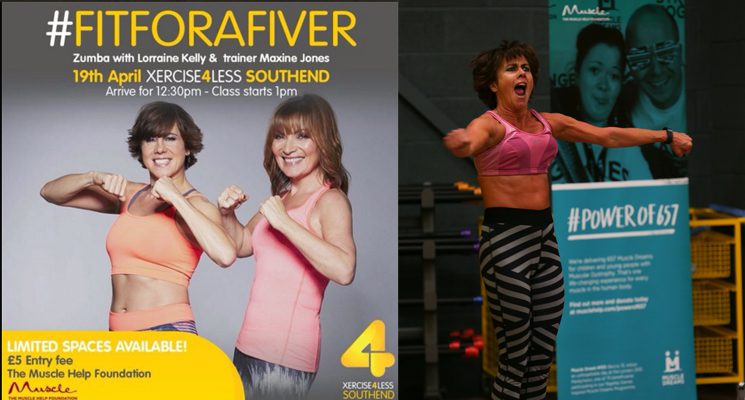 You can view all the photos taken at this special event in a separate album on the charity's dedicated Flickr Channel HERE that's recently passed 500,000 views!
Special thanks to MHF's Volunteer Photographer, William Ferguson, for turning around several of the best photos which were featured the following morning on ITV's Lorraine TV show as well as the charity's new Instagram channel which you can follow HERE. If you love Will's photos, why not connect with him via his Instagram account @iwillfoto. Should you wish to use any of the photos in this album, please credit Will as per below – thank you.
© 2016 William Ferguson Photography on behalf of The Muscle Help Foundation.
Contact:
Lydia Drukarz, Director
Wavelength Public Relations
M. 07977 454180
E. lydia@wavelengthpr.com
Follow Wavelength PR on Twitter
http://twitter.com/WavelengthPR