Norfolk & Chance Surpass Super Hero Status
Posted on

July 4th, 2008

The 'Norfolk & Chance' sporting duo, made up of Marcus Hoare and Ben Cooper (pictured below), went beyond Super Hero status by not only successfully finishing the 2008 Norfolk Superhero Challenge on Saturday 5th July and coming a hugely respectable 3rd place out of 52 competitors but in the process, the two friends raised over £2800 in less than 3 weeks in support of The Muscular Help Foundation's (MHF's) Muscle Dreams programme.
"This rather exclusive endurance event is evidently not for the faint-hearted", said Michael McGrath, MHF's CEO and Charity Co-founder. "The charity salutes Marcus and Ben. A truly fantastic endeavour. Thank you guys for your commitment, energy and support. I can't possibly imagine how you both must have felt having crossed the finish line! It's exhausting just thinking about it! Deep respect to you both. I know that a friend of mine plus one of our Trustees might join you in the 2009 Norfolk Super Hero Challenge … if you'll have them?"
Norfolk's newest outdoor adventure challenge comprises a 1 mile sea swim (from Scolt Head to Burnham Overy Staithe Harbour), a 4 mile sea kayak (from Burnham Overy Staithe to Norton Creek and back), a 37 mile bike ride (across North Norfolk) culminating in a 7 mile run on the dunes and salt marsh (from Overy to Holkham and back). Setting off at 7.30am on Saturday, the 26 teams competed over the gruelling course, with most aiming to finish within 4-6 hours.
After the event, Marcus commented "We were pretty chuffed to be the 3rd team over the line after 5 hours and 1 minute. The team that came 1st was 10 minutes ahead of us; on the cycle we missed a turn and did an extra 3-4 miles which definitely left us thinking oh what might have been …." He went on to say "Ben has to take the biggest credit, having gone flying over his handlebars (bicycle) only 3 weeks before the event which left him with a pretty sore back and shoulder. He's clearly made of tough stuff." At last year's inaugural event the winning team finished in approx 4 hours. This year's entry saw some specialist triathletes and local fun runners including the event's first husband and wife team who rode on a tandem!
Donations to date for this event (via MHF's online fundraising partner Justgiving) total over £2815.00. The 'Norfolk & Chance' Team chose to raise funds for MHF, specifically to cover associated operating costs including transportation, accommodation and a celebratory dinner for a very special Top Gear Muscle Dream that recently saw a 15-year old DMD (Duchenne Muscular Dystrophy) sufferer named Freddie Reading meet the presenters off the popular BBC television programme Top Gear and be a part of the studio audience in watching the Sunday 20th July episode being filmed. Freddie met both Jeremy Clarkson and James May. "This was a dream day, one that I will always remember. Thank you so much to everyone who helped to make this day happen," said Freddie afterwards.
'Norfolk & Chance' were amongst other amusing team names that included 'The Fit Farmers', 'Big Mac FRC', 'Not Waving but Drowning', 'Fools on the Run', 'NORFOLK Broads' and 'The English Girls'.
"Perhaps in 2009, MHF will enter two teams, one called 'Gluteus & Maximus' and the other 'Bicep & Tricep' – Heroes or Super Heroes aside, Marcus and Ben (pictured below) are true Muscle Warriors!" said motivational speaker Michael McGrath, himself a sufferer of muscular dystrophy and the only disabled person in the world to have reached both North and South Poles.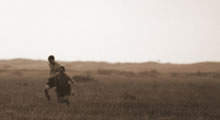 Simon Wilson Stephens, the event founder, said "This event is about promoting healthy adventure to young and old alike in Norfolk's great outdoors as an antidote to the stifling health and safety bureaucracy of our modern times."
Information about the event online says that … 'potential heroes taking part in the challenge must be in teams of 2. Each team must stick together throughout the challenge and will only qualify for Hero status when both participants cross the finishing line together. The winners of each category will, of course, be elevated from Hero status and become Super Heroes. There is a Potential Heroes Last Pasta Supper, a Cannon starts the event and there is even a Hero Worshippers Party at (wait for it!) … The Hero Pub in Burnham Overy Staithe!' All great fun!
Contact:
Lydia Drukarz, Director
Wavelength Public Relations
M. 07977 454180
E. lydia@wavelengthpr.com
Follow Wavelength PR on Twitter
http://twitter.com/WavelengthPR