Muscle Warriors raise > £8900 for charity
Posted on

June 9th, 2010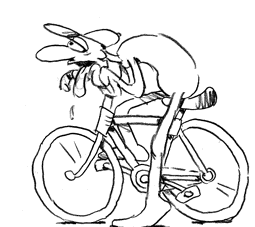 Sunday 20th June 2010 saw three extraordinary Muscle Warrior™ fundraisers cycle over 700km from Geneva to Avignon. The intrepid threesome of Mark Hennessy, Jean-Luc Harnay and Muscle Help Foundation Trustee Chris Kelly are aiming to raise £10,000 for the charity that delivers Muscle Dreams for children and young people with the cruel and unforgiving muscle wasting disease muscular dystrophy. As of the 1st August, the total funds raised figure stood at an impressive £8,909.65 including gift-aid.
"I know that their cycle ride included a colossal vertical ascent in excess of 11,000 metres requiring all of their legs muscles to work inordinately hard. The charity is hugely proud of both their physical efforts in cycling an incredible distance over five days but also their spectacular fundraising efforts!" said the charity's co-founder Michael McGrath, himself a sufferer of muscular dystrophy and the first and only disabled person in the world to have reached both the North and South Poles.
Pictured above are: Mark Pinsent, Mark Hennessy, MHF Trustee Chris Kelly and Jean-Luc Harnay. Below are the key achievements of their journey:
Average distance cycled per day: +140kms
21 hairpin corners taken on the way up to the Alpe d'Huez standing at 1,815 metres
Scaled the dizzy heights of the mighty Col du Galibier at 2,646 metres (highest peak of the Tour de France)
Reached the mighty Mont Ventoux at 1,912 metres described by Kelly as 'the most feared, revered and respected climb' of the Tour de France
Some excerpts below from a commentary of their experience give an insight into how much pain was endured and evidently how much fun was had by all … written by Muscle Warrior™ Kelly:
Well, we made it! 750 km of riding and 11,000 metres of vertical in 5 days … turns out to be quite a long way! Reached Grenoble at 8.45 pm at end of day one, having cycled 174km … furthest we've ever ridden in a day! So much for having a few hours to relax and have a few beers! 21 hairpins and 13km later on day two we reached 1,866m and climbed on to the podium at the top of the ski resort, in the teeth of a freezing gale – retired to a hostelry for pasta and hot choc!
Took on Col d'Izoard on morning of day 4 … lovely ascent to 2,361m over 20 km, 6% gradient for those interested. The sun shone! Pleasant ride with Nuts, one of the guys who's recently finished 6 weeks of radiotherapy – inspiring effort! First sighting of the giant of Provence – Mt Ventoux! Imposing! Fantastic descent into the outskirts of Carpentras. Top speed in the low 80s km/h recorded by one of my braver/stupider companions!
Stopped in Bedoin at the foot of Mt Ventoux to refill water bottles. 22km and 2 hours later, average gradient of 8%, reached the top! Felt steeper! All got to top of Mt Ventoux, including Pete, who'd stopped at the Chalet Reynard for a bowl of soup only to be discovered by the search party despatched to find him! Descent from Mt Ventoux was fantastic! Had well earned lunch of pasta and a couple of glasses of red before heading off to Avignon for last night. Feeling more than a little shattered … next year Italy!
According to Cycling Weekly, there are several reasons why Mont Ventoux is a symbolic climb. We know our cycling trio of Muscle Warriors possess an indomitable spirit, so what's all the fuss about, after all it's only a mountain! Mont Ventoux dominates the Provence skyline – it stands alone. Whichever direction you approach from, you cannot fail but to be impressed by its awesome scale.
The mountain has its own micro-climate – the summit is 1,909 metres above sea level. It's exposed, it can be incredibly windy and when it's hot and still, it can be unbelievably, stiflingly oppressive. It's a climb of two halves – partly tree-lined in one moment to barren and rocky. If bike racing existed on the moon, this is what it would be like! The Pantani-Armstrong duel in 2000 – the day when the Italian climber and the Texan cowboy rode away from the rest. Armstrong was only interested in winning the Tour and so at the finish, he allowed Pantani to cross the line ahead of him! Eros Poli's lone break in 1994 – having developed a commanding lead, the big Italian was cheered all the way up the climb to the summit of Mont Ventoux and then descended all the way back down the other side of the mountain to win the stage! Despite its great reputation, Mont Ventoux has not figured on the Tour route as regularly as some of the other legends. In fact, the 2009 Tour was just the 14th visit! Mont Ventoux bows to no man – Lance Armstrong's trademark Tour move was choosing his moment to attack and then ride off into the distance, often winning the race with one six or seven-kilometre set piece effort. He has never quite mastered Mont Ventoux, even going as far to say it was his least favourite climb!
Contact:
Lydia Drukarz, Director
Wavelength Public Relations
M. 07977 454180
E. lydia@wavelengthpr.com
Follow Wavelength PR on Twitter
http://twitter.com/WavelengthPR