Muscle Warriors get send off with GRIM Haka
Posted on

December 5th, 2009

London Maori Group 'Ngati Ranana' send off a record-breaking team of Muscle Warriors™ in the off-road adventure run called GRIM that takes participants through 8 miles of forest trails, mud and big murky puddles used to test army vehicles near Aldershot in Hants – 84 Muscle Warriors™ completed GRIM on Sat 5th Dec 2009. The team that everyone's talking about have raised just over £14,000 (including gift-aid) which will be used to help fund more Muscle Dreams™
Muscular Help Foundation charity co-founder and Polar adventurer Michael McGrath turned the daunting GRIM Challenge off-road fundraiser into an event that saw his Muscle Warriors™ break the charity's own record (set at 43 in Dec 2008) for the largest ever team entry participating for a single cause. Hertfordshire-based Michael has been recruiting over the past 12 months and this year his growing army of Muscle Warriors™ received a massive Muscle Haka™ send-off thanks to London based Maori Community Club 'Ngati Ranana'.
Muscle Dreams™ provide amazing personalised life experiences in the UK to children and young people afflicted by the muscle wasting disease muscular dystrophy – for these individuals and their families it could be anything from meeting their favourite sports team, being driven in a Ferrari or enjoying some top VIP hospitality whilst watching their favourite band or pop group. In delivering these Muscle Dreams™, the charity recognises the absolute values of hope, courage and inner strength epitomised by the beneficiaries as well as their families.

The GRIM course was used by the James Bond film makers to shoot a hovercraft chase in the movie Die Another Day – but those who took part in this "fun-run" didn't have the luxury of any powered transport.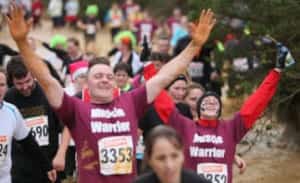 "Our Muscle Warriors™ once again did us hugely proud. This event isn't known as the GRIM without good reason!" said Michael who is a tireless fundraiser for the charity despite himself being confined to a wheelchair by muscular dystrophy.
"Muscular dystrophy is a cruel and unforgiving disease – it robs sufferers of their mobility, their independence and finally for those with the most severe form, predominantly children, their lives – all of the children that our Muscle Warriors™ are raising money for will never be able to tackle such a challenge even when they become adults – it would be impossible and yet the money raised will help some of them realise experiences they'll never forget.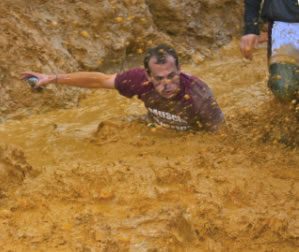 I know that several of our Muscle Warriors™, including my daughter, three of the charity's Trustees, a mother whose 12-yr old son has muscular dystrophy together with three charity partners representing Saracens RFC, Oxford Brookes and Odyssey Knebworth were cursing me when they were up to their waists in freezing mud and water – but they can at least take comfort in knowing their pain will help ease the suffering of some of these children, giving them a life-changing experience and a memory that will forever be remembered."
Michael, a well-known motivational speaker, is no stranger to enterprising fundraising and is an inspiration to thousands of others around the world with this most debilitating disease that remains the single biggest genetic killer of children on our planet today.
In 2002, despite his own condition deteriorating, Michael led an expedition to the North Pole – a feat he repeated two years later when he got to the South Pole and in so doing, he became the first and only disabled person to have reached both Poles. Michael's feats earned him a mention in the Queen's 2004 Christmas Day broadcast from Buckingham Palace in recognition of his contribution to national life. This has subsequently brought further recognition for the charity he co-founded together with fellow polar adventurer Miles Peckham for fellow sufferers even less fortunate than himself.

Although Michael has already smashed the record for the largest team ever to compete in the eight year history of the GRIM Challenge, he is once again signing people up for what he refers to as … the Mother of all Muscle Warrior™ GRIM-days … scheduled for Saturday 4th December 2010.
"Having muscular dystrophy is permanently 'GRIM' because there's no treatment to delay or reverse the progression. There's still no cure for this disease. Through our Muscle Dreams™ programme, we work hard to give children whose muscles are broken and wasting away something to look forward to and for their families something to always remember and cherish."
Contact:
Lydia Drukarz, Director
Wavelength Public Relations
M. 07977 454180
E. lydia@wavelengthpr.com
Follow Wavelength PR on Twitter
http://twitter.com/WavelengthPR