Muscle Help Foundation charity thrilled to announce its selection by Jeans for Genes Grant Programme with a core cost funding Award
Posted on

May 2nd, 2023

The Muscle Help Foundation (MHF) charity wishes to express muscletastic thanks to Jeans for Genes UK for their recent award.
Thanks to kind donations, the 2022 Jeans for Genes Grant Programme awarded 21 charity partners with funding to help them provide vital support to individuals and families living with a genetic condition in the UK – from counselling, respite and peer support services to resources for the newly diagnosed and confidence building activity days, the Muscle Help Foundation charity is very grateful to have been selected as one of the chosen charities.
The MHF charity received confirmation of its Jeans for Genes Grant Award in March 2023. Jeans for Genes provided MHF with a grant to support core costs.
Michael McGrath, CEO of the Muscle Help Foundation charity said:
"On behalf of the Muscle Help Foundation charity, please accept this as an official acknowledgement of your kind donation towards core costs – thank you from the bottom of our hearts. The past few years have been extremely challenging and now with the cost-of-living crisis including escalating energy and food costs, our vulnerable community are, in 2023, once again having to face significant adversities which is why we are so grateful for your support at this time.
We work hard to promote inclusion through our programmes that also provide a level of psychosocial support, meaning we deliver our interventions in a safe and supportive way to vulnerable children and young people – a key part of this delivery is around engendering trust with parents, guardians, and carers. The lasting impact on mental health and wellbeing, self-esteem, confidence, and the restoration of hope for our beneficiaries, their families and wider communities is profound.
We work hard to change lives and give hope through our transformational interventions designed for children and young people (8-28yrs) with the muscle wasting disease muscular dystrophy. Our efforts offer powerful shared experiences that stimulate a sense of belonging, moments-in-time that connect families, giving a vital platform to share knowledge, memories and establish lasting friendships.
Our impact continues to be felt by beneficiaries and families – the Jeans for Genes grant will help the charity move a little closer to its overarching goal of delivering 657 Muscle Dreams, that's one for every muscle in the human body!"
ABOUT JEANS FOR GENES
The Jeans for Genes campaign raises awareness of the daily challenges faced by those living with a genetic condition and raises money to fund projects that make a tangible difference to the lives of those affected.
Most importantly, the campaign:
Brings together the genetic condition community in order to make a loud noise about the issues that matter to them
Shines a light on the organisations that work tirelessly to improve the lives of affected individuals
Celebrates the achievements of those living with a genetic condition
Please take a look at their Funding in Action information page to learn more about the lasting impact that your Jeans for Genes donations make – thank you!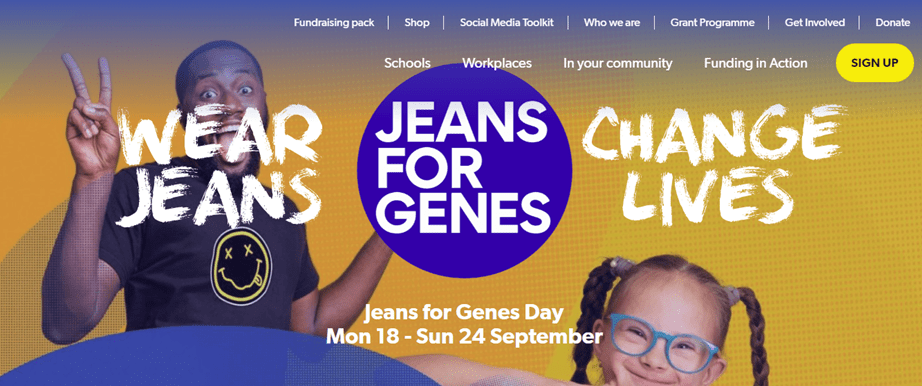 For more info, head to: www.jeansforgenes.org
Facebook: www.facebook.com/JeansforGenesUK
Twitter: www.twitter.com/JeansforGenes
Instagram: www.instagram.com/jeans_for_genes
YouTube: www.youtube.com/channel/UChUIp7xnLfBcNKTTjHdypfQ
ABOUT 2023 – MHF'S 20th ANNIVERSARY YEAR:
2023 sees the charity reach a milestone, its 20th Anniversary – since 2003, it has touched the lives of 1000's of people across the UK living with Muscular Dystrophy, from families and local communities to schools and businesses; today, its impact and reach continues to grow.
Plans for many other unique Muscle Dream experiences and programmes in the 2023/24 period are shaping up – right now, with the cost of living crisis in mind, every single penny counts, so please, if you're able to support our cause with a donation, whatever you can give, whether £6.57 or £20.00 to mark the charity's 20th anniversary, all donations will be hugely appreciated – thank you.
To push on with its 657 mission, the charity is not only looking to establish new partnerships and collaborations but like many small charities, it desperately needs support in order to continue its important work – if you can help, please donate £20.00 or whatever you can give by clicking HERE – thank you.
GREAT PARTNERSHIPS START WITH A STORY – WILL YOU TELL OURS?
Part of this milestone anniversary year is a focus on storytelling, a powerful tool that can influence behaviours, change mindsets and move people to take action. We know that storytelling in today's digital age is crucial – stories have to cut through which is why we have published several new beneficiary case studies, powerfully illustrating via personal insights, emotions and feelings why MHF's work matters and how you can easily support our mission by helping to tell our story.
ABOUT THE CHARITY'S IMPACT:
Uplifting, joyful and often cathartic in nature, MHF's academically validated work and impact is rooted in the idea that well executed, shared experiences can be powerfully transformative in nature.
ABOUT MUSCULAR DYSTROPHY (MD):
Thanks to MHF's friends at Muscular Dystrophy UK, new research reveals that approximately 110,000 people (babies, children and adults) in the UK live with muscle-wasting conditions. Muscular Dystrophy is a progressive condition that gets worse over time. It is the single biggest genetic killer of children in the world today. It robs sufferers of their mobility, their independence and finally for those with the most severe type (Duchenne Muscular Dystrophy or DMD), their lives. Although there is some excellent research going on around the world, there is still currently no known treatment.
ABOUT MHF'S UNIQUE POINTS OF DIFFERENCE:
Over the past 12-months, MHF's tailored approach in operationalising bespoke virtual 'person-centred' Muscle Dream programmes continued to deliver positive outcomes for beneficiaries and families. The 'lived experience' of the charity's CEO (Michael McGrath) who has Muscular Dystrophy (LGMD2A) and who is the driving force of the organisations work, provides both a unique, valuable and trusting influence on those for whom MHF exists to serve.
ABOUT MHF'S VULNERABLE BENEFICIARIES:
Duchenne Muscular Dystrophy (DMD) is the most severe form of Muscular Dystrophy (MD) – it is life-limiting affecting approximately 1 in 3,500 new-born boys. The vast majority (some 96%) of MHF's beneficiaries are boys and young adults with DMD. On average, those aged 10-13yrs will transition into a manual wheelchair. By the time they reach 17-19yrs, breathing, cardio and diminishing arm movements are increasingly prevalent.
THINK 657 – THE MORE UNUSUAL AND INTRIGUING, THE BETTER!
"The more unusual and intriguing the connection to the number 657, the greater the opportunity to tell our charity's story" (Source: Michael McGrath, CEO, Muscle Help Foundation)

MHF is running a national campaign called The Power of 657 and its mission is simple – to deliver 657 transformational interventions for children, young people and their families with Muscular Dystrophy in the UK, that's one life-changing experience for every muscle in the human body.
WHAT'S YOUR 657 CHALLENGE?
We would like you to think about the number 657 – the charity is on the lookout for all/any links to the number 657 and as such, we are keen to establish mutually beneficial collaborations ideally around 657. So, get in touch if you know of any connections in your world or in your work and remember, the more unusual, the more intriguing, the better!
For the charity's beneficiaries, every Muscle Dream experience is an opportunity to not only realise their potential but also become a Muscle Warrior and by default, join the charity's tribal Muscle Warrior community. For their family and friends, each one opens up a support network of like-minded individuals.