Muscle Help Chosen As Beneficiary Charity
Posted on

May 11th, 2005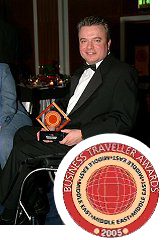 Michael McGrath 2005 Business Traveller of the Year
The Muscular Help Foundation was chosen as the beneficiary to the prestigious 2005 Business Traveller Middle East Awards held in the magnificent Godolphin Ballroom at the Emirates Towers Hotel in Dubai. Inspirational business speaker, disABILITY champion and polar explorer Michael McGrath delivered the evening's keynote address receiving an impromptu standing ovation. He also presented the awards on the evening.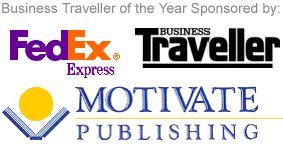 Sponsored by: FedEx Express, Buisness Traveller & Motivate Plblishing
Recognised by Business Traveller and the events sponsor FedEx, McGrath himself was taken by surprise when he received the '2005 Business Traveller of the Year' award announced by Julian Gregory, Managing Director of Business Traveller UK and presented by BBC correspondent Kate Adie.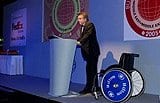 McGrath held everyone spellbound in his engaging address with impressive slides illustrating his unique polar experiences and feats of endeavour at both ends of the earth. At the end of his highly charged presentation, he received a standing ovation that summed up the impact it made on the travel-hardened audience. His address culminated in a brief insight into the world of muscular dystrophy.
Since being diagnosed at age 17 years, McGrath's has been determined to not let his debilitating muscle wasting condition get the better of him, despite having lost some 65% of his muscle bulk.
Click on the .pdf file below to read the full editorial feature including how McGrath urged senior industry figures from hotel operators, airlines and car rental companies to do more in the area of access provision. He said that service providers prepared to invest in training and accessible facilities for consumers requiring additional assistance would see a return on their investment.
"For example hotel operators and airlines will lose out if they fail to make the necessary improvements required to ensure disabled access," said McGrath, who is also disABILITY Champion for Hilton Hotels in the UK and Ireland.
Contact:
Lydia Drukarz, Director
Wavelength Public Relations
M. 07977 454180
E. lydia@wavelengthpr.com
Follow Wavelength PR on Twitter
http://twitter.com/WavelengthPR